Site Features
Getting Started in the Hobby
Model Categories
Original Kit:
N/A
Made By:
N/A
Scale:
1/24

Other Book Models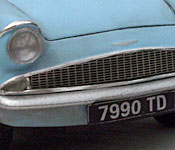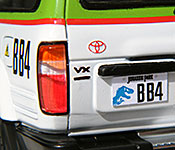 The Mouse and the Motorcycle Bike
Jurassic Park Toyota Land Cruiser
Day of the Cheetah XF-15F
The Race Forever Lancia Stratos
Trail of Lightning Chevy Pickup
Starship Troopers Powered Suit (Review)
1959 Chevy Impala Rocket Sled
Interstellar Pig VW Convertible
2001: A Space Odyssey Monolith
State of Fear Ferrari 365GTS/4 Daytona
Other Motorcycle Models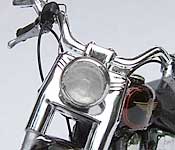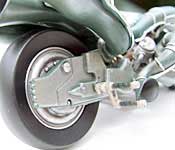 Tron Light Cycles (Review)
Final Fantasy VII Motorcycle (Review)
Ghost Rider Stunt Bike (Review)
Grendizer Duke Buggy (Review)
MOSPEADA/Robotech VR-052
Tron Legacy Clu's Light Cycle
Kamen Rider Cyclone
G.I. Joe RAM
Terminator 2 Harley-Davidson
Kamen Rider New Cyclone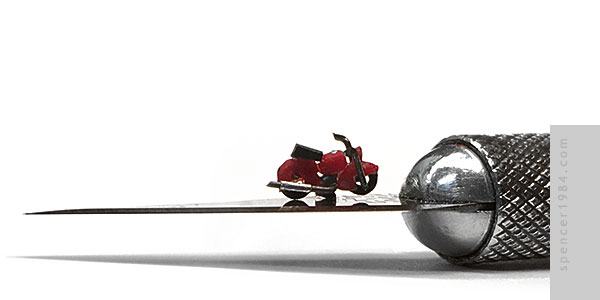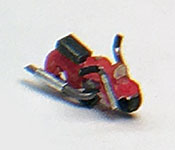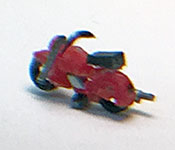 While I was making some of the small detail parts for the It's Walky! truck, it got me thinking about similar projects that I could attempt. That led me to remember a favorite book series from my childhood: Beverly Cleary's The Mouse and the Motorcycle, Runaway Ralph, and Ralph S. Mouse. What it would take to make a mouse-sized motorcycle...in 1/24 scale?
My first check was model railroading, to see if there were any Z-scale classic American motorcycles available. If there are, I couldn't find them. I briefly considered going the 3D printed route, since that worked well for my Revenge-O-Mobile, but I really wanted to see if I could do this the old-fashioned way.
After doing some basic sketches based on Louis Darling's art for the original books, I came up with a plan. The bulk of the bike is made from four hand-carved parts: front fender, rear fender, gas tank, and seat. I used red and black plastic cut from sprue trees so that I would be working with the correct colors and didn't risk gumming up the final model with too much paint. The engine is a section of floral wire, cut and oriented to look like a cylinder. The headlight, frame, and kick stand were more bits of plastic, while the exhaust pipe and handlebars were made from stiff wire. Tires were made by cutting tiny O rings and gluing the arcs to the bottoms of the fenders. Lastly, the muffler is a single thickness of aluminum tape wrapped around the exhaust.
While I was able to minimize paint applications, there were a few details where it was unavoidable. The handlebar grips, headlight, gas cap, and taillight were painted with black, white, silver, and brown. I also touched up a couple of places where the glue left some ghosting, and painted a red line along the bottom of the engine to create the frame rails.
The entire bike was constructed from about a dozen parts total, and measures just under ¼" (6mm) long.