Site Features
Getting Started in the Hobby
Model Categories
Original Kit:
1969 Dodge Charger R/T
Made By:
Revell-Monogram (kit #85-2546)
Scale:
1/25

Other Charger Models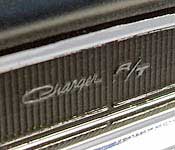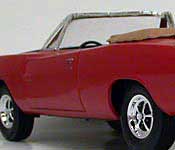 Dukes of Hazzard General Lee
Fast 5 '11 Charger Rio Police (Review)
Furious 7 Maximus Charger (Review)
The Fast & the Furious '70 Charger
Wheels of Terror Charger
Dukes of Hazzard (movie) General Lee
Furious 6 '69 Charger Daytona
Furious 7 Off-Road '70 Charger
Fast 5 '70 Charger
Collier & Co: Hot Pursuit Traveller
'69 Convertible
Joe Dirt '69 Charger Daytona
Blade'68 Charger
Agents of SHIELD Hell Charger
Dukes of Hazzard Undercover General
Other 1970s Movie Models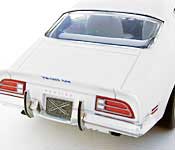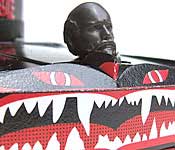 Inglorious Bastards Jeep
Good Guys Wear Black Porsche
Star Wars Luke's Landspeeder
Hooper Firebird
Thunderbolt & Lightfoot Firebird
The Car Kustom Lincoln
Animal House Deathmobile
Star Wars C-3PO & R2-D2
Star Wars X-Wing
Mad Max V8 Interceptor (Review)
Smokey & the Bandit Firebird T/A
Kelly's Heroes Jeep
Herbie Rides Again Herbie
American Graffiti Deuce Coupe
Dirty Mary, Crazy Larry '69 Charger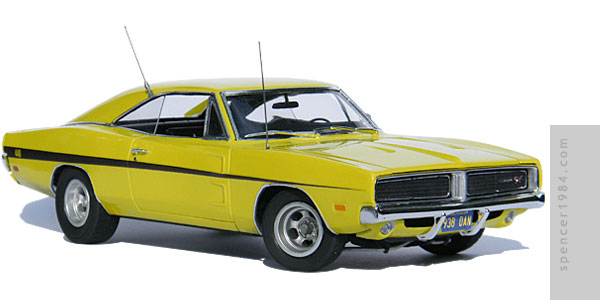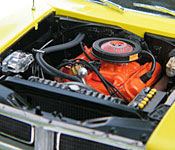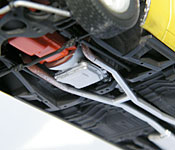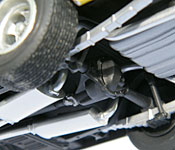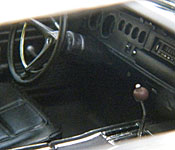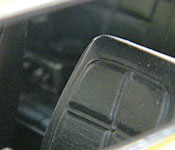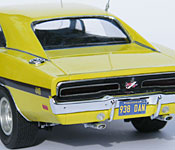 Cool Fact
The High Impact Paint color "Curious Yellow" was named after the 1967 Swedish film I Am Curious (Yellow). The film was banned in Massachusetts for being pornographic, and was subsequently the subject of a 1969 U.S. Supreme Court case (Byrne v. Karalexis).
Thanks to Hollywood's love affair with the 2nd-gen Charger, this is the third time I've built this kit. Fortunately, I have yet to do the same thing to it twice.
This time around I kept the engine, but replaced the transmission with a resin 727 from Morgan Automotive Detail. It mated right up to the kit engine, so nothing—not even the driveshaft—had to be changed. The engine received basic wires and hoses, including a scratchbuilt loom (something I wish I had thought to do earlier). The suspension was modified to correct the wheelbase and stance, and I used wheels from AMT's '32 Ford and tires from Revell's '37 Ford in place of the kit-supplied parts. The rest of the chassis was built box stock.
Inside, I removed the headrests, filled in their mounts, and converted the center console and shift lever to fit the automatic transmission. Extra movie-accurate details included the steering wheel from AMT's 1970 Coronet and a two-way radio from AMT's '70 Ford Police Car on the back seat. Everything was then painted satin black and detailed with paint, colored pencil, and BMF.
The body was kept mostly stock, all I really had to do was remove the vinyl top texture. It was then painted with Scale Finishes' Y3 Citron Yella, which has the perfect green/yellow color shift of the original High Impact color. The racing stripes are custom decals I made in Illustrator, as are the 938-DAN license plates. I made the rolled-up side windows from clear sheet plastic, and the antennas were made from guitar strings.