Site Features
Getting Started in the Hobby
Model Categories
Original Kit:
1968 Dodge Charger
Made By:
Revell (kit #85-1514)
Scale:
1/25

Other Charger Models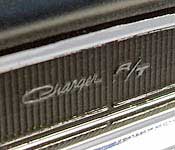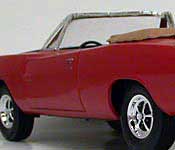 Dukes of Hazzard Undercover General
Furious 7 Off-Road '70 Charger
Furious 6 '69 Charger Daytona
Furious 7 Maximus Charger (Review)
Agents of SHIELD Hell Charger
'67 Charger (Review)
"City Slicker" '69 Charger
Fast & Furious '70 Charger
'69 Convertible
Furious 7 '70 Charger
Dukes of Hazzard (movie) General Lee
The Fast & the Furious '70 Charger
Blade'68 Charger
Fast 5 '70 Charger
Fast 5 '11 Charger Rio Police (Review)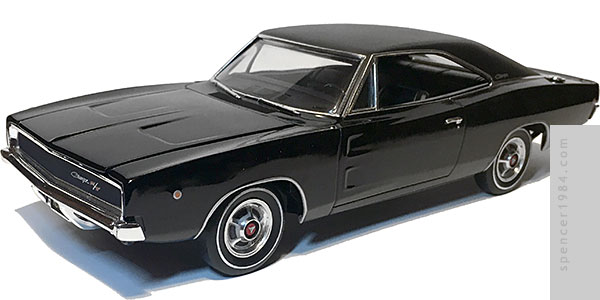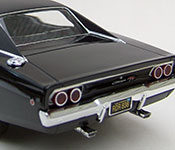 Cool Fact
The Charger loses at least six hubcaps during the famous chase sequence.
I bought this kit at the same time I bought the Bullitt Mustang, but a malformed door panel kept this one on the shelf until I decided what to do about it. Getting replacement parts from Revell is actually pretty painless, but since this kit had been discontinued for a while I had my doubts. I decided to try to fix it myself, by taking a cast of the existing door panel and making myself a patch panel out of epoxy. It was my first time trying to mold something like this, and although the repair isn't flawless it pretty much disappears inside the triple-black car.
In addition to the repair work, I also replaced the kit-supplied wheels. The ones that Revell provided were decent representations of Dart wheel covers, but completely inaccurate for the Bullitt car. Correct hubcaps weren't available when I first built it, but a few years later Joseph at Fireball Modelworks offered some in resin. They were pretty much good to go right from the package, with no flash cleanup or filler required. I simply washed them and painted them using Molotow's Liquid Chrome, black, and red. They fit the kit-supplied tires perfectly, and I mounted them with some parts box wheel inners.
Other than that, the rest of the kit was built box stock. All of the details were painted the appropriate colors (including the Chrysler Turquoise engine), the whitewalls were painted with a gel pen, and the body received Bare Metal Foil.