Site Features
Getting Started in the Hobby
Model Categories
Original Kit:
1931 Ford Panel Truck
Made By:
Eastwood
Scale:
1/25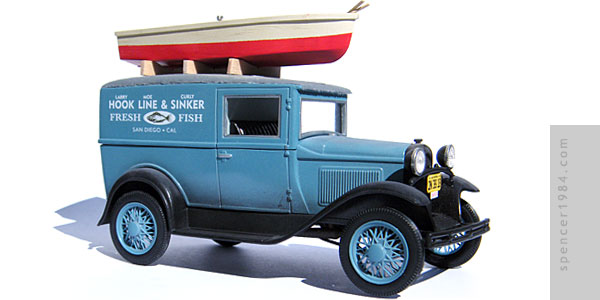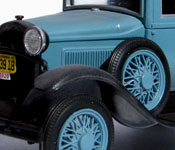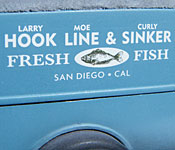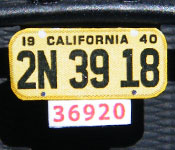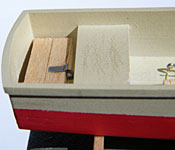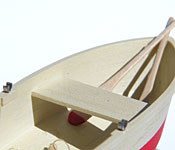 Options for a 1/25 scale model of the 1931 Ford panel truck were limited to the Eastwood diecast bank...but Eastwood made about three and a half billion of them, so at least they're easy to acquire. The cheapest one I found was on eBay, painted yellow and orange with a blue and orange "Posies" billboard on the side. So not the most attractive design, but it had potential.
I started by stripping all of the metal components, removing the parting lines, and filling in the coin slot above the rear doors. I then removed some of the extra chassis mounts, redid the exhaust pipe, and added a front wishbone and steering linkage. I also added the drawer under the rear doors that was used briefly for the "gas mask" gag. Not only did it add a little extra authenticity, it hid the rear mounting screw nicely.
Since this was a black & white short and the 1:1 is long gone, I had to make some guesses about the colors. The main body and wheels were painted a medium blue that seemed like a reasonable match to a vintage Ford color (it also worked as a nod to the color Round 2 chose for their '40 Ford's box art). The fenders, radiator, headlights, bumpers, and chassis were all painted black. The divider wall looked lighter than any of the other panels, so I painted that light gray. The rest of the interior was left as it was. Finally, I made the canvas roof by separating a paper towel, soaking it in a mixture of white glue and water, then trimming it after it had dried. The truck used in the short looked like it had something lighter than the usual black roof, and had some wear and sags in it...so it was either very worn or had been replaced at some point before being used on screen. To mimic this, I made the edges a little rough and painted it dark gray. Decals from the AMT kit, custom license plates, and judicious weathering finished the truck.
The only thing I had left was the row boat that carried Curly and Moe (Larry drove the truck). Most of the 1/24 scale row boats I found were too big, too fancy, or flat-bottomed. Finally, a friend suggested cutting down one of Lionel's O-gauge cabin boats. The length and width were excellent, and doing some cutting to the top and inside got the rest of the hull just about perfect. Flat styrene was used to make the trim and seats, and wood was used for the storage box, oars, and rope ladder.