Site Features
Getting Started in the Hobby
Model Categories
Original Kit:
BMW Z3 Roadster
Made By:
Tamiya (kit #24166)
Scale:
1/24

Other 007 Models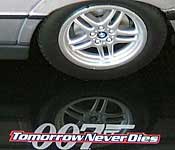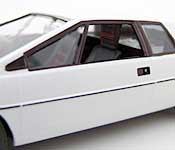 Goldeneye Z3
From Russia with Love Chevrolet Truck
The World is Not Enough Z8
Dr. No Sunbeam Alpine
Tomorrow Never Dies 750iL (Review)
Goldfinger Aston Martin DB5
The Man with the Golden Gun Hornet
The Spy Who Loved Me Lotus
Diamonds are Forever Mustang
Other 1990s Movie Models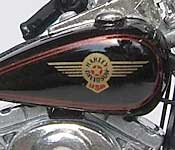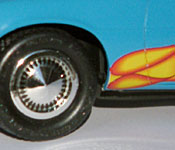 The Lost World: Jurassic Park Snagger
Dazed & Confused '72 Pickup (Review)
Wayne's World Pacer
Tommy Boy Plymouth GTX (Review)
Batman Returns Batmobile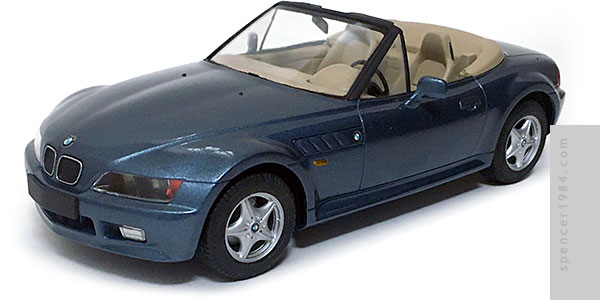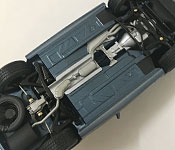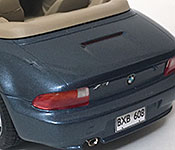 This was very nearly a box stock build of Tamiya's excellent Z3 kit. As I've noted elsewhere, Tamiya kits have a well-deserved reputation for easy builds, and this was no exception. Minimal flash, essentially no ejector pin marks, and an economy of parts that gives a good end result without being a fractal of fiddly parts.
The chassis was just about straight out of the box, painted with a mix of gloss, flat, and metallic colors to give it some interest. As this was a new car, the only weathering was a very light discoloration of the exhaust. The only part I had to change was the wheels. Tamiya provides a set of 10-hole wheels, but Bond's Z3 rode on five spoke grooved wheels. Fortunately, FG Model made a set of resin replacements. They fit the kit-supplied tires and axles with no problem, though to get the best look I relieved the inner bead of the tires to let the rims seat more fully, and glued them in place since their fit to the stock poly caps was a little looser than I was comfortable with. I also swapped out the tailpipe with a custom metal part, to get something a little more delicate and less like a supermarket scanner.
The interior was originally meant to be a simple stock build as well, but I grabbed the wrong reference photo when I was painting the center console and painted the bezel around the shifter/comfort controls and the rearward console pocket black. I didn't notice my mistake until after I had the seats glued in, so doing a full repaint was more trouble than I wanted to get in to. I was able to sand off most of the black around the sides of the dash and forward console, then carefully repaint them back to their original TS-68 Wooden Deck Tan. The pocket was going to be a lot harder to fix, so I didn't even try. Instead, I scratch built a console/arm rest based on the early OEM option. Not only did this hide the error, but it gave Q a place to put the various switches needed to control the parachute, missiles, ejector seat, etc.
To get the correct BMW Atlanta Blue, I once again went to ScaleFinishes. This was their gloss enamel paint, and went on great with no need for extra clear. The badges were all straight out of the kit, with my only addition being a screen-accurate license plate.