Site Features
Getting Started in the Hobby
Model Categories
Original Kit:
Rookie of the Year Combo (Alan Kulwicki's Quincy's Steak House #35 Ford Thunderbird)
Made By:
Monogram (kit #6368)
Scale:
1/24

Other Factory Stock Models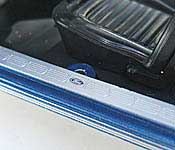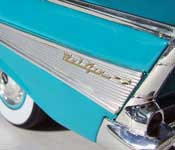 3000 Miles to Graceland Cadillac
'84 Monte Carlo SS Redux
'69 Charger (Review)
Bullitt Charger
Smokey & the Bandit 2 Firebird T/A
Ford Escape
Smokey & the Bandit Firebird T/A
'70 Challenger (Review)
Bullitt Mustang
'67 Charger (Review)
'57 Chevy Hardtop (Review)
'84 Monte Carlo SS
Diamonds are Forever '71 Mustang
'49 Mercury Convertible (Review)
Bruce Almighty Saleen S7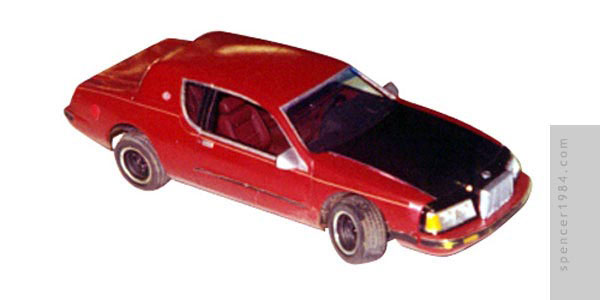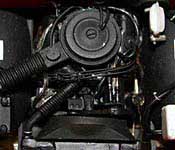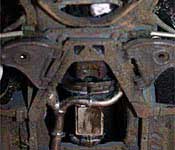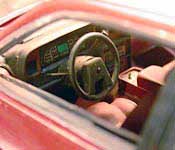 One of my more ambitious conversions, this started out as the #35 Quincy's Steak House Ford Thunderbird stock car. The only pieces of the original kit remaining are the rear bumper and the hood.
I started by removing the rear section of the roof. I used a rear window frame (narrowed) from a later Cougar kit, and rebuilt the roof with sheet styrene and body fill. The trunklid was recreated from scratch, as were the grille, side quarter panels, and rocker panels. The front fenders had been widened for the NASCAR vehicle, and needed to be narrowed back to original proportions. To do this, I grafted the front fenders from a 1990 Cougar between the nose and firewall. Finally, the front bumper had an air dam underneath it. I removed this and added the lower half of a front bumper from the '90 Cougar kit.
The interior is almost entirely scratch built. The seats and dashboard are modified from the 1990 Cougar, but the bucket, door panels, headliner, center console, and steering wheel are built from sheet plastic and plastic pieces from the scrap box.
The chassis is also a combination of parts and scratchbuilding. I found out later that I could have saved myself a lot of work if I had used an early 80's Mustang chassis, but that wouldn't have been nearly as much fun. The front half of the frame is again the 1990 Cougar kit. Unfotunately, that year had independent rear suspension with A-arms, while the '86 had a live rear axle and trailing arm suspension. I fixed this by mating the front half of the Cougar frame to a 1970 Chevelle frame. It still took some work to make the hybrid look like the 1:1 car's chassis, but in the end I think it worked. The engine block is the V6 powerplant from a 1992 Cougar, but all the accessories, intakes, outlets, and life support had to be created from leftover parts or from scratch.
Finally, the paint job is Dupli Color's Ford Van Candyapple Red (this is actually what the 1:1 car was painted). Weathering was done with everything from real dirt, to sawdust, to scraping the roof with a hobby knife to get the peeling paint effect.
Have a question, comment, or criticism about this model?
Send me an e-mail
with your thoughts!