Site Features
Getting Started in the Hobby
Model Categories
Original Kit:
Lamborghini Countach
Made By:
Monogram (kit #1058)
Scale:
1/32

Other Diorama Models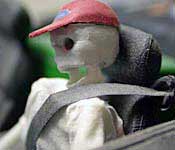 Corvette Fighter/Interceptor
Ferrari Testarossa Combat Chassis
1996 Ford Boss Shindoa Mustang
I.G.G. "Crawler" Advanced ATV
Diorama Overview
Other Robot & Cyborg Models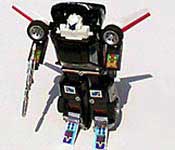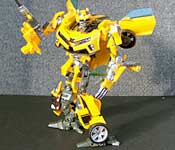 Draw 50 Monsters UR2EZ
KONGO Attack Vehicle
Big Hero 6 Baymax (Review)
Transformers Vector
Metallo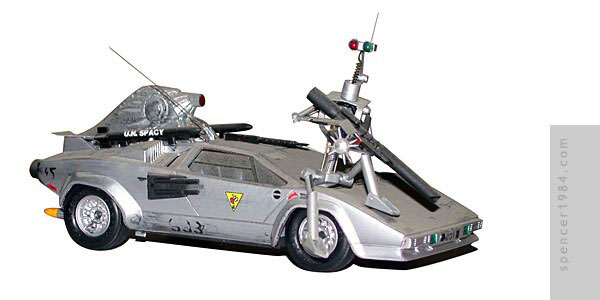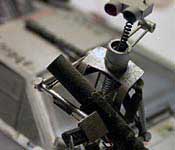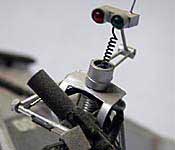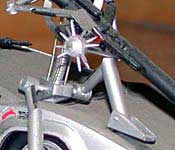 Yet another car that was used on my diorama. This was another kit that I was left with the body after I used what I needed for other models.
The main car is built box stock. Inside, I left off the steering wheel and added clear plastic seat belts (it's alien, so what do they have for safety features?). Underneath, I replaced the Countach wheels and tires with more generic finned wheels. The body is where most of the work went.
Since I was considering this a prototype attack/combat machine, I figured it should be well armed. On that note, I added twin double-barreled cannons to the sides, an ion gun on the roof, dual forward facing rockets, dual rear facing rockets, four miniature explosive tubes, and quad heat discharge ducts. The rear deck has the main engine, taken from the underside of an Independence Day Captured Alien Attacker kit. The various stickers and markings came from everything, from aircraft kits to toy robots.
The robot on the hood of this vehicle was completely scratchbuilt, using sheet plastic, plastic rod, pins, and wire. His fusion cannon is modified from Greedo's handgun, and the mace ball is a section of sprue that was rounded and drilled, with pin points as the spikes. Both the robot and the car are Testor's Metallic Silver with some dusting and weathering.
Have a question, comment, or criticism about this model?
Send me an e-mail
with your thoughts!