Site Features
Getting Started in the Hobby
Model Categories
Original Kit:
1968 Ford Mustang
Made By:
Revell (kit #85-1513)
Scale:
1/25

Other Mustang Models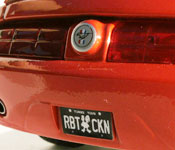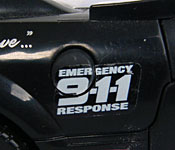 Diamonds are Forever '71 Mustang
Robot Chicken Turbo Teen
Transformers Barricade
Need for Speed 2015 Mustang GT
Need for Speed 2014 Mustang (Review)
'06 Mustang 1 (Review)
I Am Legend Shelby GT-500
Gone in 60 Seconds (1974) Eleanor
'96 Boss Shindoa
"Boss Hoss" Mustang (Review)
Other 1960s Movie Models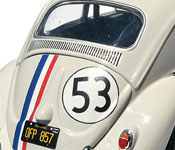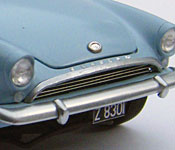 Batman Batmobile
Bullitt Mustang
Bullitt Charger
The Great Escape Bike
Dr. No Sunbeam Alpine
2001: A Space Odyssey Monolith
The Love Bug Herbie
Fireball 500 Kustom Barracuda
From Russia with Love Chevrolet Truck
Hot Rods to Hell Corvette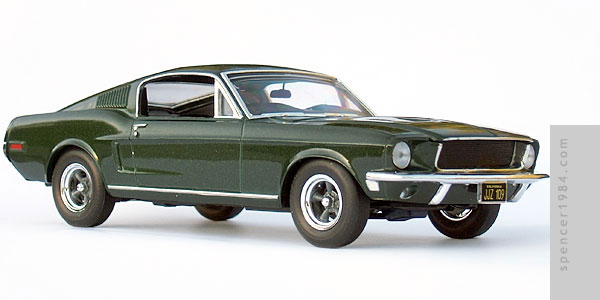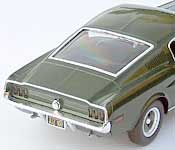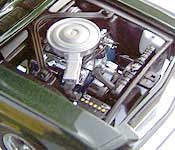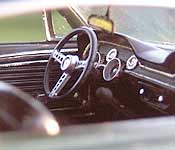 Cool Fact
Several performance tricks had to be done to the Mustang so that it could keep up with the more powerful (stock) Dodge Charger during the famous chase sequence.
Any fan of car chases and car movies in general is familiar with Steve McQueen's turn as lieutenant Frank Bullitt. The Mustang used for the famous chase sequence through San Francisco has become a movie star in its own right, and it took me way too long to build this replica. I had bought Revell's metal body kit back when it first came out, it just took me a couple of years to get around to putting it together. Having built Revell metal-body kits before (for the Fast & The Furious Dodge Charger and Smokey & the Bandit Firebird), I knew the buildup would be pretty clean and straightforward. I also knew I could make them even better looking with a little extra care.
The biggest change I made was scrapping the solid front axle, and filling in the giant hole in the engine block. This was especially inconvenient because the hole went through the top of the oil pan as well as the block itself, but with a little sheet styrene and body fill I had a solid looking piece. The rest of the engine/drivetrain was built pretty much box stock, with paint bringing out the kit's details. The only other additions I made were ignition wires and brakes. To mount the front wheels, I made short "pin" axles by cutting 1/2" off each end of the original axle.
Inside was pretty much stock as well, with the addition of a rear-view mirror and Bare Metal Foil trim. BMF was also used extensively on the body, covering all of the matte silver paint applications done by Revell. A few minor paint touch-ups, and I now had a decent replica of Bullitt's Mustang to add to my collection. It was a fun project, and a great break from the more labor-intensive projects I usually tend toward building.