Made By:
Walt Disney Classics Collection (Enchanted Places)
Scale:
N/A
MSRP:
N/A
Overview:
Packaging (Design):
6/10
Packaging (Durability):
10/10
Casting (Body):
8/10
Casting (Interior):
6/10
Casting (Chassis):
N/A
Casting (Engine):
N/A
Paint (Exterior):
7/10
Paint (Interior):
7/10
Paint (Trim/Graphics):
7/10
Overall Panel Fit:
8/10
Total Score:
7.4/10

Other Cartoon & Anime Models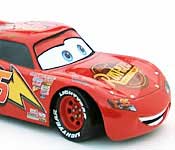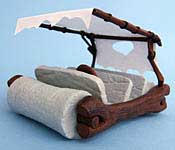 Roadster Racers Donald (Review)
Jimmy Neutron Rocket
Max Steel Jet Racer (Review)
My Neighbor Totoro Catbus (Review)
F&F: Spy Racers Thresher (Review)
Betty Boop '39 Chevy Deluxe (Review)
Batman:TAS Batmobile (Review)
M.A.S.K. Manta
Roadster Racers Minnie (Review)
Planes 2 Firefighter Dusty (Review)
Roadster Racers Goofy (Review)
G.I. Joe RAM
Karate Kommandos Corvette
Flintstones Family Car
Cyber Formula SIN Ogre AN-21 (Review)
Cars Lightning McQueen
The Simpsons Family Sedan
Ghost in the Shell Motoko Kusanagi
Max Steel Turbo Racer (Review)
Turbo Teen
Other 1960s Movie Models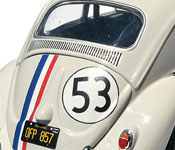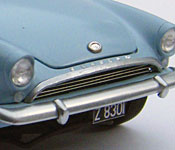 Dr. No Sunbeam Alpine
From Russia with Love Chevrolet Truck
2001: A Space Odyssey Monolith
Spinout Shelby Cobra (Review)
The Graduate Alfa Romeo
Fireball 500 Kustom Barracuda
The Love Bug Herbie
The Great Escape Bike
Batman Batmobile
Bullitt Charger
The Dirty Dozen Jeep
101 Dalmatians Cruella's Car (Review)
Batman Batmobile (Review)
Bullitt Mustang
Batman Batmobile (Review)
Red Line 7000 Ford Galaxie
Hot Rods to Hell Corvette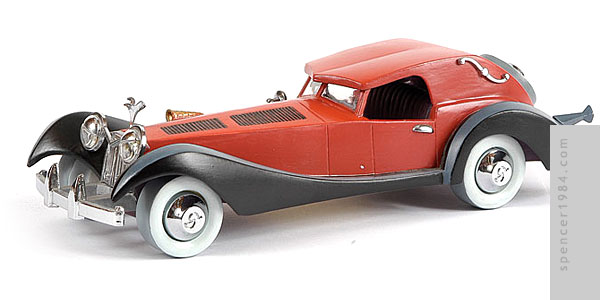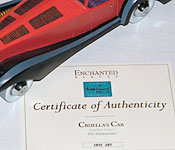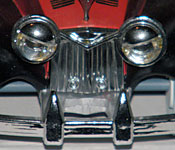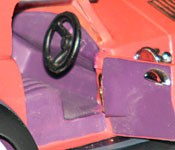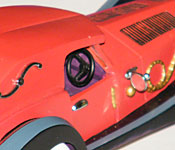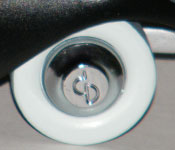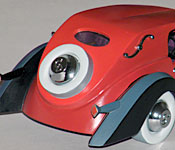 Background
In the 1961 animated film 101 Dalmatians, Cruella De Vil has a massive coupé that she drives recklessly through the streets of London and surrounding countryside. Unlike its original appearance in the novel (and subsequent live action versions), this car was painted red and black with a sinister looking front end resembling a scowling face. To aid them in animating this unique design, the artists built a cardboard model of the car and filmed it so that it could be run through the same Xerox camera process that was translating their pencil sketches into animated cels.
Packaging
Much like a high-end diecast car, the primary focus of this package is on function rather than form. The outer box is a simple textured green cardboard with the Enchanted Places/Walt Disney Classics Collection badge on the top and front panels. A sticker with "Cruella's Car," "101 Dalmatians," barcode, and a black and white photo of the toy is centered on one end of the box. Opening the top flap reveals a two-piece styrofoam clamshell and a small green envelope. The envelope is sealed with a gold sticker, and contains the Certificate of Authenticity, a registration card, and a folded card in matching green and a brief description of the car and its movie appearance. The car itself is securely sandwiched between the two styrofoam trays.
Casting/Paint
Because this is a resin statue of an animated vehicle, details are somewhat limited. There are also a few rough spots where parts have been glued together, such as at the base of the windshield and where the door hinge attaches to the cowl. But overall, it's a smooth, sharp looking machine. The chassis, wheels, main body, fenders, and roof are all cold-cast resin. The bumper, grille, hood ornament, headlights, mirror, hubcaps, door handles, taillight bezels, and landau bars are all chrome plated. The door hinge is unpainted brass. The headlights, windshield, and rear window are all clear plastic. The fenders are painted black with gray highlights, and the split is continued on the taillight stalks. The main body, taillight lenses, and windshield frame are painted red, and the tires (including the spare) are painted light gray with white sidewalls. The bumper mounts are painted silver, and the horn is gold. The paint applications average out to be "OK": the fenders are nearly perfect, but there are some brush strokes visible in the roof. The main tires have good sharp edges between the treads and sidewalls, but the spare and horn have some rough edges. Similarly, the assembly is a combination of "nearly flawless" (grille-to-hood fit) and "could be better" (door to cowl). The interior is simply cast, with a separate steering wheel, tuck & roll bench seat, and vestigial gauges. Everything is painted purple except for the black steering wheel. The chassis is a flat panel. It too is painted purple, with a brass ID tag (CRII 057) mounted in the center.
Features/Accessories
The wheels roll and the right door opens.
Accuracy
This is generally a very good replica of Cruella's car, and does an excellent job capturing the sinister look from the film. The headlights are especially well done, with the lenses cast to look like the movie car's "monster eyes." A few things are too heavy thanks to the realities of cold cast resin, such as the edge of the roof over the windshield and the bumper mounts, but nothing so bad that it ruins the car. No scale is mentioned, but at 9½" (24cm) long, 3&frac34" (9.5cm) wide, and 2½" (6.5cm) high, it fits well with 1/24 scale cars.
Overall
This was really intended to be a art piece more than a true replica, but thanks to the subject matter that allows for a good deal of overlap. The classic design helps push it further into "cool" territory. In fact, the only thing holding it back is the potential price: anything "Disney" and "discontinued" often commands a higher-than-appropriate price, but if you keep your eyes open you can still find some being sold for a reasonable price. Recommended.
Have a question, comment, or criticism about this review?
Send me an e-mail
with your thoughts!