Made By:
Bandai Products
Scale:
N/A
MSRP:
$49.99
Overview:
Packaging (Design):
8/10
Packaging (Durability):
8/10
Casting (Body):
9/10
Casting (Interior):
N/A
Casting (Chassis):
N/A
Casting (Engine):
N/A
Paint (Exterior):
N/A
Paint (Interior):
N/A
Paint (Trim/Graphics):
9/10
Overall Panel Fit:
10/10
Total Score:
8.8/10

Other Cartoon & Anime Models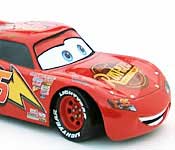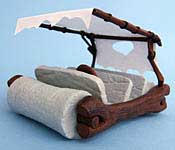 1992 Batman:TAS Batmobile
Tiger & Bunny Double Chaser (Review)
Gunsmith Cats Shelby GT500
Tekkonkinkreet Colt Galant
Betty Boop '39 Chevy Deluxe (Review)
Transformers Optimus Prime
Cars 3 Jackson Storm (Review)
Max Steel Jet Racer (Review)
Roadster Racers Donald (Review)
Jimmy Neutron Rocket
Batman:TAS Batmobile (Review)
F&F: Spy Racers Thresher (Review)
Scooby Doo Mystery Machine
Cars 3 Lightning McQueen (Review)
WALL·E
Batman:TAS Batmobile (Review)
Planes 2 Firefighter Dusty (Review)
The Real Ghostbusters Ecto-1
Danger Mouse Mk III
Paprika Aston Martin DB7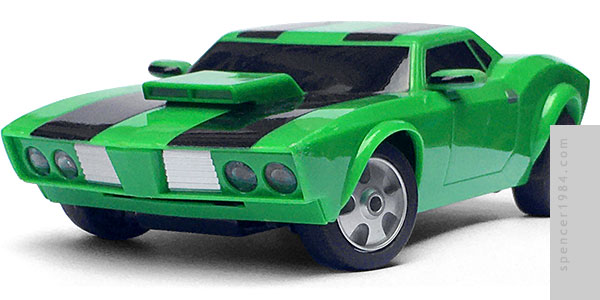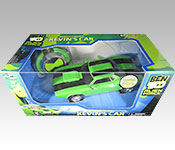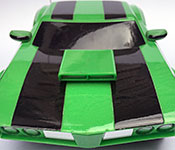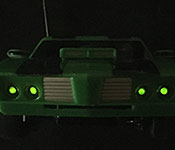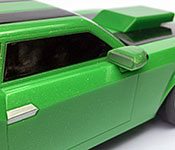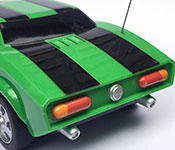 Background
Ben 10 follows the adventures of Ben Tennyson, who becomes a super hero after discovering a watch-like device called the Omnitrix that allows him to shape-shift into ten different alien species each with their own powers and abilities. Among his allies is Kevin Levin, a former street tough and villain who serves as mechanical/tech genius for the team. As befitting this role, his vehicle is a classic muscle car loaded with alien weapons and able to survive its (many) destructions thanks to an indestructible piece of Tetramand technology.
Packaging
Bandai went with a standard retail window box for Kevin's Car, mixing blue and green geometric shapes as per the show's motif. The single large window is outlined with a solid blue stripe, and on the front of the box is flanked by the Cartoon Network, Bandai, and Ben 10 logos. A photo of the car and the text "Remote Control/Kevin's Car" is written underneath. The top repeats the logos and text, but rearranges them to be all above the window. The left end flap also has the logos and text, now repeated over a large drawing of Ben Tennyson and Kevin Levin, while the right end has the logos and co-sell photos for the alien figures available from Bandai (Humungousaur, Chromastone, Swampfire, and Jet Ray). The back panel has a large photo of the car and its remote, plus callouts for the various features. The bottom panel has the requisite legal info. The car and remote are held in a blue folded cardboard tray.
Casting/Paint
Like most RC vehicles, Kevin's Car is made from a tough ABS that can hold up to some rough adventures. The front and rear fascias, hood scoop, and sideview mirrors are separate pieces, but cast from the same plastic so there's no color shift between parts. Clear plastic is used for the headligts to facilitate the light-up feature. The casting is nice and sharp, with nearly invisible joints between parts and no sign of parting seams anywhere. Paint is equally great, with nice sharp lines between the molded green and painted accent colors: silver for the grilles, hood scoop inlets, door handles, mirror glass, tailpipes, and fuel fill; black for the stripes, windows, and mirror accents; and red and orange for the taillights. Most of these have molded lines to help sharpen the edges, and Bandai made full use of them with spot-on registration. The wheels are silver mags with slick vinyl tires. As an RC vehicle, it has no interior or engine, and the chassis is a simple black ABS pan with a screw-down battery cover and an adjustment screw for the steering.
Features/Accessories
This is a full-function R/C car with working lights and sound effects. The transmitter is shaped like Ben's Omnitrix, with the controls built into its design so there's no obvious "toy controls" that stand out.
Accuracy
If not for the holes in the rear deck - one for the antenna and four for the speaker - this would be a nearly flawless curbside rendition of the animation model. As with most animated vehicles, scaling is open to interpretation. The car measures 8¼" (21cm) long, 4" (10cm) wide, and 2½" (6cm) high, so it could be considered anything from 1/18 to 1/24 depending on your personal interpretation.
Overall
While a full-detail replica would have been nice, Bandai has made a good looking curbside here that works equally well as either a toy or collectible.
Have a question, comment, or criticism about this review?
Send me an e-mail
with your thoughts!