Site Features
Getting Started in the Hobby
Model Categories
Original Kit:
N/A
Made By:
N/A
Scale:
1/24

Other Comic & Manga Models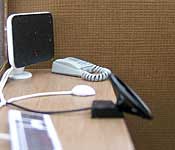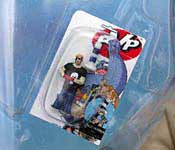 DC Bombshells Poison Ivy (Review)
PvP Dexter Jettster
Dilbert Carbicle
Cyber Formula SIN Asurada Aero (Review)
Cyber Formula Asurada AKF-11 (Review)
Tekkonkinkreet Colt Galant
Avengers Lykan HyperSport (Review)
Cyber Formula Fire Superion (Review)
Teen Titans #9 Batmobile
Garfield Parade Car (Review)
Other Robot & Cyborg Models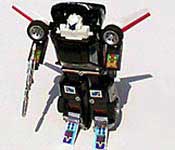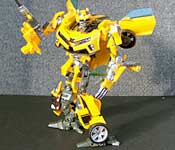 KONGO Attack Vehicle
JGSDF 07 Tank Nacchin
Draw 50 Monsters UR2EZ
Ghost in the Shell Motoko Kusanagi
The Day the Earth Stood Still Gort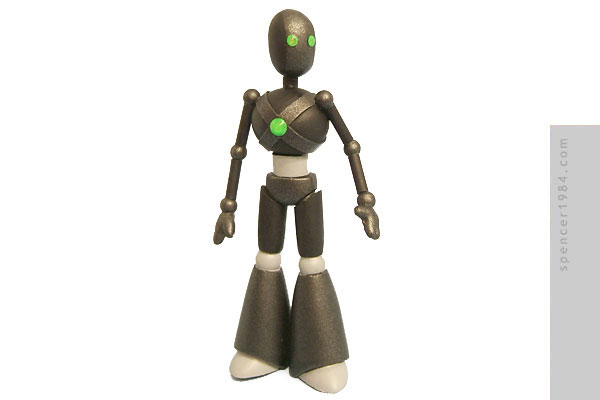 Zeke here continues my series of webcomic-based-models. I had been kicking around the idea of an X-Bot figure since he was introduced in the comic, but couldn't decide if I wanted to do him in 1/12 scale to go with my other figures, or 1/24 scale to go with the rest of my model collection. In the end, the latter won.
There aren't really any figures close enough to use as a starting point for Ezekiel, so he is almost entirely scratchbuilt. I was able to use part of the waist and lower legs from a vinyl MegaMan figure, and the hands are heavily modified from a Dale (of "Rescue Rangers" fame) figure. The head and chest are made from epoxy putty, and the abdomen, arms, and upper legs are styrene. Joints are a combination of ball bearings and jewelry beads. Finally, the eyes and XBox light were made from epoxy and painted on the back to creare a glow effect.
This was my first attempt at both working with epoxy putty and my first shot at sculpting a totally unique 3D figure based on 2D references. Overall I'm pretty happy with the results, and I got a chance to learn some new techniques that I can use for future projects.