Site Features
Getting Started in the Hobby
Model Categories
Original Kit:
The Dukes of Hazzard General Lee
Made By:
MPC (kit #817)
Scale:
1/25

Other Charger Models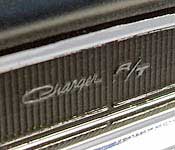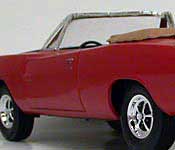 The Fast & the Furious '70 Charger
Furious 7 Off-Road '70 Charger
Wheels of Terror Charger
Dukes of Hazzard (movie) General Lee
Half-Life 2 Muscle Car
Fast 5 '11 Charger Rio Police (Review)
'67 Charger (Review)
Dirty Mary, Crazy Larry '69 Charger
'69 Charger (Review)
Bullitt Charger
Dukes of Hazzard General Lee
Need for Speed '69 Charger (Review)
Fast & Furious '70 Charger
Collier & Co: Hot Pursuit Traveller
Fast 5 '70 Charger
Other Classic TV Models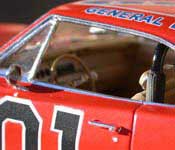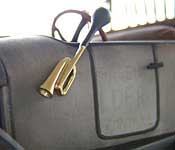 Kaiki Daisakusen Tortoise (Review)
Honey West Cobra 289
Batman Batmobile (Review)
Beverly Hillbillies Truck
V.I.P. Jaguar
Flintstones Family Car
Highway Patrol Buick
Jetsons Spaceship
Danger Mouse Mk III
V Laser Jeep
1966: Batman (Review)
Dukes of Hazzard General Lee
A-Team Corvette
Doctor Who TARDIS
Speed Racer F1 Mach 5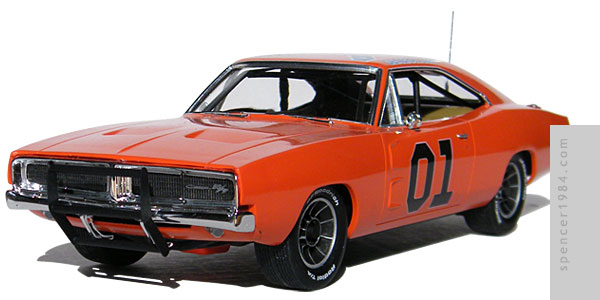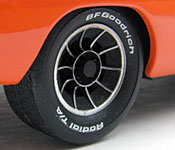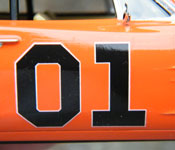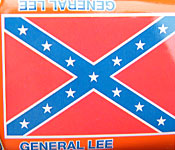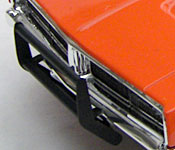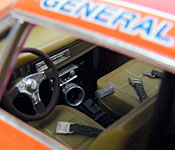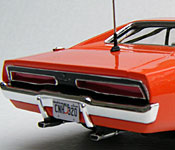 Cool Fact
Due to the controversial nature of the rebel flag (as noted in the 2005 movie), many products featuring the General Lee have been modified to hide the car's roof using a low camera angle or masking scenery (such as a 2014 Hallmark Keepsake ornament that depicted the General mid-stunt).
I've wanted to build a movie variant of the General Lee to go with my original TV series version for quite some time, and Round 2's snap-it kit seemed like the perfect way to test drive the new tooling and get this project scratched off my "to do" list at the same time.
I started with the body, which needed some basic clean-up and removal of the corner marker lights. I also redid the grille opening to accept Revell's part, since Round 2 used the same incorrect grille here that was in their old glue kit. I also scrapped the kit-supplied grille guard and made a new one out of styrene stock. The TV series' General Lee used several shades of orange over the years, but the movie claims to have used only one: BigBad Orange, a 1970 AMC color. I got the appropriate color from Scalefinishes, followed by a couple of coats of Testor's high-gloss Lacquer clear coat. The decals provided in the kit were nicely done, but not accurate to either the show or the movie. I made all-new decals in Illustrator.
The interior received scratchbuilt door rests, shift lever, tach, and roll cage. The steering wheel was out of my parts box, while the CB radio was a modified kit part. I left the bulk of the interior unpainted since it was close in both texture and color to the movie car.
The only other major modification I made to the build were the wheels & tires. Round 2 tooled up an all-new set of wheels for this kit's release, but they were much too flat (and also too small for the movie car). I replaced the wheels with a set of aftermarket Vectors from Fireball Modelworks. The BF Goodrich decals were from the same place, applied to a set of tires from Revell's '37 Ford.