Site Features
Getting Started in the Hobby
Model Categories
Original Kit:
1963 Corvette
Made By:
N/A
Scale:
N/A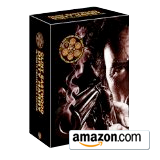 Other Corvette Models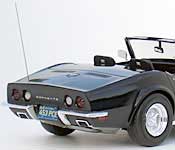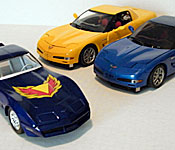 Mako Shark Show Car
'06 Corvette 1 (Review)
The Junkman 1981 Corvette
Revenge of the Fallen Sideswipe
'70 Comic Book Batmobile
Other 1980s Movie Models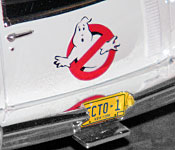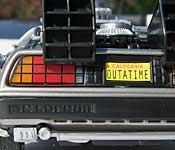 Who Framed Roger... Benny (Review)
Smokey & the Bandit 2 Firebird T/A
Indiana Jones and the Last Crusade Bike
Transformers: The Movie Optimus Prime
The Terminator T-800 Endoskeleton
Back to the Future DeLorean
Ghostbusters Ecto-1
BTTF DeLorean (Review)
Transformers: The Movie Hot Rod (Review)
Stroker Ace Thunderbird Stock Car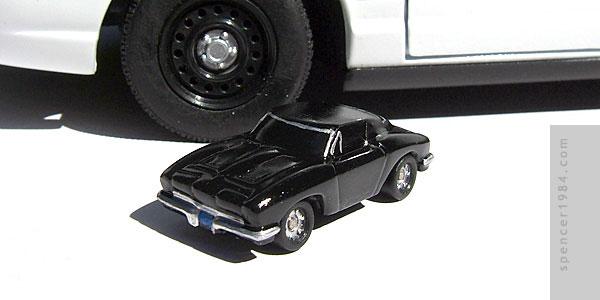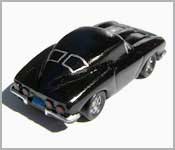 Cool Fact
The Corvette used in the chase sequence was driven by world-champion radio control driver "Jammin'" Jay Halsey
At the risk of getting too meta, yes: this is a model of a model. I've been considering a representation of the R/C Corvette from The Dead Pool for a while, but never really pursued it. Then one day I came across a set of knockoff Micro Machines at a toy store, and saw my opportunity (technically they appear to be recast Speedeez, but I still think of Speedeez as Micro Machine wannabes).
Unlike most scale efforts, the "squashed" proportions were actually beneficial here since they closely resembled the Parma body used in the movie. To give it the lower stance of the movie car, I removed about 1/8" from the bottom and reshaped the roof to make it lower and wider. I also replaced the wheels with a spare set I had, and added a fake "chassis" under the body. It was then repainted black, and the window frames, bumpers, grille, license plates, and taillights were hand painted.
Although it may not be an exact 1/24 representation of the R/C car used in the movie, parking it next to one of my other cars (as shown at the top of this page) makes the scaling look pretty close.