Site Features
Getting Started in the Hobby
Model Categories
Original Kit:
1980 Chevrolet Corvette
Made By:
Fundimensions
Scale:
1/24

Other Corvette Models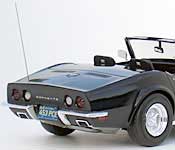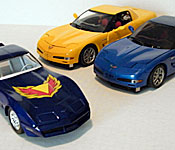 Agents of SHIELD 1962 Corvette
'06 Corvette 2 (Review)
'06 Indy Pace Car (Review)
Transformers Vector
Judge Parker Corvette
Other 1980s Movie Models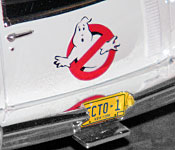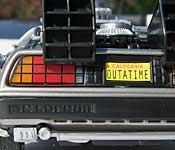 BTTF3 DeLorean (Review)
Stroker Ace Thunderbird Stock Car
Cobra Mercury
The Philadelphia Experiment Charger
Romancing the Stone Little Mule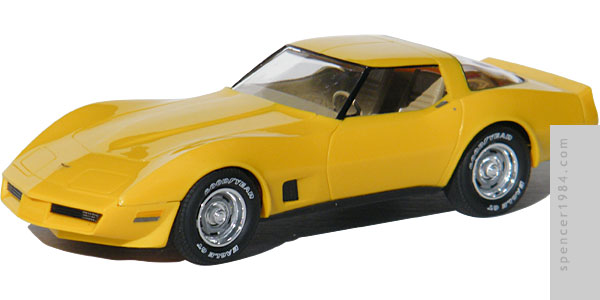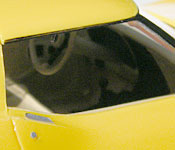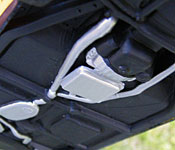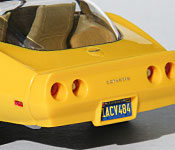 Having completed models of Eleanor and the Slicer, there just one more car needed to complete my H.B. Halicki movie set: the 1981 Corvette from The Junkman (actually, I'd like to get/build a model of the Bricklin SV-1 featured in Deadline Auto Theft, but until that happens Eleanor will work for both that movie and the original Gone in 60).
I started with the same promo that eventually became Tracks, only this time I did a more complete disassembly so that I could do a more thorough job painting it. This meant some things that had been glued together were damaged, but nothing that would show on the finished model. Once apart, the interior was painted tan with black detailing. The chassis was changed to incude an automatic transmission pan (strangely, the interior was already correct for an automatic), rear fender wells, and a new set of wheels from my parts box and tires with sidewall decals from Fireball Modelworks. The body was cleaned of mold separation lines and polished, then detailed with black on the badges, fender gills, rockers, and window trim. Silver was used for the door handles, locks, and Corvette script on the tail panel. Finally, the front, side, and backup lights were painted the appropriate colors. Everything was reassembled, and a screen-accurate rear license plate finished it off.