Site Features
Getting Started in the Hobby
Model Categories
Original Kit:
Lamborghini Diablo
Made By:
Welly
Scale:
1/24
Transformers.com
ReproLabels.com
Seibertron.com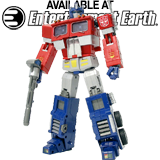 Other Transformers Models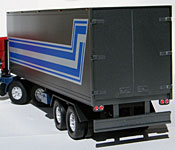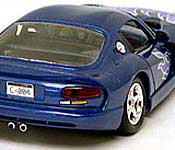 Generation 1 Optimus Prime
Generation 1 Hot Rod (Review)
Generation 2 Optimus Prime
Machine Wars Prowl
Robots in Disguise Side Burn
Armada Hot Shot
Energon Hot Shot
Cybertron Cannonball
2007 Movie Bumblebee
Revenge of the Fallen Bumblebee
Dark of the Moon Roadbuster
Prime Bumblebee
LEGO Optimus Prime
G1 Spychangers
Vector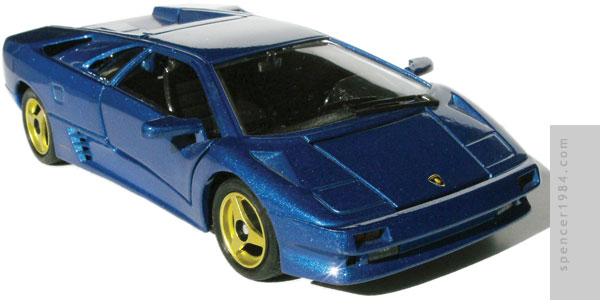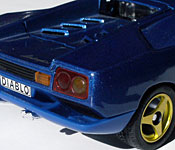 Cool Fact
Sideswipe's Gobot is considered by many fans to be the truest G2 update of a G1 character: it used the same type of car, plus it had an identical (if simplified) transformation to his original toy.
This is my third Gobot/Spychanger Lamborghini, based on the diecast car from Welly. I had originally planned on stripping and repainting one of these for Sideswipe, but then I discovered that Welly had a metallic blue option that was pretty close to the toy's color. I did alter the wheel color by going over the silver with a yellow Sharpie, but otherwise this was a simple wheel swap (technically, Prime should have gold wheels as well, but I chose to keep them silver to differentiate him from Firecracker).