Original Kit:
The Batmobile
Made By:
LEGO (kit #70905)
Scale:
~1/24

Other Batmobile Models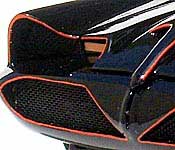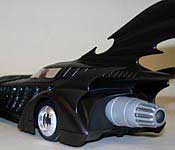 1977: Batman #288
1992: Batman Returns
1966: Batman (Review)
1989: Detective Comics #597
2004: Teen Titans #9
1939: Detective Comics #27
1980: Batman #330
1944: Batman #25
1979: Legends of the Superheroes
1987: Batman #408 interior
Other 2010s Movie Models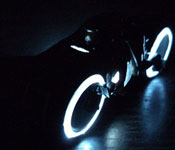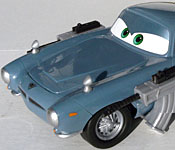 Need for Speed Mustang GT (Review)
Jack Reacher '70 Chevelle
Cars 3 Lightning McQueen (Review)
Furious 7 Nissan GT-R (Review)
Planes Dusty Crophopper (Review)
Furious 7 '70 Road Runner (Review)
Fast 5 '11 Charger Rio Police
Atomic Blonde Porsche 911
Jurassic World Mercedes-Benz 6x6
Deuce of Spades '32 Ford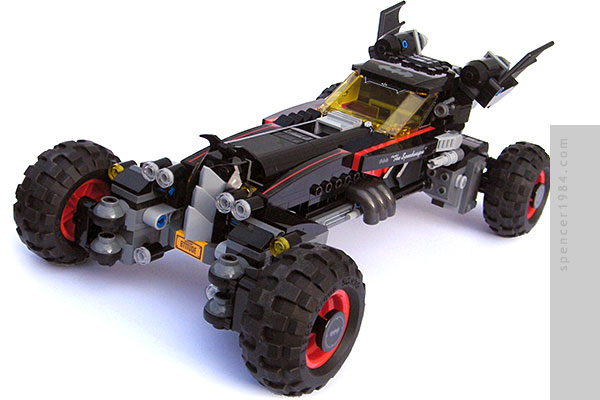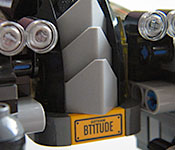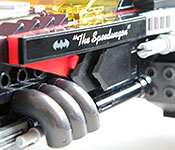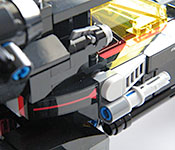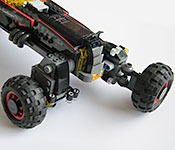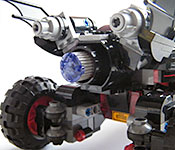 After the success of The LEGO Movie and Will Arnett's goofy-but-gritty Batman, The LEGO Batman Movie was practically inevitable. Just as expected was the appearance of an all-new Batmobile for the film, this one being a slightly different take on the car by making it a high-riding buggy with relatively small fins and an extremely long wheelbase. The official set for this Batmobile hit stores a few months before the film's release, including a brick separator tool and minifigs of Batman, Robin, Man-Bat, and the Kabuki Twins along with the main build. Assembly was pretty standard LEGO fare, with two good-sized booklets with clear (if somewhat slow-moving) instructions and a sheet of stickers to decorate the Batmobile.
Once assembled, this thing is a monster. At 11" (28cm) long and 6¼" (16cm) wide, it dwarfs other LEGO minifig-scale vehicles. In my own 1/24 scale Batmobile collection, it even gives the animated series' car a run for its money. A fair amount of the bulk is in the suspension, though: the fuselage is just 10" (25.5cm) long and 3" (8cm) wide. But the massive wheels and their elaborate suspension aren't just for show, since each wheel has two points of articulation. One joint raises and lowers the wheel, while the other allows the wheels to pivot around a vertical axis (much like the "side-step" maneuver used in Batman Forever). LEGO used good stiff ratchet joints for these, so there's no floppiness and the car holds whatever position you want. There's also a play feature where you can turn the central exhaust nozzle and it pops the roof off the Batmobile (likely to allow for an ejection-seat), and a pair of stud shooters are mounted just behind the canopy, one on each side.
Play features aside, it's a great looking Batmobile. Not nearly as sleek or brutal as some of Batman's other rides, but the designers clearly had some fun with this and created something that pays homage to several generations worth of Batmobiles. The only places where I went against the instructions were the application of the canopy stickers, which I placed at the extreme edges of the glass to create a more solid look with the rest of the car. This meant the corner stickers had to be trimmed and the lower sticker had to be bent, all of which increases the likelihood of them being damaged, but since I plan on keeping this set built as-is I happily accept the trade-off.