Site Features
Getting Started in the Hobby
Model Categories
Original Kit:
Keepsake Ornament
Made By:
Hallmark
Scale:
1/22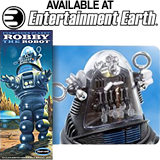 Other 1940s/50s Movie Models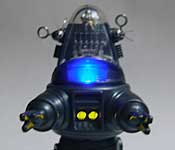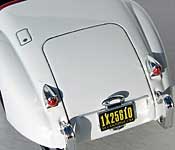 Forbidden Planet Robby the Robot
Three Stooges Hook, Line, & Sinker Truck
The Fast & the Furious Jaguar
Blonde Comet Open Wheel Racer
Other Robot & Cyborg Models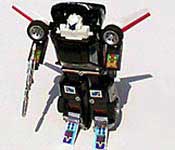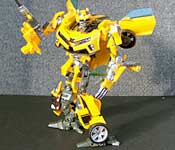 Ctrl-Alt-Del Zeke
Star Wars Napalm Droid
Metallo
LEGO Optimus Prime
Ghost in the Shell Motoko Kusanagi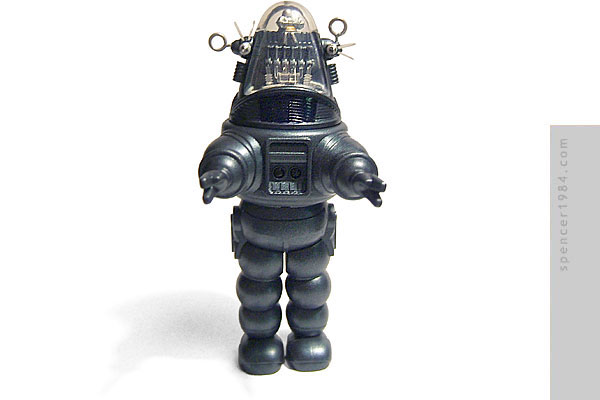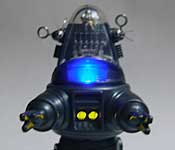 Robby may be one of the most famous robots in the history of science fiction, but scale models of him are pretty scarce. 1/24 scale replicas are even more difficult to find, with the current count somewhere in the neighborhood of "zero." While this Robby ornament is still a hair too big, he's not far off (Robby is pretty tall to begin with, oficially standing at 7'6"/2.286m). All he really needed were a few upgrades.
The first thing that had to go was the loop in the top of his head, where the ornament hook would normally go. I also replaced the antenna on either side of his head with bent wire pieces, and added a swivel waist. Finally, I shaved a little material from the bottoms of his feet, since they looked a bit tall compared to photos of the 1:1 Robby. This also helped bring his height down closer to the other figures in my collection. He's still about 4" - 6" (10 - 15cm) too tall, but until a true 1/24 scale Robby becomes available I'm quite happy with this one in my collection.