Site Features
Getting Started in the Hobby
Model Categories
Original Kit:
Slingshot
Made By:
Kenner (#37210)
Scale:
1/24

Other Cartoon & Anime Models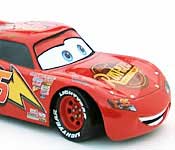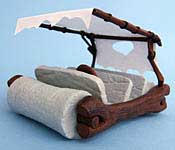 Lupin III Mercedes-Benz SSK (Review)
Gunsmith Cats Shelby GT500
Who Framed Roger... Benny (Review)
Tiger & Bunny Double Chaser (Review)
Jetsons Spaceship
Ghost in the Shell Motoko Kusanagi
Cars 3 Lightning McQueen (Review)
F&F: Spy Racers Thresher (Review)
Urashiman Magna Beetle
Chop Socky Chooks Cars (Review)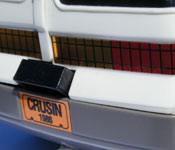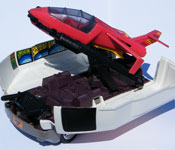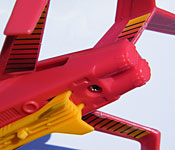 Slingshot needed the most work of any of my M.A.S.K. vehicles so far. In what seems to be a common problem, the internal gears were knocked out of alignment and needed to be completely disassembled and reset. While that somewhat fiddly work, the bigger problem was inside the Sonic Jet: the locks to keep the wings closed had been broken, and prevented the sides of the RV from closing properly. The wings are made from a very slick plastic, so most glues do not adhere to them. I pinned the broken pieces together the best I could, then used 5-minute epoxy to hold them. Since this was no longer going to be used as a toy, I also unwound the activation spring and cut off part of it to make it much weaker. It still pops the wings out, but puts much less stress on them than the original spring did.
Once the mechanical bits were taken care of, I cleaned it up, added a new set of stickers, and redid the worn grill with a strip of BMF.