Site Features
Getting Started in the Hobby
Model Categories
Original Kit:
Ford Explorer Sport Trac
Made By:
Maisto
Scale:
1/25

Other Transformers Models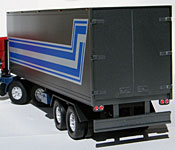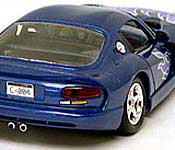 G2 Gearhead
Robots In Disguise WARS
G1 Skids
G1 Road Rage
G2 Sideswipe
Robots In Disguise Prowl
Dark of the Moon Roadbuster
Beast Wars Grimlock
G1 Red Alert
Beast Wars Optimus Primal
Beast Wars Rattrap
The Last Knight Crosshairs (Review)
G1 Sideswipe
Revenge of the Fallen Sideswipe
Revenge of the Fallen Skids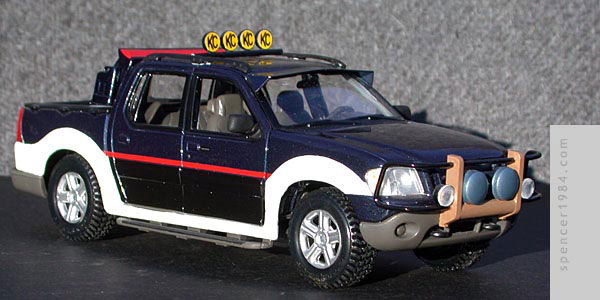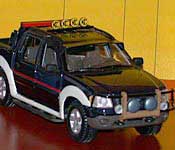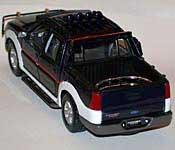 Cool Fact
Despite the name being reused several times over the years, Energon marked the first time ever that an American "Ironhide" had a unique vehicle design.
Though the Energon vehicles are not based on real cars, the designers used enough features from the 1:1 world to give an idea of what the characters might have been if not for licensing issues. Ironhide is a generic sport-utility vehicle, but several of the panel & glass lines remided me of the Ford Explorer. The way that the colors were split up toward the top rear of the vehicle made me think that this wasn't a traditional SUV, but an SUV/pickup truck hybrid. So came my decision to use the Explorer Sport Trac as a base vehicle.
Whether by design or because of safety considerations, Ironhide's silly looking head/radar/gun/light is easily removable. This let me create a realistic vehicle mode but still stay true to the prototype. The brush guard was scratchbuilt from styrene stock and stainless steel rod, and the roof bar and windshield visor are made from more styrene stock. The driving lights on the front and top of the vehicle are made from wiggle eyes with the lenses facing backward to create the domed housings. The sport bar behind the rear window is a modified component from a 1/32 scale Bigfoot Racing monster truck with fuel cans taken from my parts box.
The blue is the model's original color, with the accessories painted to match. I added the accent colors with a combination of paint an vinyl stripes, and detailed the interior and chassis with paint.
Have a question, comment, or criticism about this model?
Send me an e-mail
with your thoughts!