Original Kit:
"City Slicker" 1969 Dodge Charger
Made By:
MPC (kit #879)
Scale:
1/25

Other Charger Models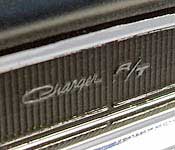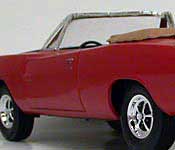 Furious 6 '69 Charger Daytona
'69 Convertible
Bullitt Charger
Agents of SHIELD Hell Charger
House of Wax '68 Charger
Blade'68 Charger
The Fast & the Furious '70 Charger
Fast & Furious '70 Charger
Furious 7 Off-Road '70 Charger
Furious 7 '70 Charger
Dirty Mary, Crazy Larry '69 Charger
Wheels of Terror Charger
Half-Life 2 Muscle Car
Fast 5 '70 Charger
Dukes of Hazzard General Lee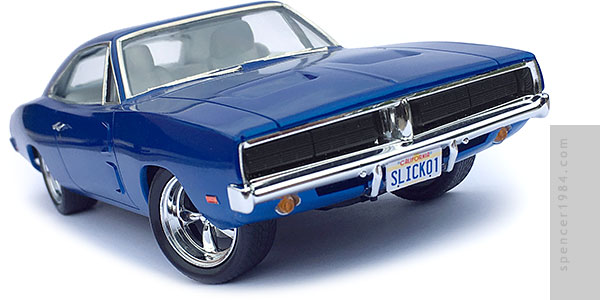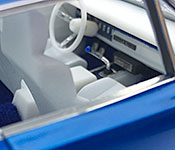 Credit where credit is due, Round 2 has a brilliant marketing department. They've made a presence for themselves on social media, post regular updates about new and upcoming kits to keep people interested, and keep pushing the nostalgia factor by digging up not just vintage kits but reusing vintage box art as well. Even when they have a new kit, like the Snap-It General Lee, they wrap it up in a cool box with some genuine art on the front. Trying to capture the look of Don Greer and James Hood's box art was one of the big pushes for me to get the "City Slicker" Charger. The other was that doing a "box art build" was a good excuse to make one of these while keeping the incorrect (if rather cool looking) '71+ grille inserts MPC has included with their '69 Charger kits since the earliest Dukes of Hazzard days.
While the late-model grille inserts were actually a plus for me, the wheels were not. Although they included a set of optional 5-spokes in the kit, Round 2 used the same tires here as they did with the General Lee. They were too small then, and even more so here when compared to the pro touring-style wheels depicted on the box art. So I ignored them and instead used a set of Pegasus #1274 "T's" with parts box tires and disc brakes. The tires I selected were taller but narrower than Pegasus' rubber bands, so I sliced a bit off all four wheels to prevent any chrome peek-a-boos inside the wheel wells. I also made new axles: a longer one for the rear to capture everything securely, and two angled wires to give the front end the proper posed look.
Aside from new wheels, I also shaved off the door handles and replaced them with a set from Fireball Modelworks. Inside, I replaced the low-backed front seats with a more modern set from Fujimi's Silvia kit and added deep pile carpet made from craft felt. The CB radio didn't feel right, so I sanded it smooth and added a CD player face from Detail Master. Lastly, I installed a set of racing pedals from Model Car Garage. Since this was very much a personalized ride, I went with a unique color scheme of white and blue with chrome accents and my own custom gauge faces.
I originally went into this with the thought of just polishing out the cast blue color, like what I had done with Fujimi's CRX, but the more I looked at it the more the plastic just looked too...plastic-y. I was going to have to paint it. I still had some HoK Oriental Blue left over from Brian's McLaren, and I wanted to take another crack at it. It has a base coat of Duplicolor silver, about seven light coats of blue, and about five coats of clear. The body was wet sanded and polished, then trimmed using BMF and Molotow Liquid Chrome. The license plates provided in the kit were a little small, so I remade them but kept the same classic "Sunset" design.