Site Features
Getting Started in the Hobby
Model Categories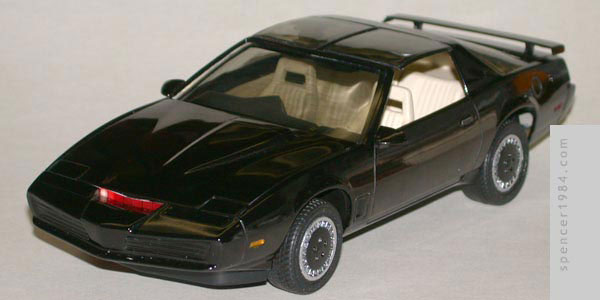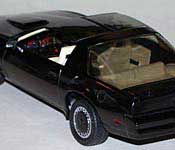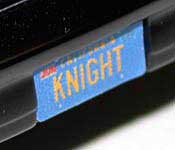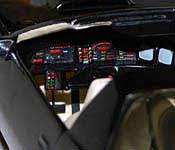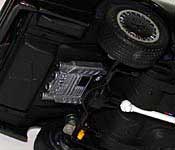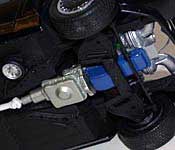 The Knight Industries Two Thousand, or KITT, is easily one of the most famous cars in the world. The show Knight Rider made a black Firebird Trans Am (not to mention David Hasselhoff) into a cultural icon. For 2003's holiday auction, I offered a finished 1/25 scale replica of KITT. As with all previous years, the proceeds from this auction went to local charities during the holiday season.
Inside, the model's original shallow interior was modified to be the correct depth (most noticably in the rear seat area), and the new floor was appropriately textured to simulate carpeting. The dashboard was also modified to be the correct size, and both upper and lower center consoles were altered to fit into place correctly. The shift lever and pedals were scratch built, and all details from the dashboard to the kick panels were hand painted.
Though the car used in the show had a regular internal combustion engine, KITT was always described as having something a little more under the hood. This model features a custom built and detailed twin-turbine engine attached to a modified GM automatic transmission. The suspension components have been modified to acknowledge KITT's unique abilities. Items here include posable front wheels, heavy duty rear shocks, and a special assembly connected to the primary suspension members. KITT's rocket thrusters are here, too - hidden above the rear axle so as to be inconspicuous while on the road.
The original AMT/Ertl body was replaced with a correct early-1980s style body with the small vents behind the front wheel openings. KITT's nose and lower splash pan were then added, and the front of the car was smoothed to make a stepless transition between the parts. The body was then painted gloss black and polished to a shine. New sideview mirrors with plated inserts replace the original kit items, and the front spoiler is finished in vinyl. The rear license plate and front scanner were laser-printed, and the T-tops are removable.
Have a question, comment, or criticism about this model?
Send me an e-mail
with your thoughts!