Site Features
Getting Started in the Hobby
Model Categories
Original Kit:
1984 Corvette
Made By:
MPC (promo)
Scale:
1/25

Other Classic TV Models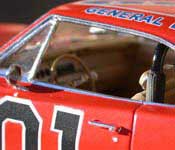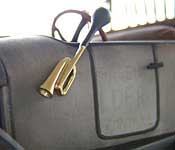 Batman Batmobile (Review)
Starsky & Hutch Ford Torino
Doctor Who TARDIS
Married...With Children Dodge
Jetsons Spaceship
A-Team Corvette
Knight Rider KITT (Review)
Danger Mouse Mk III
Dark Shadows Vampire Van
Highway Patrol Buick
Man from U.N.C.L.E. Piranha
Kaiki Daisakusen Tortoise (Review)
Knight Rider KITT
Scooby Doo Mystery Machine
Batman Batmobile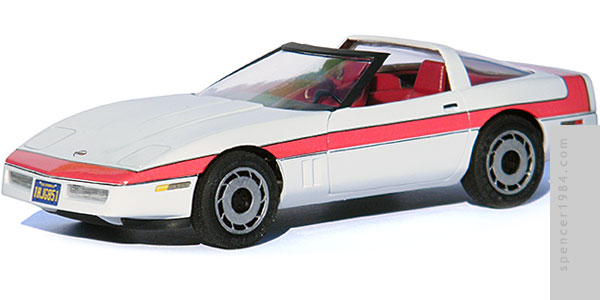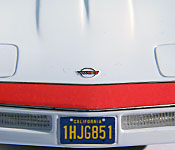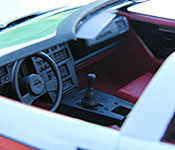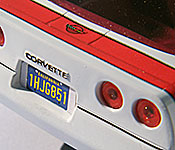 After finishing the van, I needed to make a replica of Face's Corvette to go with it. The trouble, though, was that the C4 kits I kept coming across were cast in red, and I didn't particularly want that headache if I could avoid it. Rather than track down one of the ones cast in black, I decided to skip it altogether and use a promo instead.
I actually used two promos: a silver one for the body, glass, & chassis, and a red one for the interior (the leftover red body/gray interior were appropriate for a different project I have in the works). The body was cleaned of all casting lines, the roof panel and parking lights were removed, and it received a good washing. I then painted it Tamiya TS-26 Pure White with black accents for the windshield frame, bumper strip, rear script, and door handles. To make the stripes with the appropriate pinstripe edges, I was going to have to use decals. I took several photos of the promo and translated those into flat images to use as guides in Illustrator. It took a few minor adjustments, but I finally had a working set that were sized correctly. These were then printed onto clear stock, applied to the Vette, and covered in several coats of Future to match the body's gloss. The hood emblem was another decal, sized to fit and mounted directly on top of the cast-in emblem. Finally, a new set of parking lights were made from the edge of a CD case and backed with BMF-lined styrene half pipes.
The chassis was repainted flat black with a flat aluminum exhaust system. I never liked the wheels that came with these promos, so I replaced the rims with a set from a Monogram C4 and tires from Tamiya's Ford Sierra XR-4i.
The interior was disassembled down to the bare bucket, and the seat backs, dash, center console, and door panels were painted black. The interior was then shot with Tamiya TS-79 Semi-Gloss. I then cut apart the front and rear glass, made a set of sun visors, and reassembled everything.
Once together, the body received a light polishing to clean up any fingerprints, I painted the marker lights, and finished it off with a set of screen-accurate license plates.