Site Features
Getting Started in the Hobby
Model Categories
Original Kit:
Dodge Durango
Made By:
Anson
Scale:
1/24
Other 2000s Movie Models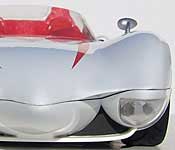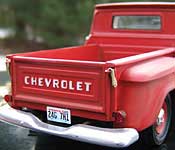 Watchmen Owl Ship (Review)
The Bourne Identity Mini
Finish Line Cobra
The Bourne Ultimatum NYPD Impala
Dark Harvest 2: The Maize Durango
Resident Evil Raccoon City Police Car
Megafault Dodge Ram
Alone in the Dark VW Touareg
Gone in 60 Seconds Eleanor (Review)
Ninja Cheerleaders VW Beetle Cabriolet
Austin Powers: Goldmember Shaguar
Terminator 3 Lexus
Night Watch Audi TT
War of the Worlds Monte Carlo SS
I Am Legend Shelby GT-500
Cars Mack (Review)
Transmorphers: Fall of Man Police Car
Harry Potter Anglia 105E
Speed Racer Mach 5 (Review)
WALL·E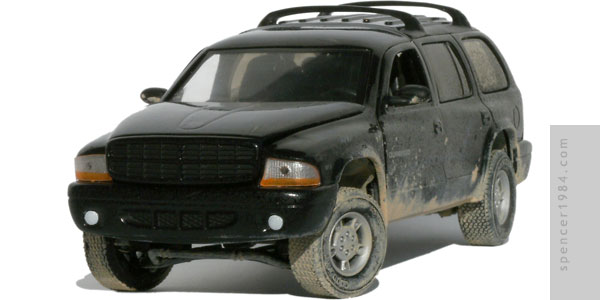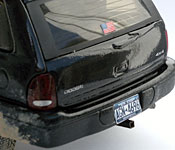 Cool Fact
The Maize was not originally planned as a sequel to Dark Harvest - it was a stand alone picture created by Bill Cowell, but sometime between creation and distribution it received the "Dark Harvest" preface.
Amusingly enough, Anson did as good a job with this diecast as as Cowell did on the movie. The hood and roof looked like they had been painted during a sand storm, the tires belonged on a roller skate, and the first time I tried to open the rear hatch it broke off in my hand (followed immediately by the left taillight falling off). It was as if the fates had gathered 'round and cursed anything related to this movie. But, I've faced far more argumentative builds, so I was undaunted by a little polish & paste work.
Work was actually pretty simple: I didn't even worry about disassembling it. I just cleaned up the outside of the vehicle and did some wet sanding to get rid of the sandblast effect on the hood & roof. Since it's one on-screen appearance featured some pretty heavy mud (courtesy of a late autumn NY driveway), I recreated the effect with a mixture of paint and baking soda. I also replaced the tiny tires with a set from my parts box, added the trailer hitch bracket and window sticker, and made a screen-accurate license plate.