Site Features
Getting Started in the Hobby
Model Categories
Original Kit:
Dick Tracy Coupe
Made By:
AMT/Ertl (kit #6107)
Scale:
1/25

Other 1990s Movie Models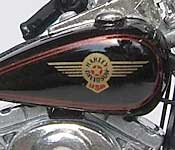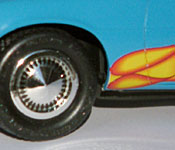 Batman Forever Batmobile
Blade '68 Charger
Terminator 2 Harley-Davidson
Short Time Dodge Diplomat
Dazed & Confused '72 Pickup (Review)
The Chase 325is
Bedazzled Lamborghini
Batman Returns Batmobile
Dick Tracy Coupe
Batman Returns Batmobile (Review)
Rush Hour Corvette
Austin Powers Shaguar
ID4 1971 Chevy C-10 (Review)
Wayne's World Pacer
The World is not Enough BMW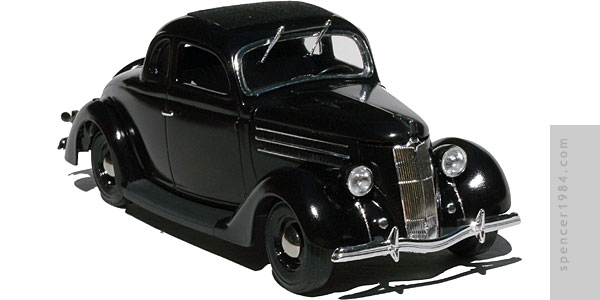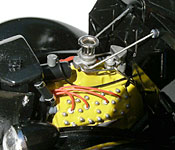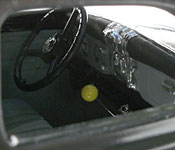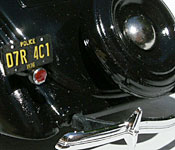 I had been on the lookout for one of these kits for several years before I finally found one. Not that they are really rare, just that most dealers seemed to want more than I was willing to pay. In the end I'm glad I waited for a good deal, since the kit really isn't deserving of a high price tag.
The biggest problem is the amount of flash on the parts. Everything from the grille surround to the spare tire was decorated with plastic frills and needed major cleanup before the basic assembly could begin. Then, once this was done, it turned out that many of the parts did not fit together correctly. The worst offender was the seam between the body and the greenhouse, which was a zig-zagging break that cut across the beltline. To get it to fit, the roof had to be tacked into place on one side, clamped, and glued. Once the first side was done, the second side could be positioned and glued the same way. No matter how carefully the work was done, there were still a few gaps that needed to be addressed with body fill.
There was one saving grace for this kit, in the relatively low parts count. Once cleanup and repair work was done, there was very little assembly work: the engine/transmission was about a dozen pieces, the interior was about seven pieces, the front and rear suspensions were three pieces each, etc. This made for an interesting building experience, since preparing a single part could take an hour, but assembling the full interior was done in a few minutes.
I did make a few changes to the kit. The kit-supplied wheels were replaced with a set of steelies with baby moons, made from finishing washers and furniture tacks from the hardware store. I also filled in the sides of the grille to match the custom grille used in the movie, used a set of windshield wipers from Revell's '37 Ford, and detailed the engine (which was finished in Dick Tracy's signature colors).