Original Kit:
1972 Pro Stock Nova
Made By:
AMT/Ertl (kit #38528)
Scale:
1/25

Other Book Models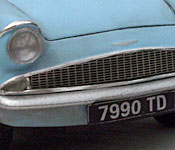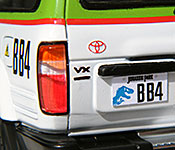 Shadows of the Empire Virago
Harry Potter Anglia 105E
2001: A Space Odyssey Monolith
Jurassic Park Toyota Land Cruiser
Thinner Chevy Nova
Starship Troopers Powered Suit (Review)
Draw 50 Monsters UR2EZ
Interstellar Pig VW Convertible
State of Fear Ferrari 365GTS/4 Daytona
Fahrenheit 451 Salamander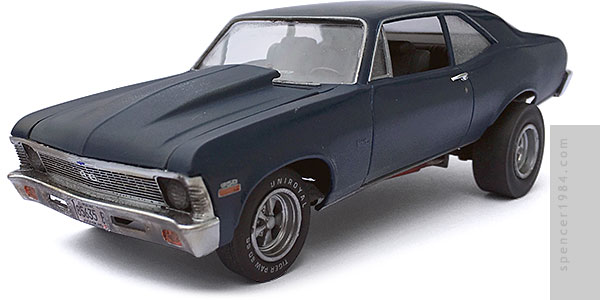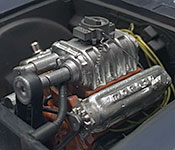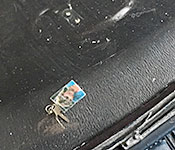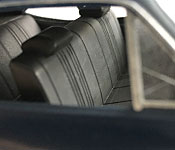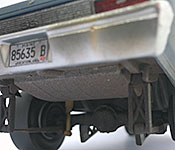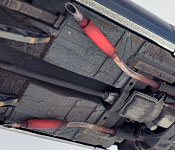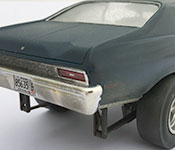 Whether stubbornness or as a personal challenge, I sometimes like to take on bad kits to see what I can do with them. So when it was time to build the Beverly Hills Cop Nova, I stuck with the AMT release even though Revell's (mostly) superior Nova was available. But this time I had an idea to help myself out: I had a spare Pro Stock Nova (previously released as the "Old Pro"), which was essentially the same kit as the Beverly Hills Cop version and a perfect candidate to replicate the car used in the Richard Bachman/Stephen King novel Thinner. By making a quick project out of that, I could learn what parts of the kit worked and what didn't before I really got involved with Axel's car.
Since this was supposed to be a learning experience, I didn't deviate from the kit too much. I used the rear spring shackles and ladder bars that were supplied in the kit, along with the tires from the Beverly Hills Cop release since they had the pad printed sidewalls (one thing about Stephen King, he loves that jacked-up rear stance). The rear wheels and brake drums were taken from my parts box. I didn't like the look of the shocks provided in the kit, so I used them as a template and scratch built my own using aluminum and plastic tubing. I also scratch built the exhausts from more aluminum and styrene, and made a set of spacers for the front wheels since I didn't use the metal front axle. Disc brakes were made from small washers and Model Car Garage calipers, and the front wheels were from the kit with parts box tires. Some dry transfers by Shabo provided the Uniroyal/Tiger Paw markings, and went on beautifully despite their age. The chassis was painted to look like the car was originally dark green, then heavily weathered to honor its New England home. Spray and brush paints, Tamiya weathering kits, pastels, chalks, and AK Interactive and Vallejo Environmental Weathering sets were applied in multiple layers to give it that well-used look.
The base engine was the 454 option from the kit, with the transmission cut off and replaced with an automatic from Morgan Automotive Detail. MAD's 700R4 had a late model pan, so to backdate it to the car's early/mid 1980s look I scratchbuilt a new pan for it. It mated up to both the kit's engine and driveshaft with little work. Another bit of vintage aftermarket equipment was the Moroso valve covers, which were resin parts cast by Calnaga Castings and painted using Molotow's Liquid Chrome. The oil pan, blower, and carburetor were all parts box items, and the wiring, hoses, and linkage were scratch built. Once assembled and installed, AK Interactive's Engine Grime was used sparingly to give everything a used look.
I used a bench set from Harts Parts Resin and a parts box steering wheel, but otherwise the interior is box stock. The seat needed to be relieved at the bottom on both sides so that it could fit the AMT kit's tub, but once in place the modification is impossible to see. Of the few specific details about the car given in the novel, one was that the key fob was a photo of Olivia Newton-John in a sweatband. A quick online search provided an appropriate photo, which I scaled down, printed, and linked to a set of GM keys from Model Car Garage tossed on the dash.
Putting the front fenders on was just as big a hassle as I was led to believe, but with patience and a fair bit of sanding I was able to get them where I wanted them. I then dented the trunk lid through a combination of carving and heat, and recut the panel lines to a better depth. The hood was taken from Revell's Nova, and fit with only a little bit of shaving necessary to fit the cowl and avoid bumping the carb. Everything was then painted dark blue, trim was added via more Liquid Chrome, and then it was time for weathering. As with the chassis, I wanted this to look like a car that had spent a few years in the Northeast. I started by spraying light mist coats across the lower body, rising up as I moved back so that the upper front fenders were mostly clean and the upper rears were mostly coated. I then sprayed everything with Testor's Dullcote, and polished some areas to show as "clean" spots. The glass and chrome were also lightly sprayed with Dullcote, then I went back and cleaned the windshield with rubbing alcohol as if it had been halfheartedly wiped off by the driver. I was originally going to keep the kits cast-in door handles, but in the end decided to replace them with a set from my parts box. Tamiya weathering kits were used for spot detailing, like the splash areas behind the wheels and rust streaks on the bumpers. The final touch was a set of Maine license plates, which follow the standard format for that state. The number is the last few digits of the novel's original ISBN, capped with Richard Bachman's monogram.