Site Features
Getting Started in the Hobby
Model Categories
Original Kit:
1961 Volkswagen
Made By:
Fabbri Editori
Scale:
1/24

Other 1960s Movie Models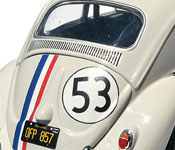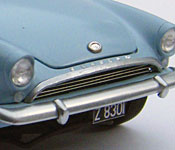 Batman Batmobile (Review)
The Dirty Dozen Jeep
The Great Escape Bike
Hot Rods to Hell Corvette
Dr. No Sunbeam Alpine
Spinout Shelby Cobra (Review)
The Graduate Alfa Romeo
Fireball 500 Kustom Barracuda
From Russia with Love Chevrolet Truck
Red Line 7000 Ford Galaxie
Other Volkswagen Models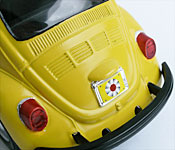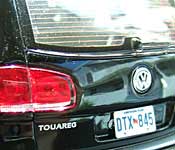 Urashiman Magna Beetle
Interstellar Pig VW Convertible
Transformers G1 Bumblebee
Little Miss Sunshine 1978 Type 2 (Review)
'98 VW Beetle
'98 VW Golf
Chevron Cars Rudy Ragtop (Review)
Ninja Cheerleaders Beetle Cabriolet
Alone in the Dark VW Touareg
Transformers G1 Ladybug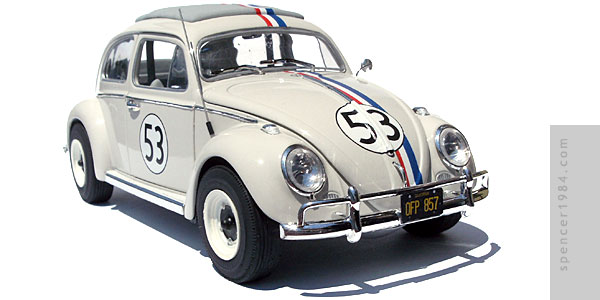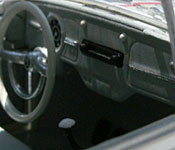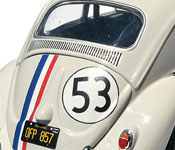 Cool Fact
Bill Walsh, producer of "The Love Bug," (and co-producer with Walt of the "Mickey Mouse Club" and "Davy Crockett" TV series and theatrical features) came up with the number 53 from baseball player Don Drysdale's uniform. He also chose the red, white and blue racing stripes for a patriotic theme.
I decided to detail this model to represent Herbie's original appearance in The Love Bug. Unfortunately, Fabbri Editore's assemblers made this nearly impossible. Glue was used liberally throughout the model (including several places where it was slopped onto the body), and many of the screws holding it together had their heads rounded out, making it impossible to unscrew them. But thanks to stubbornness and a decent motor tool I was able to get it apart. Once disassembled, I repainted the interior flat gray and added a radio and roll bar. I also cleaned up as much of the glue slop as I could.
I made all-new decals in Illustrator, based on images and instructions I found for making 1:1 replicas of Herbie. I also made screen-accurate OFP-857 license plates, a round side view mirror, and a passengers' side radio antenna. The sunroof was transplanted from Polar Lights' kit, and fit nicely with only a couple of minor alterations.
The last thing that I needed to match the movie was the correct wheels. The rims were no problem - the unused set from AMT's '36 Ford worked great here. But the tires were another matter. I had no wide Firestone racing tires in my parts box, and couldn't find a reasonable source for them. So I made my own by slicing two Firestone skinnies lengthwise and grafting the pieces together. I then made a mold and cast four tires out of resin, giving me a full set.