Site Features
Getting Started in the Hobby
Model Categories
Original Kit:
'32 Ford Deuce Coupe
Made By:
Revell (kit #85-1510)
Scale:
1/25

Other 1970s Movie Models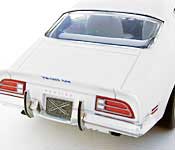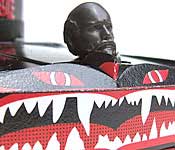 Dirty Mary, Crazy Larry '69 Charger
The Spy Who Loved Me Lotus
Mad Max V8 Interceptor (Review)
Good Guys Wear Black Porsche
Diamonds are Forever '71 Mustang
Hooper Firebird
Inglorious Bastards Jeep
American Graffiti Deuce Coupe
The Godfather Cadillac
Animal House Deathmobile
Other Street Rod & Custom Models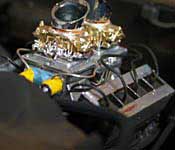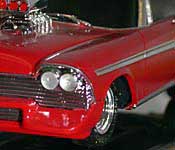 '70 Challenger (Review)
'06 Corvette (Review)
'70 Barracuda (Review)
Super Coupe
'69 GTO "Supergoat"
Deuce of Spades '32 Ford
American Graffiti '32 Ford
'71 G-Force 'Cuda (Review)
'48 Cadillac "CadZZilla"
Street Fury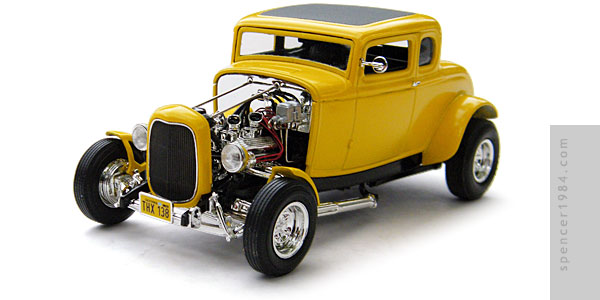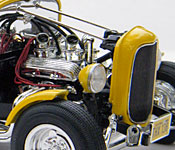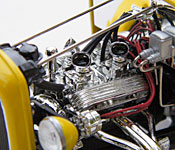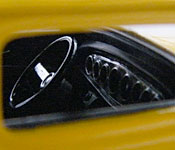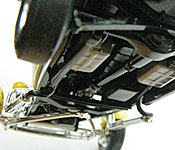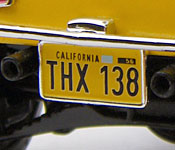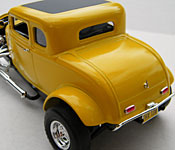 This was actually the first Revell metal-bodied model that I started working on, purchased when their American Graffiti series first came out in 2000. I even had it more or less finished within a couple of weeks...but that "or less" ended up being a delay of about 14 years before I could really consider it finished.
The biggest problem I had with it was the split body. Like other 1930s Ford kits, this had a horizontal split at the beltline. Revell did a great job making the halves line up, but between the diecast body and bright yellow paint there was just no way to hide it completely. So it sat on a shelf waiting for me to figure out how to fix it.
I finally decided that the only way to correct it would be to disassemble the body, strip it back to bare metal, and glue the parts together. The revised body was then painted Krylon Sun Yellow, which was a nearly perfect match to the fenders and radiator shell. The windshield frame was painted to match, while the inside of the body and the roof panel were painted flat black.
This finally solved the body break, but meant that none of the interior pieces fit any more—after all, the kit was designed to capture the interior between the upper and lower halves. To get the interior back into place, I had to cut it up into six sections: the door panels, the rear shelf, the seat, the lower firewall, and the floor. These pieces were then individually fit into the body shell and glued into place. Once that was done, the chrome pieces were re-attached and it was assembled to the chassis as per instructions.
A few details were added as well, including ignition wires, fuel lines, brake lines, and drilled exhaust tips. Everything else was built and painted as per the kit's instructions.