Original Kit:
'67 Camaro Z-28
Made By:
AMT/Ertl (kit #6638)
Scale:
1/25

Other Camaro Models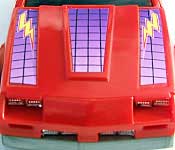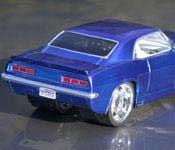 KITT
'16 Camaro (Review)
M.A.S.K. Thunderhawk
"Stylo" Camaro
"Heavy Chevy" Camaro (Review)
Blood Drive '67 Camaro
Avengers 2016 Chevy Camaro (Review)
Bewitched '69 Camaro (Review)
Avengers Grimm Camaro ZL1
Charlie's Angels '69 Camaro
Other Modern TV Models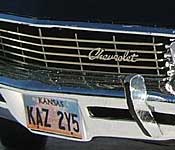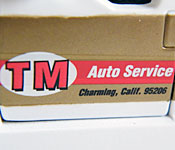 Monster Garage Wedding Chapel
Supernatural Impala (Review)
CSI: Miami Hummer
Top Gear Stig
Robot Chicken Turbo Teen
Stranger Things Chevy Blazer (Review)
Stranger Things Chevy Van
The Walking Dead M35A3
Agents of SHIELD Hell Charger
Rick and Morty Space Cruiser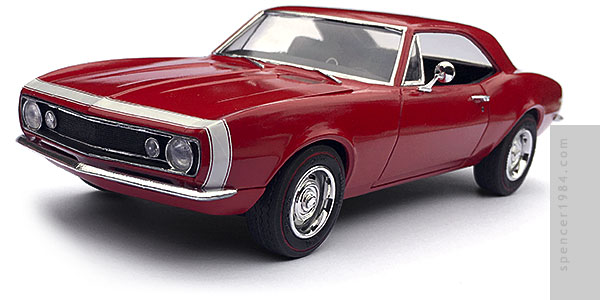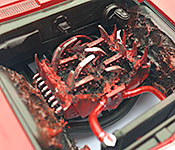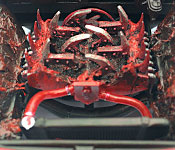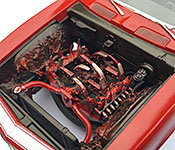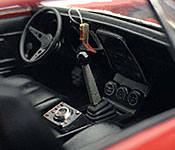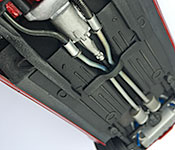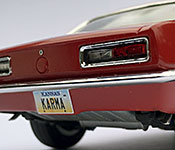 From the first preview for Blood Drive, I knew I was going to have to make a model of Christina Ochoa's uniquely-tuned Camaro, Karma. What took me a little more thinking was how I wanted to handle the engine. It would have been easy enough to build a curbside or even stock Camaro and call it good, but that didn't feel right. I was going to have to do some scratchbuilding.
I started with the central engine shaft and built out from there. The chompers were originally blades I cut from a pair of Warhammer skulls, rearranged on that central shaft to evoke a crankshaft and pistons. The engine halves were taken from my parts box, cut from the transmission and glued to the underside of the shaft to make the open maw. The heads were from AMT's '66 Nova, which had the correct exposed rockers. The front cover was another Warhammer part, this time a skull shield that was curled enough to look like it was part of the opening. Once assembled, the inside of the engine was heavily coated with weathering effects from Vallejo and AK Interactive, then painted myriad shades to give it the proper gory look. The transmission and oil pan were attached normally, though the transmission also received a saw blade in place of a flywheel, taken from a cheap toy I had. More red was drybrushed onto this and the main teeth, and the outside of the block was painted dark red with some overflow/splatter. As a final touch, the radiator hoses were made much like the ignition lines on my Vampire Van. This time I used much thicker lines, but still colored them with a red magic marker to give them the right translucent red appearance. They're attached to the kit's original radiator with a Detail Master cap.
The chassis received a new rear end from Revell's Chevy S-10, scratchbuilt shocks and front springs, and scratchbuilt headers and tailpipes. The headers were made from fine springs, so they would look like they could actually flex as the engine opened and closed. Weathering was done with Tamiya kits, including the discolored exhaust pipes. Wheels and tires were straight out of the kit, and looked great with just a little paint detailing.
Inside, I added flocked carpeting and decals from Keith Marks before moving on to the show-specific details. The steering wheel was a PE spider with a scratchbuilt wire rim. I made the fuel gauge from a short section of wire insulation, clear fishing line, and a strip of aluminum can for the mount. The weaponized shift lever was carved from styrene rod stock with a straight pin embedded in it and acting as the knob. Lastly, the GPS was a leftover Detect-O-Scope from one of my earlier Batmobiles. Although not show accurate (and all but invisible on the finished model), I also made my own clutch, brake, and shift pedals from more Warhammer parts to continue the "skull and gore" theme from under the hood.
AMT's Camaro body is nicely shaped, but they made a few weird errors to try to hide that as much as possible. Member Snake45 at the Scale Auto forums posted a nice tutorial of what and how to fix it, which was invaluable to this build. As per his guide, I removed the poorly formed belt reveal molding from the window sills, shaved the rear window trim down so it was flush with the body, added the necessary panel seams, and narrowed the leading edge of the grille surround to get rid of its blocky appearance. I also removed the lower body trim, and reshaped the front splash panel so it better fit the front wheel arches. Because Karma lacked any badges, I shaved off the ones cast into the fenders and cut out the grill altogether. This was replaced with more of the same fine square mesh I first used on my Bang Bang Challenger. The headlights and parking lights also needed to go, so I drilled them out and replaced them with parts from Revell's '67 Camaro. That Revell kit also donated its superior taillights, door handles, and sideview mirror. The vent windows from AMT's kit were actually pretty decent looking, but removing the belt molding prevented them from fitting. Luckily the Revell ones were just about perfect for the revised openings.
With modifications complete, the body was painted a vintage-correct Flame Red by Model Master, accented with BMF and Molotow Liquid Chrome trim. The nose stripe was a decal from Keith Marks, and the rear plate was a custom piece I drew up in Illustrator and printed onto card stock.