Site Features
Getting Started in the Hobby
Model Categories
Original Kit:
The Space Rescue
Made By:
Thinkway
Scale:
Approx. 1/24

Other Pixar Models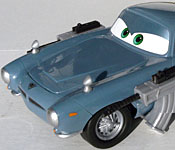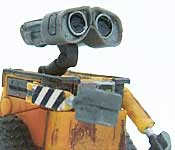 Cars 2 Lightning McQueen (Review)
WALL·E
Cars 2 Finn McMissile (Review)
Cars 3 Jackson Storm (Review)
Cars 2 Francesco Bernoulli (Review)
Other Robot & Cyborg Models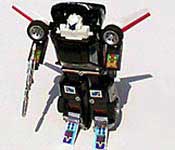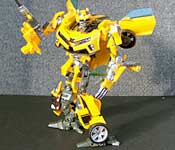 T-800 Terminatrix
The Day the Earth Stood Still Gort
Metallo
Robby the Robot
Ctrl-Alt-Del Zeke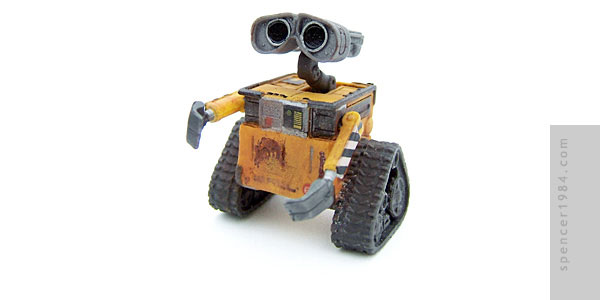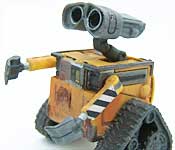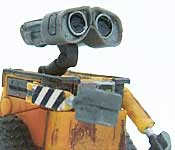 WALL·E continues the tradition of excellent Pixar movies, creating a track record that few studios can hope to match. The only thing that was lacking until Cars was a toyline that fit in with the rest of my collection. Although there still weren't any exact matches with WALL·E, the "Movie Scenes" figures turned out to be pretty darn close.
I picked up "The Space Rescue" from Toys R Us, as it had the least scene-specific figures in this size. WALL·E was stuck to a fire extinguisher, but Eve was perfect right out of the package (technically she had a parting seam that should've been removed, but it's difficult to see against her stark white so I ignored it). The extinguisher was actually plugged into WALL·E's chest, so removing it left a large rectangular hole. I wanted to retain as much of his original paint as possible, so I very carefully filled in the hole, sanded it smooth, and re-scribed the panel lines. I then painted the new panel using Floquil railroad colors, and added some dirt and rust to reflect the weathering seen in the movie. I also did some touch-up around his head and the top of his body, and repositioned the arms so they looked less like he was holding an invisible fire extinguisher. All in all he was a neat little figure, and with a little bit of work he is able to fit in with the rest of my 1/24 collection quite nicely.