Original Kit:
1967 Shelby Mustang GT500
Made By:
Revell (kit #1522)
Scale:
1/25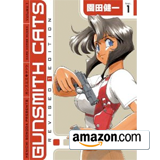 Other Cartoon & Anime Models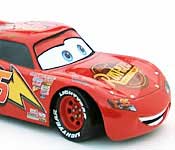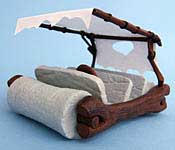 Roadster Racers Minnie (Review)
The Real Ghostbusters Ecto-1
Planes 2 Firefighter Dusty (Review)
M.A.S.K. Thunderhawk
Danger Mouse Mk III
Lupin III Mercedes-Benz SSK (Review)
Evangelion Renault Alpine A310
Cars 3 Lightning McQueen (Review)
Planes Dusty Crophopper (Review)
Zootopia Police Cruiser (Review)
M.A.S.K. Condor
Speed Buggy Speedy
Cars 3 Jackson Storm (Review)
Cyber Formula Stealth Jaguar (Review)
Speed Racer F1 Mach 5
Other Comic & Manga Models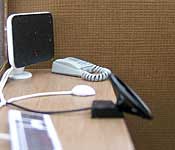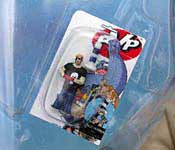 Detective Comics #156 Batmobile
The Silver Spectrum Ford Deluxe
Lupin III Mercedes-Benz SSK (Review)
The Circuit Wolf BMW 3.0 CSL
Detective Comics #400 Batmobile
Cyber Formula SIN Ogre AN-21 (Review)
The Circuit Wolf Lotus Europa
Cyber Formula SIN Asurada Aero (Review)
Transformers Optimus Prime
G1 Prowl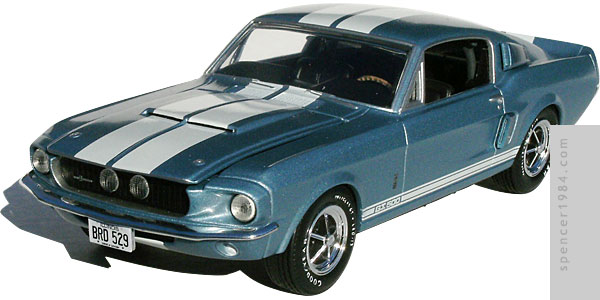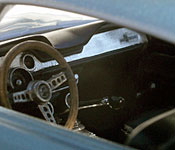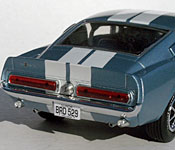 Cool Fact
The license plate used on this 1967 Shelby GT500 is an homage to the 1974 Dodge Monaco from the original Blues Brothers: that car wore black & white Illinois BDR-529 tags.
This was another one of Revell's diecast kits, though unlike those earlier kits this was not part of their "Cars are the Stars" series - it was just a straight issue of the '67 Shelby GT500. In a bit of serendipity, the body was prepainted Brittany Blue with white stripes, making it a near perfect match for Rally's GT-500 from Gunsmith Cats (the anime tends to go back & forth between Brittany Blue and Acapulco Blue depending on the scene).
As before, the most labor-intensive part of this job was filling in the axle hole that ran through the engine block and oil pan. The block was then painted Ford Engine Blue, with several shades of metals used for the transmission, bell housing, and intake manifold. I didn't care for the look of the kit-supplied oil filter, and replaced it with one from my parts box. I also added ignition wires. Everything else under the hood is box stock.
The chassis was built box stock, with only basic paint detailing done. Inside, the floor was flocked and the side panels/dashboard were detailed using paint and BMF. To replicate the wood wheel rim, I painted it with a base coat of flat tan, then added grain using colored pencils. Decals were supplied for the horn button and right side of the dash, but they must have gotten damp in the box and would not separate from their backing sheet. I eventually needed to pry them off, then fix them in place using window cement.
The exterior is almost entirely box stock. I replaced the tires with a set of Good Years from my parts box mounted on the Shelby 5-spoke wheels from AMT's GT-350 kit to better match the series. The lettering was hand painted using my whitewall pen. It was my first attempt at using it for lettering, and I am generally pleased with the results. the decals for the grille and fuel cap were in the same state as the interior decals; I had success with the fuel cap, but the grille decal ended up tearing and I ended up painting the emblem instead. A set of custom Illinois BRD-529 license plates finished it off.