Site Features
Getting Started in the Hobby
Model Categories
Original Kit:
Optimus Prime
Made By:
Hasbro/Takara
Scale:
Approx. 1/43

Other Transformers Models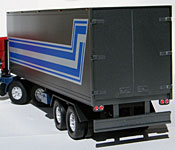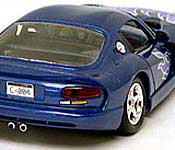 Robots In Disguise Prowl (Super)
Robots In Disguise WARS
The Last Knight Hot Rod (Review)
Energon Hot Shot
G1 Skids
G1 Optimus Prime
Dark of the Moon Leadfoot
Revenge of the Fallen Skids
Robots In Disguise X-Brawn
Robots In Disguise Bumblebee
Other Robot & Cyborg Models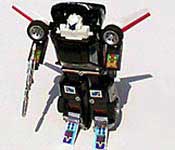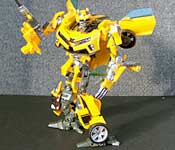 C-3PO & R2-D2
Star Wars Napalm Droid
Metallo
Big Hero 6 Baymax (Review)
KONGO Attack Vehicle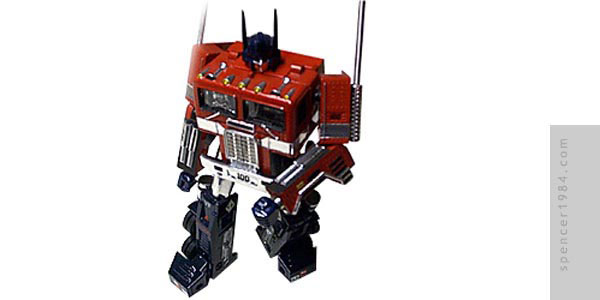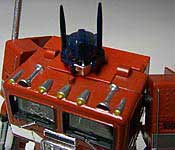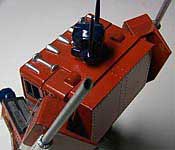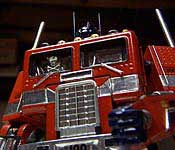 The original Transformer series is considered the best by many collectors because of the artistry involved in the toys. The cars were really small-scale models, with details like rear-view mirrors, diamondplate panels, and windshield wipers commonly found. The disadvantages to this were that A) it made the figures very fragile; broken roofs, windows, and bumpers were common, and B) the figures often suffered from disproportionate bodies and a lack of articulation.
I built (or should say rebuilt) this figure as a static display piece, made to be more accurately proportioned and dynamic looking. It is based on a badly broken G1 figure, and still retains most of the original parts. The only parts of this that are not original issue are the upper legs, hands, back, and wheels. Everything else is detailed or modified from the original toy.
Starting from the bottom, the lower legs were modified to allow the feet to hinge more appropriately. The upper legs were taken from another action figure, cut to the right size and molded into the hip/pelvis area. The back was made of sheet styrene, as were the forearm details and interior "guts". I used the hands from a 1/72 Macross Valkyrie kit, and the wheels were taken from a Racing Champions NASCAR 18-wheeler. Polished aluminum tubing was used for the exhaust stacks.
Bare metal was appied to the fuel tanks, bumper, grill, mufflers, faceplate, cab trim, and interior. The cab is painted Testor's Gloss Red, and the head, lower legs, and hands are Krylon Dark Blue.
Have a question, comment, or criticism about this model?
Send me an e-mail
with your thoughts!