Original Kit:
'67 Corvette 427 Roadster
Made By:
Revell (kit #85-2968)
Scale:
1/25

Other Batmobile Models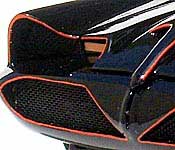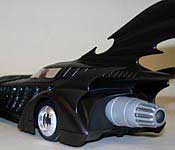 1979: Legends of the Superheroes
1980: Batman #330
1948: Batman #47
1992: Batman Returns Batmissile
2008: LEGO Batman
1966: Batman
1950: Detective Comics #156
2005: Batman/Danger Girl
1987: Batman #408 cover
1944: Batman #20
1964: Batman #164
1972: Batman #246
1992: Batman Returns
1969: Detective Comics #394
2016: Batman v Superman
Other Comic & Manga Models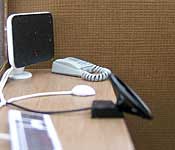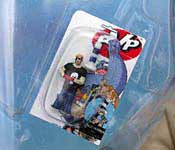 Shakotan Boogie Yanky Mate! Z
PvP Dexter Jettster
Cyber Formula SIN Asurada Aero (Review)
Batman #164 Batmobile
Transformers Optimus Prime
Detective Comics #400 Batmobile
Cyber Formula SIN Asurada (Review)
Cyber Formula Super Asurada (Review)
Armada Hot Shot
Dilbert Carbicle
Detective Comics #27 Batmobile
Cyber Formula Experion Z/A-8 (Review)
Ctrl-Alt-Del Zeke
The Silver Spectrum Ford Deluxe
Detective Comics #156 Batmobile
Other Corvette Models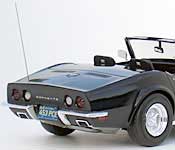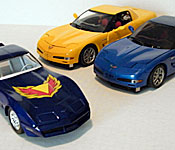 '70 Comic Book Batmobile
'64 Comic Book Batmobile
Stingray 1965 Corvette
'64 GS
'06 Indy Pace Car (Review)
Transformers Vector
Rush Hour Corvette
Transformers G1 Road Rage
A-Team Corvette
'98 Corvette
'05 Indy Pace Car (Review)
Mako Shark Show Car
Never Too Young to Die Corvette
'06 Corvette 1 (Review)
Transformers 5 Crosshairs (Review)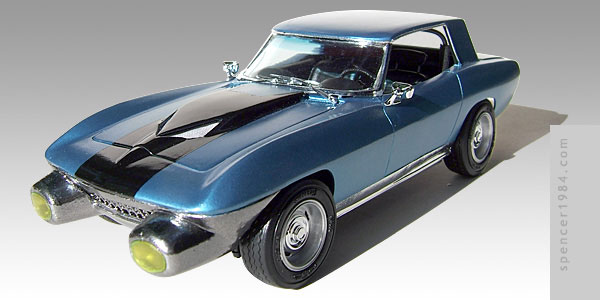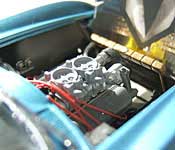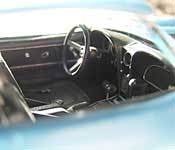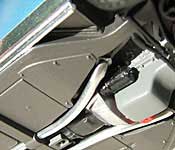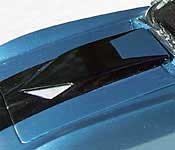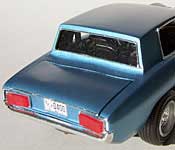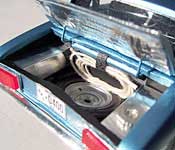 I had the opportunity to sit down with artist Neal Adams at the 2008 New York Comic Con, and was happy to find out that he was a bit of a car enthusiast. This not only meant that I was able to get information for the Batmobile History, it gave me a perfect starting point for my 1970 Batmobile model. After all, what better source of information than the person who created it? At NYCC 2009, I was able to stop by his booth again, this time with a primered version of the model so that I could get his opinions on the overall design. He was generally happy with my work, so I brought it back home, made the corrections he suggested, and finished it off.
The base model for this build was Revell's 1967 Corvette roadster. Despite the outward appearance, very few modifications were made to the Corvette's chassis. These include removing the last few inches of the frame, adding some armor plating to protect the fuel and brake lines, and detailing the suspension and brake components.
The interior in also pretty close to stock. Because this is supposed to be a high-performance Batmobile, I added seat bolsters, headrests (taken from Revell's '69 Charger), a roll bar, and seat belts with photoetched hardware from Model Car Garage. I also added a telephone and reel-to-reel tape recorder for "on the job" requirements.
The engine was upgraded with a custom supercharger fed by two big 4bbl carburetors, and a set of straight pipes ending under the car. I accidentally damaged the stock radiator, so I had to find a replacement in the parts box. This also meant a new radiator hose, made from woven insulation over a metal wire. The electric fan is simply a toy wheel with a motor inserted in the axle hole.
Most of the hours spent on this model went into the body work. I started by combining the front half of the Corvette roadster with the rear half of AMT's '69 Corvair. I measured and cut both bodies so that the fender opening would still match the original wheelbase, then spent a lot of time measuring, nudging, gluing, and redoing the break lines to make sure everything lined up as closely as possible. I knew I already had a lot of work ahead of me, and I didn't want to make things worse by not getting the basic body lines as straight as possible at this stage. Once I was satisfied, I started in on the body filler.
The bulk of the "fill" work was done with Bondo 2-part glazing putty, with Tamiya putty used to fill in the remaining pinholes. The Corvette and Corvair had similar contours, but there was still quite a bit that had to be modified. On the front half, I smoothed over the fender tops, filled the side vents, and extended the character lines into the doors. The Corvair half had to be narrowed about 8 scale inches, the fender openings were cut to match the Corvette openings, the taillights were filled in, and the rear fascia was modified to accept a (narrowed) '67 Mustang bumper. The marker lights were removed from the front fascia and headlight nacelles were added to create the custom Batmobile front bumper.
Changing the 427 hood into a Bat Mask hood was easier than I expected: I simply removed a pentagon-shaped piece of plastic from the front of the bulge to the leading edge of the scoop, and added a triangular piece of sheet styrene in its place. The resulting eyes were backed with cloth coffee filter material, and the underside of the hood was laminated with chrome "Duck" repair tape to simulate heat shielding. The roof pillars were made from .080" sheet styrene, and the roof skin was taken from a spare '67 Impala body. The rear window and surround were also made from sheet styrene, and the trim was made from strip styrene.
The last bit of body work needed was the trunk. The Corvair had a separate panel (since it was a rear-engine car), so I kept it separate to give the Batmobile a working trunk. The panel was narrowed to fit the revised opening, and hinges were made from wire. The inside of the trunk was detailed with fuel tanks, a spare tire, and a coil of rope.
Once all of my modifications were complete, the body was painted Nassau Blue and Classic Black to provide a good vintage look. The trim was done with a combination of Bare Metal Foil and Alclad. This was my first use of Alclad, and while the results aren't perfect I like the look and will definitely be using it again in the future. Wiggle-eye headlight lenses, CD case taillight lenses, '67 Mustang mirrors, a custom license plate, and a set of Chevy Ralleye wheels finished it off nicely.