Made By:
Jada Toys
Scale:
1/24
MSRP:
US$24.99
Overview:
Packaging (Design):
8/10
Packaging (Durability):
8/10
Casting (Body):
9/10
Casting (Interior):
9/10
Casting (Chassis):
8/10
Casting (Engine):
N/A
Paint (Exterior):
9/10
Paint (Interior):
N/A
Paint (Trim/Graphics):
9/10
Overall Panel Fit:
10/10
Total Score:
8.8/10

Other Batmobile Models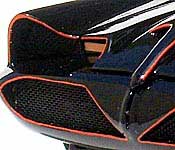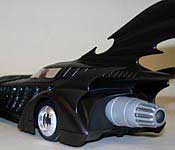 1987: Batman #408 cover
2016: Batman v Superman
1970: Detective Comics #400
1995: Batman Forever
2006: Batman: Man-Bat
1992: Batman:TAS (Review)
2005: Detective Comics #800
1989: Batman
1972: Batman #246
1995: Batman & Robin
2017: Justice League (Review)
1939: Detective Comics #27
1964: Batman #164
1969: Detective Comics #394
1966: Batman
1977: Batman #288
1992: Batman the Animated Series
1966: Batman (Review)
2006: Legends of the Dark Knight #198
1950: Detective Comics #156
Other Video Game Models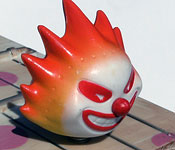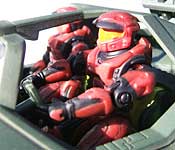 LEGO Batman Batmobile
MarioKart DS B-Dasher (Review)
Mario Kart 8 Sports Coupe (Review)
HALO 2 Warthog (Review)
Need for Speed Mustang GT (Review)
MarioKart DS Royale (Review)
Arkham Knight Batmobile (Review)
Half-Life 2 Muscle Car
Borderlands 3 Claptrap (Review)
Need for Speed Murciélago (Review)
Need for Speed '69 Charger (Review)
Ghostbusters: The Video Game Ecto-1B
SpyHunter Lamborghini Diablo
SpyHunter 2 Saleen S7
Lamborghini American Challenge Diablo
Portal 2 Defective Sentry
LEGO Dimensions Ecto-1
Mega Man 66 Action Vol. 2 (Review)
Need for Speed Audi R8 (Review)
Real Drift Corvette Z06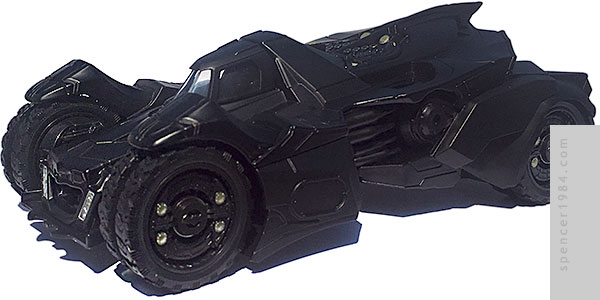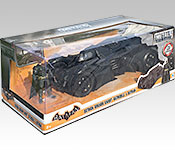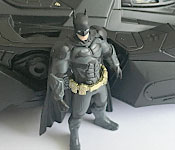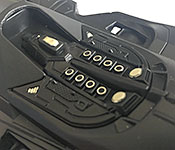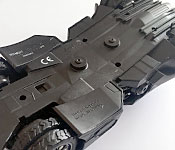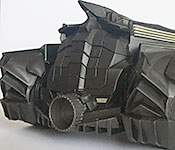 Background
Arkham Knight was released in 2015 as the fourth game in the Batman: Arkham series. Set one year after the events of Arkham City, Batman has to deal with the fallout after Scarecrow launches a city-wide attack on Gotham. The previous Batmobile had been crushed during the destruction of the Asylum, meaning Batman needed a new ride for this story.
Packaging
This is the same packaging Jada uses across the entire Batmobile series, just with the images and text swapped to reflect Arkham City The Batmobile has the usual two screws holding it in place, but has exchanged the plastic band over the canopy for a tray around the back end to prevent the top center fin from getting damaged.
Casting/Paint
The Batmobile is more or less split horizontally, with the upper part of the fuselage made of diecast metal and the lower half made of plastic. Casting on both halves is very good, with the myriad panel lines nicely hiding the break between the two halves. Black plastic is also used for the chassis, interior, and canopy frame. Softer vinyl is used for the tires and central rear fin, and clear plastic is used for the inboard headlights and canopy glass. Across the board, the fit and finish is excellent, with parts fitting together tightly and the overall car balancing nicely between "heavily armored" and "highly detailed." For example, the interior is just a single seat, instrument cluster, and U-shaped steering yoke, but is detailed with what look like recessed gauge faces and appropriate seat bolsters. The chassis looks like it's made from heavy plating, with a sort of diffuser at the rear around the exhaust port.
As expected from one of Batman's gadgets, the primary color is black. The metal is painted a satin black that is a pretty good (although not perfect) match to the plastic, and has a nice smooth consistency with no visible errors. A dark gunmetal gray is used for the exhaust port, including the section hidden up under the chassis, a nice touch. Gold detailing picks out the vents, wheel details, and some engine components, and the headlights have silver backing the lenses.
Features/Accessories
The canopy opens just far enough to look useful, and the wheels all turn. I don't normally make a point of mentioning rolling wheels, but I make an exception here because of the effort that had to go in to making four sets of dual wheels work while retaining fixed hubs between the wheels of each set. Jada could have taken the easy way out and just gone with four extra wide wheels, but there are actually eight narrow wheels with eight separate rubber tires. There is also a metal Batman figure in his Arkham suit. The sculpting is decent, and includes fine details like the pouches on his utility belt and extra shoulder armor. His left hand looks a little crude, it probably would have been better to cast that hand as a fist as well. Paint is...OK. Not much better than the Justice League Batman, but the dark gray and black blend together a lot better. He still has the copyright text inside the cape, though.
Accuracy
Once again Jada has done admirable work capturing the look and feel of the Batmobile. This one is a little less flamboyant than most, without the large fins, stripes, or lights that appear on the previous cars they've done, but still has enough detail that any shortcuts would appear wrong. The few places where the realities of manufacturing have taken priority, such as the lack of lights between the front wheels or the way the canopy opens, have been more than made up for with the quality sculpting. Scale is off, closer to 1/31, but that's not news for Batmobiles.
Overall
Another well done Batmobile by Jada: good casting, good assembly, smart choices about what is possible for a mass market vehicle. Hopefully they follow this up with some more atypical Batmobiles, like the earlier Arkham City version. Highly recommended.
Have a question, comment, or criticism about this review?
Send me an e-mail
with your thoughts!