Site Features
Getting Started in the Hobby
Model Categories
Original Kit:
1972 Chevelle SS
Made By:
AMT/Ertl (kit #31548)
Scale:
1/25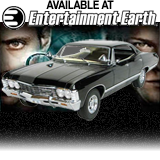 Other Paranormal Models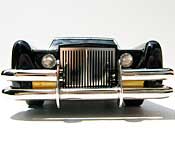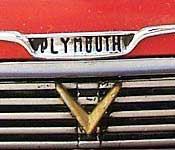 Haunted Mansion Hearse (Review)
Supernatural Impala (Review)
Speed Demon Chevelle
Kaiki Daisakusen Tortoise (Review)
Night Watch Audi TT
Christine (Review)
Supernatural Chevelle
The Car
Ghostbusters 2 Ecto-1A
Ghostbusters Ecto-1
Other Modern TV Models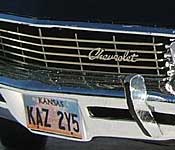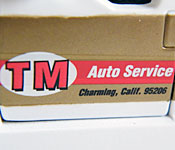 CSI: Miami Hummer
Agents of SHIELD Hell Charger
Blood Drive Camaro
Agents of SHIELD Lola
Monster Garage Wedding Chapel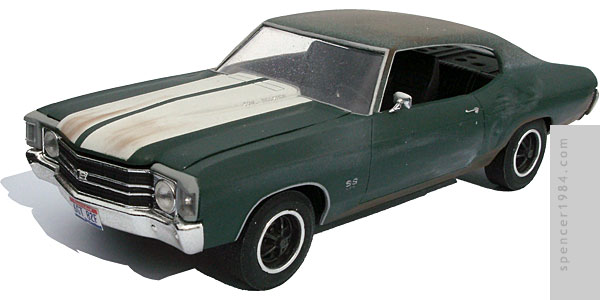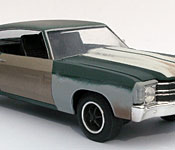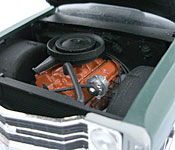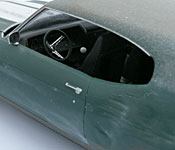 This was a much simpler build than my previous Supernatural model, though it still required a few adjustments to make it screen-accurate. My first step was to distress the body. The exact dent and weathering details would vary depending on which stunt car was being used at the time, so this is a combination of several cars. Smaller dents were cut directly into the plastic, while the larger dents in the left rear fender were made by making a copy of the panel with aluminum foil, denting the foil, and replacing the plastic with this new damaged panel. I used 5-minute epoxy to reinforce the back of the new panel, then carefully blended it into the existing body. I also removed the left front corner marker light, shaved off the front side markers, and removed the left rear fender trim and right front fender badge. The original rear bumper from this kit had been used elsewhere, so I replaced it with a resin part from the Modelhaus.
The interior was customized with high back seats from Testors' Firebird kit and a steering wheel from AMT's 1972 Cheyenne. I also drilled and reshaped the back dash to look like a stripped panel and added a cue ball shifter. The engine and chassis are basically stock, with the addition of ignition wiring, aluminum exhaust tips, and a set of parts box wheels.
The paint job is white primer for the skunk stripes. gray primer for the front corners and right front fender, Duplicolor GM gold for the passengers' door, and - somewhat fittingly, thought - Krylon Hunter Green for the rest of the body. Weathering was done with paints and pastels.