Original Kit:
Armor-Bike Mospeada (Stick Type) VR-052F
Made By:
LS (kit #11)
Scale:
1/24

Other Motorcycle Models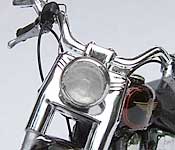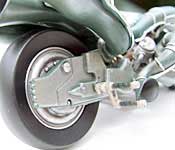 The Walking Dead Chopper
Kamen Rider Cyclone
Final Fantasy VII Motorcycle (Review)
Grendizer Duke Buggy (Review)
Transformers: RID Sideways
Other Power Armor Models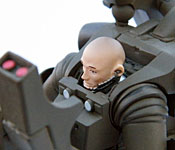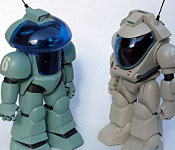 Vifam Allover
Frame Arms Gourai and WeGo
Starship Troopers 3 Marauder (Review)
Vifam Twinklehead
MOSPEADA/Robotech VR-038
Other Cartoon & Anime Models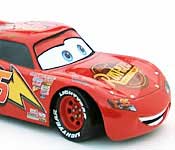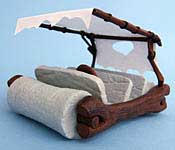 The Real Ghostbusters Ecto-1
MOSPEADA/Robotech VR-052
Roadster Racers Donald (Review)
Rick and Morty Space Cruiser
Cars Mack (Review)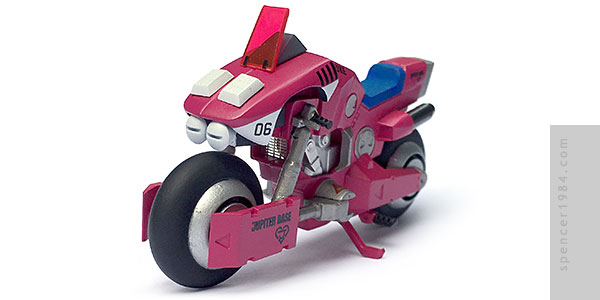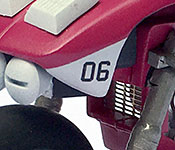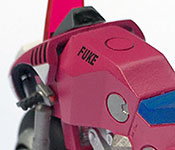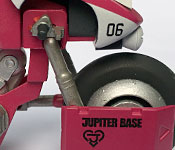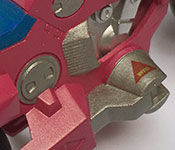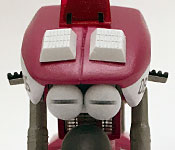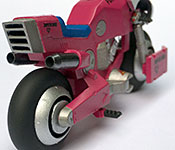 Given the rarity of these kits, once I finished Stick/Stig/Scott's VR-052F, I kind of assumed that would be it. But a bit later I happened upon a seller with a stack of water-damaged kits...a bit fragrant and totally useless as collectors' items, but perfect for someone like me who was planning to ruin them anyway. So I picked up three more, and the first one of them to be completed was Houquet et Rose/Fuke/Rook's VR-038L.
Much of the build was a repeat of what I did last time: assembly, custom fuel cap, and custom photoetch grille in front of the engine were all the same. The front fork was also built mostly the same as before, I just left off a few bits.
There were two major areas that needed to be modified to turn the VR-052F into the -038L: the front and rear cowlings. The rear was the simpler of the two, since it was basically a smaller version of what was there. I cut off the extra panels, shortened the back of the seat, and filled in the resulting holes with styrene, Bondo, and Tamiya putty. I also added an extra brace above the rear wheel, and rebuilt the main exhaust nozzle with strip styrene for the vanes.
The front cowling was so completely different, there was basically nothing useable out of the kit. Instead, I started with a 1/64 scale Hot Wheels Porsche 928. The front end had a very similar shape, and its size was just about perfect. I used a hacksaw to cut off the body just behind the front wheels, then down the middle to remove enough material so that the new cowl was just barely wider than the fuel tank. After a bit of final shaping with files and sanding sticks, I epoxied the two halves together and filled in the holes where the headlights used to go. Styrene blocks were built up under the new cowl to give it some support and make it look functional. Another block of styrene was used for the instrument cluster, and the raised panels in front of the windshield were made by reshaping the kit-supplied headlights. The two round things under the cowl were a bit hard to pin down: sometimes they're headlights, but I've found just as much official reference material that shows them as solidly blanked-off cylinders. I decided to compromise, and make them blackout lights. The covers and buckets were made from Kotobukiya aftermarket detail items, and were glued to another block of styrene painted to blend in with my faux mechanical bits. The windshield was another Hot Wheels car part, this time the cut-down glass from an HW Pursuit.
Engine paint was Model Master Aluminum, and the bike frame was Rustoleum Satin Magenta (while many of Rustoleum's paints have become impossible to use for hobby work in the last few years, their satin colors still seem to be OK). Various other details were painted flat white, flat black, Tamiya Flat Aluminum, and Testors Flat Steel. The decals were all custom made and applied with generous amounts of Micro-Sol and Micro-Set to get them to snug down on the satin paint.