Site Features
Getting Started in the Hobby
Model Categories
Original Kit:
1984 Corvette
Made By:
MPC (promo)
Scale:
1/25

Other Corvette Models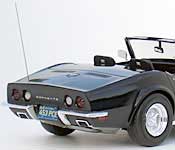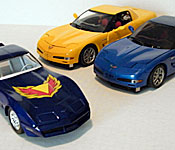 Chuck Norris Karate Kommandos Corvette
Transformers Vector
'06 Corvette 1 (Review)
Revenge of the Fallen Sideswipe
Transformers G1 Tracks
A-Team Corvette
Rush Hour Corvette
Corvette Fighter Craft
The Dead Pool R/C Corvette
'98 Corvette
Other 1980s Movie Models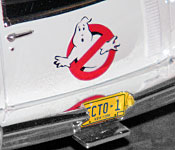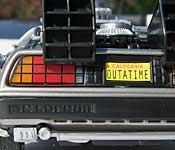 Ghostbusters 2 Ecto-1A
Indiana Jones and the Last Crusade Bike
Field of Dreams 1973 VW Type 2 (Review)
Night of the Comet 1953 Buick (Review)
Stroker Ace Thunderbird Stock Car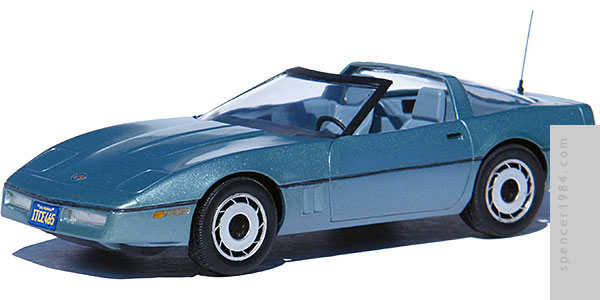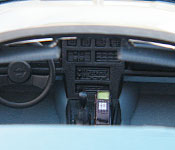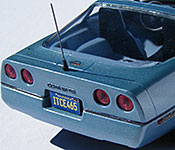 This one started in the correct blue over blue, so inside I only had to paint the seat backs, dash, center console, and door panels to the correct black. I also added a car phone from a spare Ecto-1A and used a set of sun visors from my parts box.
I was hoping to preserve the factory-applied paint, but the seams were particularly bad on this one and so I needed to sand down to the raw plastic to get rid of them. Fortunately, Model Master's Ice Blue was a near-perfect match to the original Light blue metallic (it was so good, I was able to use it for touch-ups and blend it into the original 30-year-old color!). The rest of the modifications were my usual C4 upgrades: remove the roof panel, replace the parking lights with a CD case edge, and swap the wheels for a set from Monogram's Corvette kit. This one also got a rear-mounted antenna for the car phone, and a set of screen-accurate license plates.