Site Features
Getting Started in the Hobby
Model Categories
Original Kit:
Ferrari 275 GTB
Made By:
Bburago
Scale:
1/24

Other 1970s Movie Models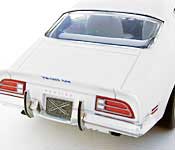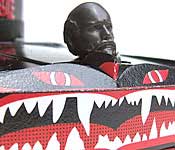 Animal House Deathmobile
Duel Peterbilt Tanker
Star Wars C-3PO & R2-D2
Jaws Blazer
Diamonds are Forever '71 Mustang
Star Wars X-Wing
Good Guys Wear Black Porsche
Dirty Mary, Crazy Larry '69 Charger
The Spy Who Loved Me Lotus
The Car Kustom Lincoln
Smokey & the Bandit Firebird T/A
The Godfather Cadillac
Herbie Rides Again Herbie
The Cars that Ate Paris VW
Star Wars Luke's Landspeeder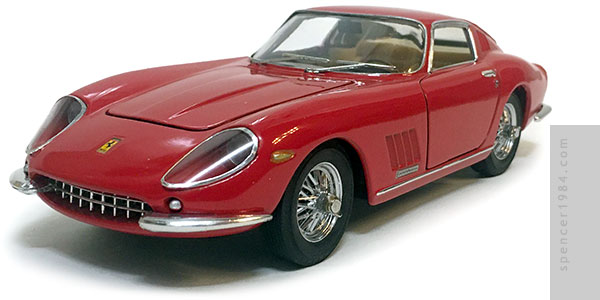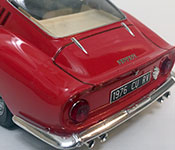 While no one knows for sure whether it was the Ferrari or the Mercedes that made the 8-minute trip through Paris in 1976's C'était un rendez-vous (It Was a Date), the Ferrari was the one used for the engine sounds and the poster. Keeping to my philosophy of whatever happens in-universe is cannon, that meant that it got to be the model to represent this movie.
It didn't hurt my decision-making that I already had a 275 GTB in my collection. Bought in a box of damaged diecasts at a toy show several years earlier, it was missing both headlight covers, one bucket, had a broken wheel, and was generally filthy as it was apparently stored uncovered in a high-traffic area. The chrome was pretty well shot, but a relative lack of damage to the paint suggested it was not used as a toy. Still, it was essentially free and just gathering more dust on my shelf, so I set to work.
After a complete disassembly and thorough scrubbing, most of the car actually looked halfway decent. Some polish brought back a good shine to Bburago's original paint, and it was trimmed using a combination of Molotow Liquid Chrome, Bare Metal Foil, aluminum repair tape, and chrome transfers. BMF was also used to redo the bumpers, and more tape was used for the light bezels. The headlights were a set of my own decals and some parts box lenses, with new covers made from a couple of Hot Wheels packaging blisters.
Work on the engine and chassis was minimal, cleaning up what was there and using a little paint to make things look a bit more realistic. The wheels were taken from a scrap Danbury Mint Aston Martin, and the tailpipes were some crimp sleeves.
Inside, I repainted the floor and dashboard, made a whole new face for the dash (the original dash face was made from a couple of low-quality stickers), and detailed the door panels and center console with paint and more BMF.
All in all, it was nice to see this come back to life the way it did. I could have stripped and repainted it, giving it an all-new and fully detailed engine and chassis, but seeing how well it held up made me want to keep as much of it original as I could.