Original Kit:
Lotus Elan
Made By:
Gunze-Sangyo (kit #183)
Scale:
1/24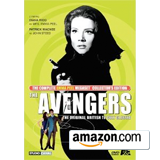 Other Classic TV Models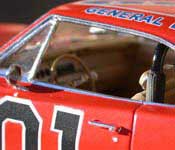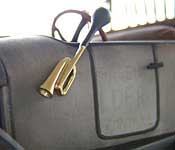 A-Team Van
Automan Countach
The Avengers Lotus Elan
Batman Batmobile
Beverly Hillbillies Truck
Bewitched '69 Camaro (Review)
Danger Mouse Mk III
Dark Shadows Vampire Van
Dukes of Hazzard General Lee
Flintstones Family Car
Highway Patrol Buick
Jetsons Spaceship
Knight Rider KITT
Man from U.N.C.L.E. Piranha
Mannix Oldsmobile Toronado
Married...With Children Dodge
Riptide 1960 Corvette
Scooby Doo Mystery Machine
Stingray 1965 Corvette
Supercar
Speed Racer F1 Mach 5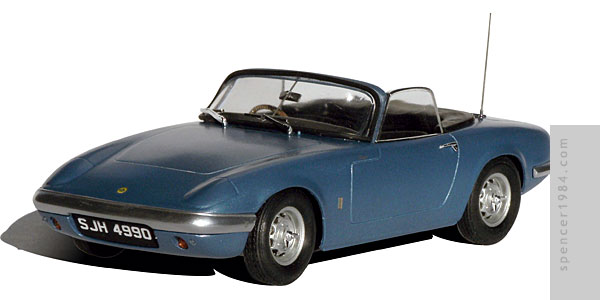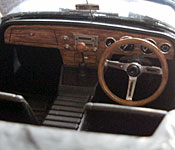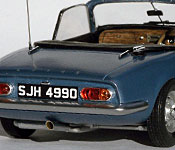 The first time I built a Gunze-Sangyo kit, it was a somewhat frustrating experience thanks to paint issues. It seems that paint is G-S's Achilles' Heel. Like the Shaguar, it was a slow process of stripping and re-painting the Lotus several times before I could get a satisfactory finish.
There were a few other issues that needed to be addressed as well. I found the first one when I assembled the front suspension and discovered that there was not a space for it to seat properly against the chassis. There were also minor fit issues with the exhaust pipe and wheel mounts (the latter being too far out, to the point where they hit on the fenders).
The interior was simple enough, and went together with no real problems. I replaced the kit-supplied rubber rear bulkhead with a piece of styrene for better rigidity, and then added flocking. I also replaced the kit-supplied steering wheel with one from Revell's '67 Corvette and added a photoetched radio from Model Car Garage to match the TV car. The "woodgrain" dashboard decal looked overly simplified, so I painted my own woodgrain pattern with oil paints. I tried using the kit-supplied decals for the gauges, but the adhesive had dried out over the years and the decals flaked off after a few hours. So I went back and painted the gauge faces.
Other than the aforementioned paint issues, the body went together with few problems. I added an extra tab to the front of the chassis to help secure the joint between the body and chassis, added an antenna to the rear deck, and created show-accurate license plates. Like the gauges, the "Elan" decals for the sides of the car ended up being useless, so I hand painted the scripts. The windshield had a separate rubber gasket, an idea that was good in theory but lacking in execution. I got it to work with some careful gluing and pinning, but still had to sand off the bottom of the windshield to get everything to look correct.
As with the Shaguar, this was a decent kit that could have been excellent had it not been for several small inconveniences. It builds up nicely if you make sure to do lots of test fits and take extra care to make sure things fit properly.