Site Features
Getting Started in the Hobby
Model Categories
Original Kit:
Flying Bat Custom
Futura
'62 Thunderbird
Made By:
Jimmy Flintstone (#NB84)
Revell (kit #1270)
AMT/Ertl (kit #30081)
Scale:
1/25

Other Batmobile Models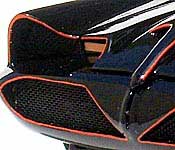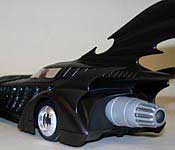 1992: Batman the Animated Series
1992: Batman Returns (Review)
2008: LEGO Batman
1992: Batman:TAS (Review)
2005: Detective Comics #800
2017: The LEGO Batman Movie (v2)
2017: The LEGO Batman Movie
1952: Batman #73
1987: Batman #408 cover
1990: Legends of the Dark Knight #5
Other Classic TV Models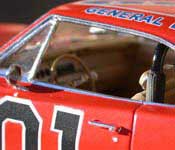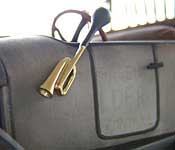 The Munsters Koach
Beverly Hillbillies Truck
Honey West Cobra 289
Stingray 1965 Corvette
Kaiki Daisakusen Tortoise (Review)
Jetsons Spaceship
V Laser Jeep
Riptide 1960 Corvette
Birds of Prey Hummer
Blue S.W.A.T. Striker EX (Review)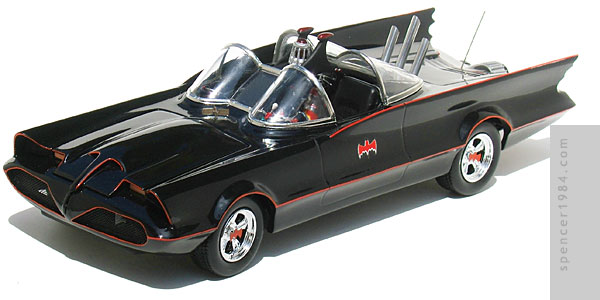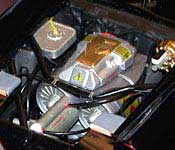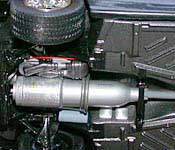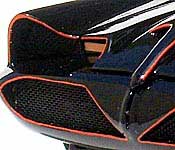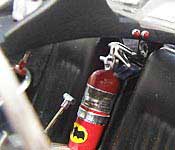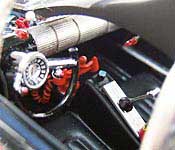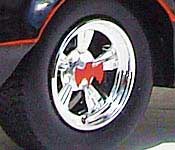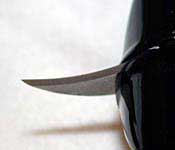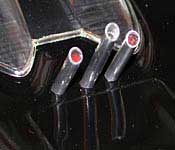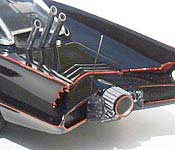 Cool Fact
Only one Batmobile was specifically created for use as a "film" car: the three replicas built by Barris Kustoms were to be used as exhibition vehicles.
When Batman premiered in January of '66, no one could have predicted the pop-culture juggernaut it would become. Forty years later, the Batmobile from the show is still one of the most popular designs to come out of the Bat Cave. It was based on the Lincoln Futura show car, and that was originally the starting point for me as well. Part way into the conversion, however, I discovered Jimmy Flintstone's resin kit, and the conversion was put on hold. I wanted to do it right, not just slap together any model and call it good. So, for several months, the whole project was on hold while I gathered various parts & supplies. The full details of the buildup, from raw parts to finished piece, starts here.
There are a couple of places where I veered from the 1:1 car. Most notably is the atomic turbine engine, which was frequently mentioned but never a reality. I also left off all of George Barris' labels, on the grounds that I thought it was silly for Batman to label everything on a car he built himself. Basically, instead of building an exact replica of the car that appeared on TV, I tried to build a replica of the car that was described on TV, with a few personal preferences. It was a fun project, and a car that was missing from my Batmobile model timeline for too long.
Have a question, comment, or criticism about this model?
Send me an e-mail
with your thoughts!