Site Features
Getting Started in the Hobby
Model Categories
Original Kit:
#6 NASCAR Ford Taurus
#9 NASCAR Ford Taurus
Made By:
Team Caliber
Scale:
1/24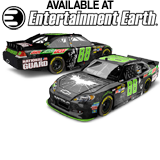 Other Racing Vehicle Models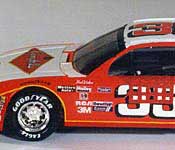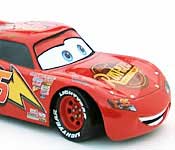 Pro Street Taxi
Campbell's Soup #35 Monte Carlo
'06 Indy Pace Car (Review)
Speed Racer F1 Mach 5
Transformers: Machine Wars Prowl
Transformers Mirage
'04 Justice LeagueParade Car (Review)
Transformers Wheeljack
Transformers Jazz
Cars Lightning McQueen
Pro Street Taxi
Blonde Comet Open Wheel Racer
Red Line 7000 Ford Galaxie
'64 Corvette GS
The Love Bug Herbie
'57 Chevy Pro Street (Review)
Spinout Shelby Cobra (Review)
Born 2 Race Subaru Impreza WRX STi
The Fast & the Furious '70 Charger
NASCAR Justice League Tauruses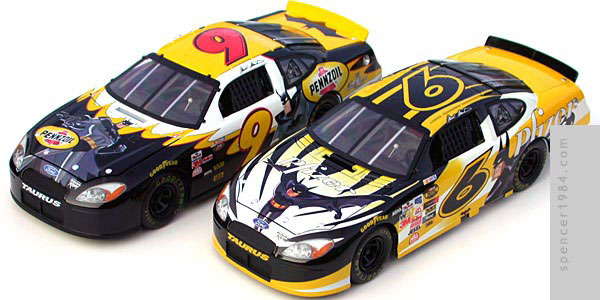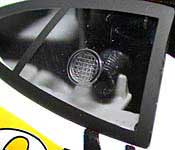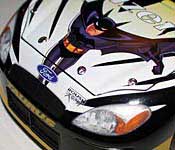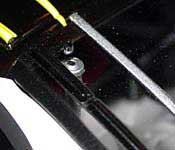 Cool Fact
Although seven drivers participated in the two-day Justice League event weekend (August 21 - 22, 2004), only six of the seven members of the League were featured on cars. Hawkgirl had neither a unique car, nor was she on any of the "team" cars.
My Batmobile collection was bound to spill over into other Bat-related vehicles sooner or later. My first venture into that territory was this set of 1/24 Ford Taurus stock cars by Team Caliber. Since I got them both at the same time and made nearly the same modifications to both, I decided to cover them both on one page.
The overall look of the cars was pretty good, they just needed a little extra detail to stand out. Both cars were disassembled, and the roll cage padding, electical systems, and hoses were painted. The rear adjustment points and cool air hoses were all hollowed out, and the cars were reassembled. Both recieved a set of Bare Metal hood and trunk pins, and he #9 car (thanks to its light colored roof) received a set of roof flap decals from a Slixx set I had left over. Finally, both cars were lightly polished to remove some of the scuffs and prints they got fom the factory.
Have a question, comment, or criticism about this model?
Send me an e-mail
with your thoughts!