Made By:
Square Enix Products
Scale:
N/A
MSRP:
US$29.99
Overview:
Packaging (Design):
10/10
Packaging (Durability):
4/10
Casting (Body):
10/10
Casting (Interior):
N/A
Casting (Chassis):
N/A
Casting (Engine):
10/10
Paint (Exterior):
10/10
Paint (Interior):
N/A
Paint (Trim/Graphics):
10/10
Overall Panel Fit:
10/10
Total Score:
9.1/10

Other Motorcycle Models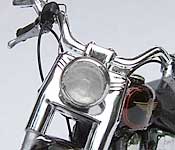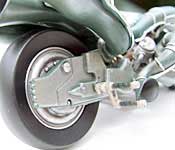 G.I. Joe RAM
Terminator 2 Harley-Davidson
Kamen Rider Cyclone
The Great Escape Bike
Final Fantasy VII Fenrir (Review)
Kamen Rider W Accel Gunner

Final Fantasy VII Motorcycle (Review)
Tiger & Bunny Double Chaser (Review)
Tron Legacy Clu's Light Cycle
Transformers: RID Sideways
Kamen Rider Hurricane
Tron Legacy Sam's Light Cycle
Kamen Rider New Cyclone
Ghost Rider Stunt Bike (Review)
Indiana Jones and the Last Crusade Bike
Grendizer Duke Buggy (Review)
The LEGO Movie Cycle
MOSPEADA/Robotech VR-052
MOSPEADA/Robotech VR-038
Tron Light Cycles (Review)
Other 2000s Movie Models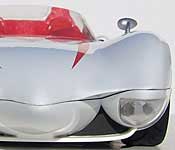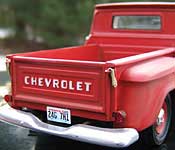 Megafault Dodge Ram
Fast & Furious Chevelle (Review)
Hidalgo
Sex Drive 1969 GTO
Speed Demon Chevelle
Twilight '63 Chevy Pickup
Revenge of the Fallen Bumblebee
Starsky & Hutch Ford Torino
Austin Powers: Goldmember Shaguar
Dukes of Hazzard General Lee
Fast & Furious '70 Charger
I Am Legend Shelby GT-500
Death Proof 1969 Charger (Review)
Avatar AT-99 Scorpion
Gone in 60 Seconds Eleanor (Review)
WALL·E
War of the Worlds Monte Carlo SS
Final Fantasy VII Fenrir (Review)
Watchmen Owl Ship (Review)
Collier & Co: Hot Pursuit Traveller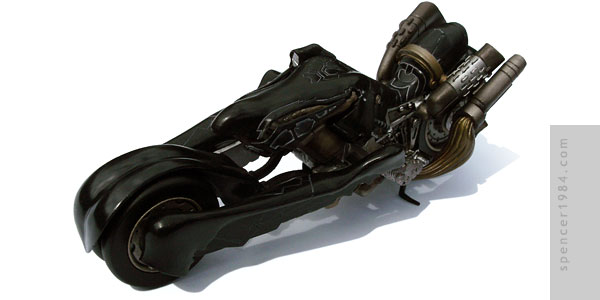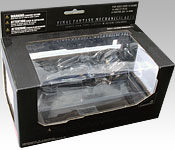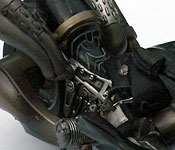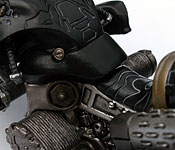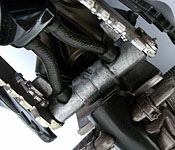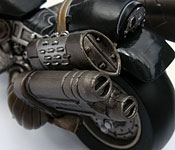 Background
The Compilation of Final Fantasy VII was a multimedia project that included video games, movies, and literature to create a single cohesive story. Advent Children was the first title announced as part of Compilation, an animated movie set two years after the events of the game Final Fantasy VII. In the story, the character Cloud Strife is looking for transportation and makes a deal to acquire the Fenrir from the bike's previous owner. The Fenrir is a high-perfomance machine with a top speed of 250 mph (400 km/h), and has storage compartments along the forward sides for transportation of the Fusion Sword. It survives Compilation relatively unscathed, despite having been in several battles.
Packaging
The Mechanical Arts series are packaged in "blister boxes": most of the packaging is a standard six-sided window box, but an extra flap stretching up from the back panel has a hole to allow these to be hung from pegs like carded action figures. The box is folded in such a way that every visible panel is matte black. There are four windows: one on the top/front, one in each end flap, and a narrow "mail slot" across the back. None of the windows are rectangular, but instead have unique cutouts to follow the "mechanical arts" theme. The series name and product are printed in chrome on the hang flap and front panel. while all other text is a combination of white and light gray. This includes the warnings on the hang flap, company name on the top and bottom panels, copyright and product info on the front panel, and product info and warnings on each end flap. One end flap also has the warning in a red box for extra attention. The back panel has a moodlit product photo, cross-sells, and all the legal and distribution information. To open the box, two strips of tape have to be cut and the top panel folds forward. The motorcycle and base are held in a set of three plastic trays, built to keep everything separate and making the vehicle appear to be floating in the box. Overall a really stunning piece of design, but unfortunately I have seen multiple boxes that suffered glue failure, allowing the end flaps to break free. These can easily be re-glued, but the loose flaps can easily get damaged or torn on store shelves.
Casting/Paint
The whole point of the Mechanical Arts series is to create visually stunning replicas, with particular attention to fit and finish. For the most part, they have succeeded admirably. The Fenrir is a more polished design than Kadaj's motorcycle, with sleek body panels and a glossy black paint job with metallic details. These include the engine, chassis, wheels, and trim components. Panel lines and other grooves have been washed with contrasting colors to bring out the details. The tires are made of the same hard plastic as the rest of the bike, but have been painted satin black to give them a realistic rubber look.
Features/Accessories
The only real accessory here is the base, a generic rectangle shared among all of the Mechanical Arts vehicles. Because this is a ground vehicle, the hole in the center of the base (used as a stand mount for aerial vehicles) has a generic looking plug. The plug is not glued in and fits loosely, so be careful not to flip the base over and lose it. The wheel stand can be moved backward & forward, but cannot fold flat against the chassis.
Accuracy
The only discrepancy I find is the stranded exhaust header, which has more striations on the model than it does in the film. Otherwise, this is a dead-on replica of the Fenrir. As with Kadaj's bike, the size of the seat, handlebars, and foot pegs makes this appear very close to 1/24 scale.
Overall
The boxes from Square Enix are really their only weak point: once you free the Fenrir, you are left with a beautiful replica of a very unique machine. Very highly recommended.
Have a question, comment, or criticism about this review?
Send me an e-mail
with your thoughts!