Made By:
Jada Toys
Scale:
1/24
MSRP:
US$14.99
Overview:
Packaging (Design):
8/10
Packaging (Durability):
8/10
Casting (Body):
8/10
Casting (Interior):
7/10
Casting (Chassis):
7/10
Casting (Engine):
7/10
Paint (Exterior):
8/10
Paint (Interior):
N/A
Paint (Trim/Graphics):
9/10
Overall Panel Fit:
8/10
Total Score:
7.8/10

Other Fast & Furious Models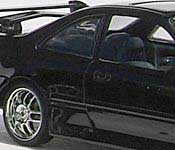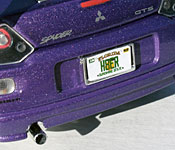 Furious 6 '69 Mustang (Review)
Furious 7 '70 Charger (Review)
The Fast & the Furious RX-7
Fast & Furious '70 Charger
Furious 7 Off-Road Challenger (Review)
F8 of the Furious Rally Fighter (Review)
Fast 5 '11 Charger Police (Review)
Furious 7 '70 Road Runner (Review)
The Fast & the Furious F-150 (Review)
Fast 5 Nissan GT-R (R35)
Fast 5 '11 Charger Police (Set)
Furious 6 Nissan GT-R Ben Sopra (Review)
F8 of the Furious Ripsaw (Review)
Tokyo Drift '70 Road Runner (Review)
F8 of the Furious Fleetline
Fast & Furious Chevelle (Review)
Furious 7 Supra
Furious 7 Off-Road '67 Camaro (Review)
Fast 5 '70 Charger
The Fast & the Furious Civics
Other 2000s Movie Models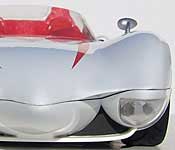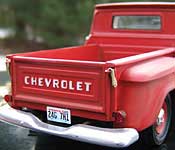 Harry Potter Anglia 105E
Transformers Bumblebee
2012 Lincoln Town Car
Ninja Cheerleaders VW Beetle Cabriolet
Dark Harvest 2: The Maize Durango
I Am Legend Shelby GT-500
Final Fantasy VII Fenrir (Review)
Talladega Nights Monte Carlo (Review)
Dale Daytona Winner (Review)
Starsky & Hutch Ford Torino
Avatar AT-99 Scorpion
Terminator 3 Lexus
The Bourne Identity Mini
Charlie's Angels 1969 Camaro
Twilight '63 Chevy Pickup
xXx '67 Pontiac GTO
Fast & Furious Chevelle (Review)
Cars Doc Hudson (Review)
Death Proof 1969 Charger (Review)
Austin Powers: Goldmember Shaguar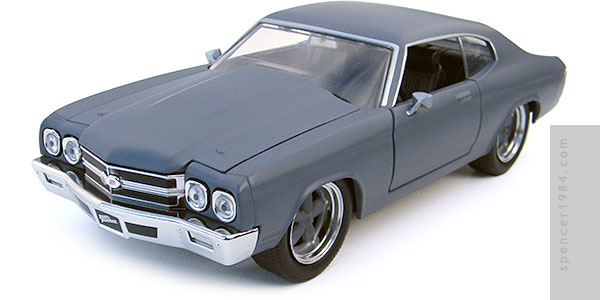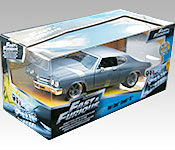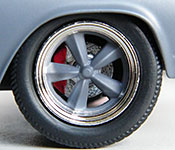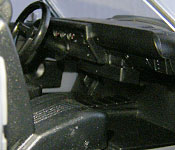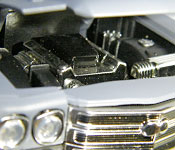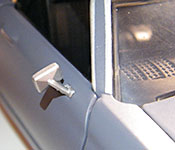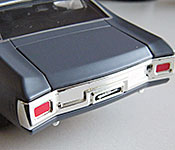 Background
When Dom goes undercover to discover who killed Letty in Fast and Furious, he uses the Chevelle last seen in the post-credit sequence of The Fast and the Furious. The new satin gray primer finish gives no hint of the car's true capabilities, which once again prove that there's no replacement for displacement in a street race against Brian.
Packaging
The box is identical to what we saw with the Maximus Charger, other than the movie title in the top right corner has been changed from "Furious 7" to "Fast & Furious" (leaving an odd gap where the longer title used to be) and the car name on the bottom of the front panel has been updated to "Dom's Chevy Chevelle SS." The interior tray is much the same as well. Plastic bands hold the hood and doors closed, while the truck is captured by a clear plastic tray.
Casting/Paint
This is, overall, a nice return to the nice, solid work that made Jada's "Big Time Muscle" series so successful. The casting is nicely finished with no errors or tool marks, the panel fit is nice and even, and it's just generally a tidy little package that fits and feels great. The paint is a medium-dark satin gray, with good even coverage and no drips, runs, or other flaws. Silver paint is used for the window surrounds—the only painted trim on the whole car—and is flawlessly applied. The edges are sharp and everything is properly located to the window openings. The sideview mirrors are a matching silver with chrome "glass" inserts, a very nice touch. Unfortunately, the mirror housings are made from a very soft plastic, and the right mirror on mine is badly warped. I can force it back into position, but it just droops back to where it was. The front and rear bumpers, grille, and headlight bezels are chrome plastic, and while most of these are properly fitted the headlights seem a little bug eyed and may need to be seated better. There is a tiny chip in the rear bumper just above the right taillight, otherwise the chrome is bright and clean. The headlights and glass is clear plastic, wheels are chrome with body-matched spokes, and tires are soft vinyl.
The engine is difficult to see clearly because the hood does not open all the way nor does it stay in place when open. It is clearly not a stock 454, though, and has a rather strange-looking airbox between the valve covers. Even weirder, there's something back where the master cylinder belongs that looks a lot like a distributor. There's a lot of chrome plating, too.
The interior is basic black with printed gauge faces. It's not quite stock, as evidenced by the door speakers and aftermarket steering wheel. The same goes for the chassis, which has basic but competent engraving and separate chrome exhaust tips. In both cases, the simplicity works and the end result is a clean and neat look. One final nice touch: Jada has a set of reasonably-sized brakes mounted behind the wheels. They are as nicely done as ever, but are small enough that they could be used for myriad projects.
Features/Accessories
The doors, hood, & trunk open. The hood hinge doesn't stay or have enough travel, but the trunk and doors work just fine.
Accuracy
Like the Road Runner, this was a repurposed casting that works pretty well. The interior isn't right: Dom's car had stripped panels, custom racing buckets, and a full roll cage. But the Chevelle's relatively small windows, side glass, and the black coloring help downplay the inaccuracy. The body looks good (albeit a little heavy around the rear bumper), and the wheels are pretty close to what Dom's car wore, so I'll call it a win. The Chevelle has the same dumb "Fast & Furious" logo plates as the other cars in the series, but since that's dictated by Universal Pictures as part of the license, I can't fault Jada for it.
Overall
I mentioned Jada's Big Time Muscle series earlier, and too a degree that's what this is: a BTM version of Dom's Chevelle. It's not 100% accurate, but where it's wrong it's wrong in the right direction (i.e., not awkwardly proportioned or suffering from terrible QC) and makes for a nice addition to the Fast & Furious collection. Recommended
Have a question, comment, or criticism about this review?
Send me an e-mail
with your thoughts!