Made By:
Jada Toys
Scale:
1/24
MSRP:
US$14.99
Overview:
Packaging (Design):
9/10
Packaging (Durability):
8/10
Casting (Body):
8/10
Casting (Interior):
8/10
Casting (Chassis):
7/10
Casting (Engine):
9/10
Paint (Exterior):
9/10
Paint (Interior):
8/10
Paint (Trim/Graphics):
9/10
Overall Panel Fit:
10/10
Total Score:
8.5/10

Other Fast & Furious Models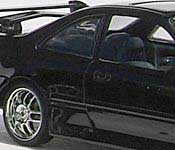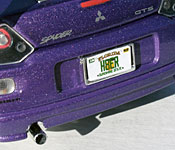 Furious 6 '69 Charger Daytona
2 Fast, 2 Furious Eclipse Spyder
Fast & Furious '70 Charger
Furious 6 '69 Mustang (Review)
The Fast & the Furious RX-7
F8 of the Furious Ice Charger (Review)
Furious 7 '70 Charger
Furious 6 Nissan GT-R (Review)
Spy Racers Rally Baja Crawler (Review)
Furious 7 Nissan GT-R (Review)
Fast 5 '63 Galaxie
Fast 5 Nissan GT-R (R35)
F8 of the Furious Fleetline (Review)
Furious 7 '70 Charger (Review)
The Fast & the Furious F-150 (Review)
Tokyo Drift '70 Road Runner (Review)
2 Fast, 2 Furious Evo VIII (Review)
F8 of the Furious Plymouth GTX
Furious 7 Maximus Charger (Review)
Furious 7 Off-Road '70 Charger
Other 2010s Movie Models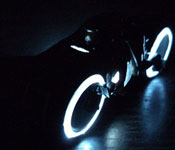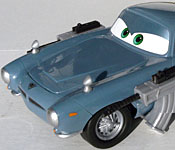 Jack Reacher '70 Chevelle
200 MPH Nissan 370Z
Edge of Tomorrow Sgt Vratraski
Furious 7 Lykan HyperSport (Review)
Furious 7 '70 Charger
F8 of the Furious Rally Fighter (Review)
Transformers 5 Crosshairs (Review)
Born 2 Race Subaru Impreza WRX STi
F8 of the Furious Ripsaw
Need for Speed 2014 Mustang (Review)
Deuce of Spades '32 Ford
Hobbs & Shaw Peterbilt (Review)
The Last Stand Camaro
LEGO Batman Batmobile
Transformers 4 Optimus Prime
Furious 6 '69 Mustang (Review)
Atomic Blonde Porsche 911
Cars 2 Finn McMissile (Review)
LEGO Batman Ultimate Batmobile
Furious 7 Nissan GT-R (Review)
Other Charger Models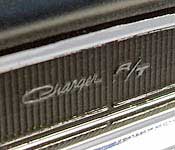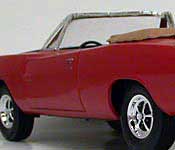 Dirty Mary, Crazy Larry '69 Charger
Dukes of Hazzard Undercover General
The Philadelphia Experiment Charger
House of Wax '68 Charger
Agents of SHIELD Hell Charger
Need for Speed '69 Charger (Review)
Joe Dirt '69 Charger Daytona
Fast 5 '70 Charger
Furious 7 Maximus Charger (Review)
Half-Life 2 Muscle Car
Wheels of Terror Charger
'69 Convertible
Furious 7 '70 Charger
"City Slicker" '69 Charger
The Fast & the Furious '70 Charger
'69 Charger (Review)
Fast & Furious '70 Charger
Death Proof '69 Charger (Review)

Fast 5 '11 Charger Rio Police (Review)
Dukes of Hazzard General Lee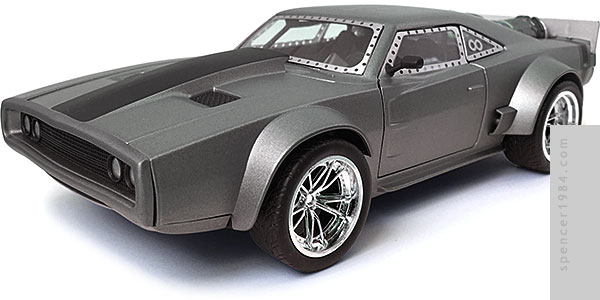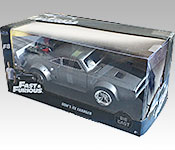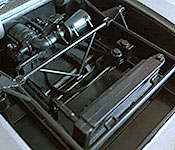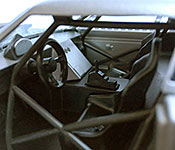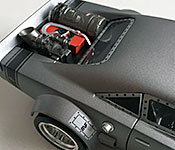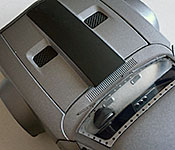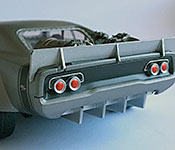 Background
When the action moves to the arctic in The Fate of the Furious (a.k.a. Fast 8 or F8), Dom once again uses a highly modified classic Charger specially built for the inhospitable conditions. This time, it's an ice racer with a lower and wider stance, fully belly pan, and rear-mounted jet engine.
Packaging
Jada Toys has updated their Fast & Furious boxes for F8. Although the size, shape, and general idea is the same as previous boxes, the design is very different. First, the whole design has been mirrored, with the window now forming the top right corner of the box. The colors are also much darker: blue and black are still the dominant colors, but the black is a much larger part of the design and the blue is darker and more muted. Whether these are simply a new look or a clever play on this movie's supposed darker themes and main character's "switching sides," it looks very good. The front panel also has the Jada logo, F8, "Die Cast Collector's Series," age restriction, and a photo of Vin Diesel and an earlier Charger next to the "Fast & Furious" series logo. While most of the box has a matte finish, the series logo is a bright reflective chrome silver. "Dom's Ice Charger" is printed on a sticker affixed under the window. The top and both end flaps repeat the photo of the Charger (without Diesel) and series logo (this time done in traditional printing). The bottom of the box is covered with legal info, while the back has an all-new lineup of co-sells: Suki's Honda S2000, Brian's Mitsubishi Eclipse, Dom's Ice Charger, Dom's Charger R/T, Ripsaw, Dom's Plymouth GTX, Letty's Chevy Corvette, Brian's Nissan GT-R (R35) Ben Sopra, Dom's Chevy Impala, Brian's Skyline GT-R (R34), Mr. Little Nobody's Subaru WRX SRTI, Lykan Hypersport, Dom's Chevy Fleetline, Brian's Toyota Supra, and Dom's Mazda RX-7. Inside is folded tray with a road surface base and lined orange backdrop. Two screws hold the car to the bottom tray, and plastic bands holds the doors and hood closed.
Casting/Paint
The last "Dom's Charger" we got was, quite frankly, an embarrassment. Jada's history with Chargers in general has been pretty spotty, but as I've noted a lot of the trouble comes from clearly worn-out molds. The Ice Charger is so radically modified from stock that it required an all-new tooling, and Jada has absolutely nailed it. The body is clean and straight, with smooth panels fit together precisely. The only flaw is the rear spoiler, which is warped slightly and does not seat correctly against the left rear fender (though this may have been a mistake during assembly rather than a casting error). Otherwise everything looks great, including some tricky areas like the side windows and door/fender seams. Most of the body is metal, with plastic used for the grille/bumper, valance, hood vents, brake inlets, spoiler, and rear bumper. Everything is painted metallic slate gray, and the finish is nearly perfect save for a very light scratch on the left half of the roof. The grille, hood stripe, bumblebee stripe, and taillight panel are painted flat black, perfectly aligned with good sharp edges and printing. The headlights, side port exhaust, and taillight bezels are silver, and the taillight lenses are red. The bezels are the only part of the trim where the registration isn't quite right, the silver spilling out onto the surrounding black. A silver and black tampo is printed on the right rear fender flare, just below the side port to act as a heat shield. Like the stripes, it's sharply printed and nicely aligned. The six windows are cast in clear with silver paint used to create the metal edges. The sideview mirror is soft vinyl with a silver painted glass.
Under the hood is a beautifully cast chassis cage, complete with cross-bracing, shock towers, and firewall braces. It surrounds a radiator, two bottles, and a small Auxillary Power Unit near the firewall. The APU is nicely detailed, with a separate cold air intake and enough detail to make out most of the drive accessories. Everything in this compartment is unpainted black plastic. The main powerplant for this Charger is a turbine engine located in the former trunk of the car. it has two main components straddling a fuel cell: primary stage on the left, and exhaust on the right. The engine is painted a gunmetal gray that's slightly darker than the body, with black and silver details and printed yellow caution triangle and red rectangular warning labels.The fuel cell is bright red with a black filler and silver lines.
Inside, two bucket seats are surrounded by a complex roll cage that. Like the underhood cage, this is nicely formed with enough cross-bracing and details to look appropriate. A raised center section has a simplified but recognizable gear selector, and it fits nicely to the basic sheet dashboard. The dash is partially painted silver, with black plastic left exposed for some of the details. There are no detailed gauges, but between the raised bezels and function switches on the far right there is enough detail to keep things interesting. The steering wheel is a basic racing unit, and the door panels are simple sheets with a few reinforcing ribs and correctly-placed door handles. The wheels are chrome plated plastic with vinyl tires, mounted over black disc brakes. The chassis is almost entirely devoid of detail, nicely replicating the belly pan of the 1:1 car. The rear axle and trailing arms are hinted at, and the rear diffuser is nicely cast and painted bright silver.
Features/Accessories
The doors & hood open, and all hinges are stiff enough to hold properly without being difficult to operate.
Accuracy
There's no mistaking the Ice Charger, and Jada has generally done a good job capturing it here. Some details like the jet engine have been necessarily simplified, and there are a few nitpicks such as there being the wrong number of vanes in the rear diffuser, but overall this is admirable work. Scaling is a bit tricky, since I have not been able to et any reliable information about how much of a second-gen Charger was left after all the modifications were done. Assuming the greenhouse is stock, this is a pretty good 1/24 albeit a little wide (not counting the flares).
Overall
Easily one of Jada's best pieces in the Fast & Furious series, this easily makes up for the missteps with their earlier Chargers. The casting is good, the paint is good, and the overall size—usually Jada's weakest point—looks good as well. Very highly recommended.
Have a question, comment, or criticism about this review?
Send me an e-mail
with your thoughts!