Made By:
NJ Croce
Scale:
1/24
MSRP:
US$34.99
Overview:
Packaging (Design):
9/10
Packaging (Durability):
8/10
Casting (Body):
9/10
Casting (Interior):
9/10
Casting (Chassis):
N/A
Casting (Engine):
N/A
Paint (Exterior):
N/A
Paint (Interior):
9/10
Paint (Trim/Graphics):
8/10
Overall Panel Fit:
8/10
Total Score:
8.6/10

Other Batmobile Models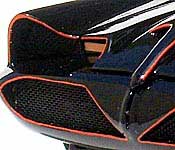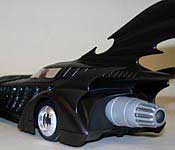 1987: Batman #408 cover
1964: Batman #164
1950: Detective Comics #156
1966: Batman (Review)
2017: The LEGO Batman Movie
1992: Batman:TAS (Review)
2005: Batman Begins/The Dark Knight
1992: Batman the Animated Series
1992: Batman Returns Batmissile
2006: Legends of the Dark Knight #198
1948: Batman #47
2016: Batman v Superman
1969: Detective Comics #394
1972: Detective Comics #420
1944: Batman #20
1939: Detective Comics #27
2008: LEGO Batman
1972: Batman #246
1989: Batman
2006: Batman: Man-Bat
Other Cartoon & Anime Models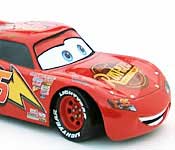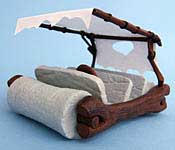 Batman:TAS Batmobile (Review)
Urashiman Magna Beetle
Battle Force 5 Saber (Review)
Cyber Formula Super Asurada (Review)
Roadster Racers Minnie (Review)
Ben 10 Alien Force Kevin's Car (Review)
M.A.S.K. Manta
Transformers Optimus Prime
1992 Batman:TAS Batmobile
Roadster Racers Goofy (Review)
My Neighbor Totoro Catbus (Review)
Rick and Morty Space Cruiser
F&F: Spy Racers Crawler (Review)
Cars 3 Jackson Storm (Review)
G.I. Joe RAM
Ninjago Ultra Sonic Raider
101 Dalmatians Cruella's Car (Review)
Thundercats Thundertank (Review)
Roadster Racers Mickey (Review)
Lupin III Fiat 500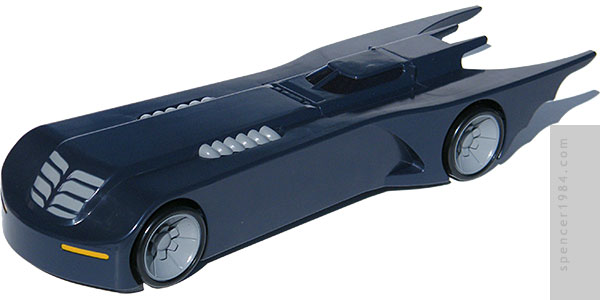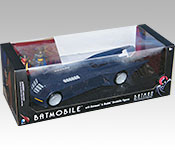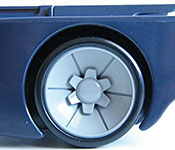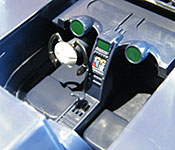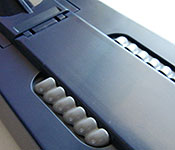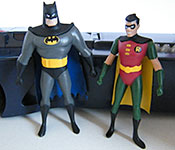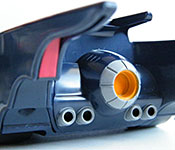 Background
Coinciding with the 1992 release of Batman Returns, Batman: The Animated Series used similar elements such as gothic scenery, dramatic plots, and dark characters. Also like the Tim Burton-directed movies, the Batmobile used in B:TAS was a mix of cutting-edge technology and prewar aesthetics (though the realities of hand-drawn animation required much simpler and straighter lines than the live action Batmobile). Designed by artist Shayne Poindexter, this Batmobile served as Batman's transportation through the first three years of the DC Animated Universe and countless tie-in and promotional items.
Packaging
The Batmobile is in a large window box, measuring 16" (40.5cm) x 6½" (16cm) x 5¾" (14.5cm). Five of the six panels are simple black backgrounds with white text: age restriction, "Batmobile with Batman & Robin Bendable Figures," DC "page curl" logo, and Batman: The Animated Series title card and silhouette on the front; profile drawings of the Batmobile with tech callouts (Titanium Construction, Ablated Skin Cowling, Tritium Thrusters, Trinitro Propulsion Units, Dual Accellerators, Fuel-Injected Turbo Boosters, Ejector Seats, and Wheel Slasher Hubs) and credit to figure sculptor/paint master Kristopher Meadows on one end flap; an oblique drawing of the car, TV episode notes, and the legal/contact information on the back; and the remaining legal info and bar code on the bottom. There isn't enough "top" for any text. The second end flap has a full-color drawing of Batman swinging through Gotham City with a repeat of the B:TAS title card. Inside, the floor is gloss black while the walls are a dark red. An Animated-style skyline is printed on the back corner behind the Batman & Robin figures. They, and the Batmobile itself, are held in with plastic coated wire twist ties. Overall, the simplicity of the design is a perfect example of "less is more." By using clean simple lines and a limited color palette, NJ Croce has created a great looking piece for MIB collectors that perfectly fits the "Dark Deco" of the series.
Casting/Paint
Much like the original Animated Series Batmobile, this is cast in a dark gray/blue plastic. The main fuselage is one piece, with inserts to fill in the fins and make up the rear fascia. The casting is generally clean and the panels fit well, but there are mold separation lines along the top edges and across the front bumper. The canopy is a separate hinged piece, and while it too fits nicely it suffers somewhat thanks to an ugly hinge and protruding lift tabs at the back corners. It does have a nice dark blue windshield, though, which fits tightly and blends nicely with the canopy shell. Twelve header pipes (six per side) are made from two pieces of plastic mounted on the hood. These, the grille, and the exhaust nozzles are painted gray. The headlights and inner main exhaust nozzle are painted yellow, and the taillights are painted red. Paint apps are smooth and consistent, but have some issues with edges meeting the appropriate casting breaks. The wheels and tires are each one piece of hard plastic, with black tires and gray wheels. There is no chassis detail, opting instead for a ingle solid bellypan with only the assembly screws and copyright information. The interior is beautifully detailed, with a full dashboard, seat cushions, a control lever, and a delicately cast steering wheel. The paint is equally nice, with several gauges and controls individually highlighted.
Features/Accessories
Soft bendable vinyl figures of Batman and Robin are included. They generally match their animation models, though Robin's legs don't seem to be quite the same length. Neither can stand on their own thanks to Bruce Timm's tiny feet and barrel chests, but they do look good leaning against the car.
Accuracy
As a traditional animated medium, Batman: The Animated Series was prone to animation glitches. The number of header pipes varied between eight and twelve, panel breaks would come and go as needed, the car would grow and shrink from scene to scene, etc. This seems to be primarily based on the animation model sheets, and matches those very closely. NJ Croce even included the bat silhouette on the top of the dashboard. Everything from the subtly nipped waist to the cowl vent is present and skillfully presented.
Scaling is somewhat difficult, because this Batmobile's actual size has always been questionable. In addition to the aforementioned continuity errors, the way it was proportioned was a bit of a paradox. Sticking strictly to the animation model would end up with either a reasonably sized car with an impossibly tiny seating area, or good-sized seats within a vehicle the size of a commercial truck. NJ Croce chose the latter, with the Batmobile measuring 13" (33cm) long and 4" (10cm) wide, meaning that in 1/24 scale it's roughly the length of a 10-passenger stretch limo and the width of a transit bus. Since both of those vehicles successfully navigate city traffic on a regular basis, that makes this Batmobile huge but not impossible.
Overall
It's been almost 25 years since we first saw this Batmobile, and in all that time there has never been a 1/24 scale replica of it. That alone makes this a near must-have item, and all the better that NJ Croce did such a nice job on it. My only complaint is the cowl hinge, but even that is by no means a deal breaker. Very highly recommended, especially for fans of Batman: The Animated Series.
Have a question, comment, or criticism about this review?
Send me an e-mail
with your thoughts!