Made By:
Banpresto
Scale:
1/24
MSRP:
N/A
Overview:
Packaging (Design):
7/10
Packaging (Durability):
7/10
Casting (Body):
8/10
Casting (Interior):
8/10
Casting (Chassis):
6/10
Casting (Engine):
N/A
Paint (Exterior):
8/10
Paint (Interior):
8/10
Paint (Trim/Graphics):
9/10
Overall Panel Fit:
9/10
Total Score:
7.8/10

Other Cartoon & Anime Models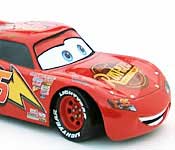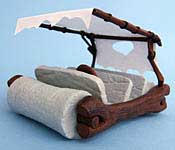 Transformers Optimus Prime
MOSPEADA/Robotech VR-052
Ninjago Ultra Sonic Raider
Jimmy Neutron Rocket
Max Steel Jet Racer (Review)
Roadster Racers Donald (Review)
Cars 3 Cruz Ramirez
Cyber Formula SIN Ogre AN-21 (Review)
Cyber Formula Super Asurada (Review)
Evangelion Renault Alpine A310
Battle Force 5 Saber (Review)
Speed Racer F1 Mach 5
Paprika Aston Martin DB7
Speed Buggy Speedy
Cars 3 Jackson Storm (Review)
My Neighbor Totoro Catbus (Review)
Danger Mouse Mk III
Steven Universe Van
Chop Socky Chooks Cars (Review)
Lupin III Mercedes-Benz SSK (Review)
Other Comic & Manga Models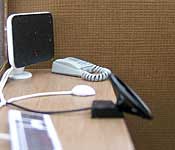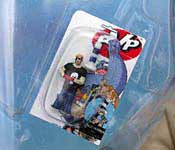 Teen Titans #9 Batmobile
Detective Comics #377 Batmobile
PvP Dexter Jettster
PvP Mini Cooper
Jigoro Jigorou Toyota Celica
Batman #164 Batmobile
Detective Comics #400 Batmobile
Cyber Formula SIN Asurada (Review)
Avengers Chevy Camaro (Review)
Misery Machine
Wangan Midnight Devil Z
DC Bombshells Wonder Woman (Review)
Avengers Lykan HyperSport (Review)
Judge Parker Corvette
Transformers G1 Prowl
DC Bombshells Harley Quinn (Review)
Cyber Formula SIN Ogre AN-21 (Review)
Beetle Bailey Jeep
DC Bombshells Batgirl (Review)
Evangelion Renault Alpine A310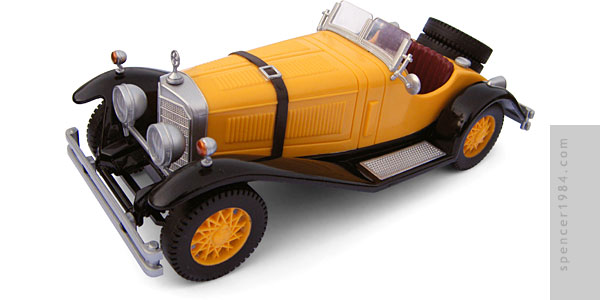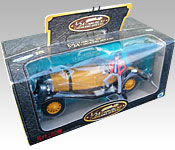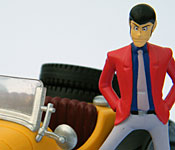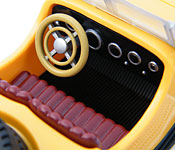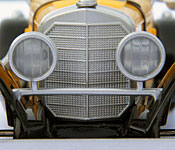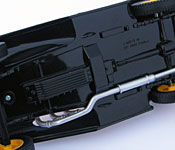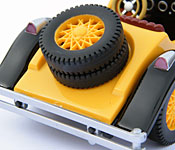 Background
Arsène Lupin III—master thief and grandson of the classic French literary character created by Maurice Leblanc— was the titular character of Kazuhiko Kato's Lupin III series. Among his many abilities, Lupin is a skilled driver with a preference for small, sporty cars like his custom Fiat 500 or the classic Mercedes-Benz SSK. The latter has made several appearances in the Lupin III universe, including a yellow and black version that first appeared in episode 2 of the anime series.
Packaging
The box is a textured dark gray print with a relatively small window on the front (extending slightly to the top panel). An oval badge is printed on the bottom center of the front panel with a silhouette drawing of the car, scale, and title in English and Japanese. This is repeated on both sides of the handle on top of the box, and a simplified version (without the oval or drawing) is on the top and both end panels. The end panels also have a more stylized "Lupin the 3rd," a large 3/4 drawing of the car in action, and perforations. The back of the box has photos of this and the red version, a repeat of the simpler badge, and plan views of the SSK drawn as part of the background. All of the legal and sales info is on the bottom of the box. Both ends are glued shut: to access the car, you have to go through the bottom. Once that's open, the car and figure are held in place by a vertically split two-part tray. The front of the tray is clear, and the back is turquoise.
Casting/Paint
With the exception of the hardware holding it together, the car is cast entirely in plastic. That includes the tires, which are hard plastic rather than the more typical soft vinyl. It's not a bad thing, though: the casting is clean and straight, with very tight tolerances between the assembled components. The spoked wheels are a little crude, and would have looked much better without the large backing plates. The windshield and headlight lenses are cast in clear. I can't tell if the yellow and black parts are raw plastic, clearcoated, or painted. The sheen indicates some sprayed-on finish, but the yellow is slightly translucent. There are no chrome components, with all trim painted silver. Being used to vac-metal chrome, the silver looks a little odd at first. But the break lines are very clean, with only a tiny amount of overspray where the taillights meet the rear fenders and around the running board tread plates. It is a curbside, so there is no engine and the chassis detail is very limited. The interior is simple but neat, with painted bezels but no gauge faces.
Features/Accessories
A 1/24 scale plastic figure of Arsène Lupin III is included. He is non-posable, and so looks weird anywhere but right next to the SSK with a foot on the running board or bumper. What he lacks in articulation he makes up for in casting and paint quality, though. The sculpt is a perfect rendition of his animation model, including small details like the bulge where his tie clip squeezes his tie and his trademark smirk. The paint only enhances a great sculpt, with the best eyes I've seen on a 1/24 figure. The only place where the paint fails is his pants cuffs, which bleed onto his socks.
Accuracy
This is an excellent replica of the SSK, and includes all of the details that make it Lupin's personal ride: the stacked spare tires, the dorsal hood louvers, and the crosshairs hood ornament are all captured perfectly Scaling works out to a near-perfect 1/24.
Overall
This is a fun replica on multiple levels: it's a good representation of one of the signature cars from Lupin III, and it's a pretty decent replica of the SSK. Some sellers are asking large sums due to the "rare" nature of it, but if you're patient you can find one for a very good price. Recommended.
Have a question, comment, or criticism about this review?
Send me an e-mail
with your thoughts!