Made By:
Chevron
Scale:
N/A
MSRP:
US$6.99
Overview:
Packaging (Design):
8/10
Packaging (Durability):
9/10
Casting (Body):
8/10
Casting (Interior):
9/10
Casting (Chassis):
N/A
Casting (Engine):
N/A
Paint (Exterior):
N/A
Paint (Interior):
N/A
Paint (Trim/Graphics):
8/10
Overall Panel Fit:
9/10
Total Score:
8.5/10

Other Taxi Models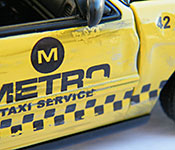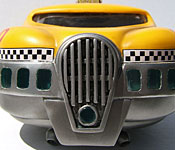 1999 Ford Crown Vic (Review)
Chevron Cars Tyler Taxi (Review)
1995 Chevy Caprice Pro Street
Deadpool Crown Vic
The 5th Element Flying Taxi (Review)
Other Advertisement Models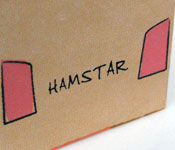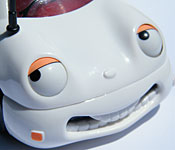 Chevron Cars Patty Patrol
Kia Hamstar Box
Chevron Cars Tyler Taxi
Chevron Cars Freddy 4-Wheeler
Dukes of Hazzard (AutoTrader) Viper
Walmart Sam Walton's Truck
Chevron Cars Wendy Wagon (Review)
Chevron Cars Tony Turbo (Review)
Chevron Cars Sam Sedan (Review)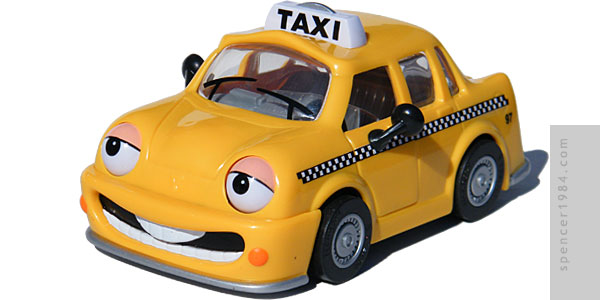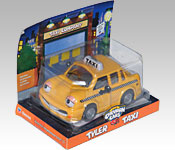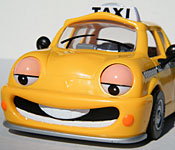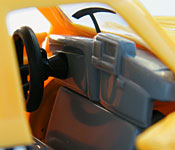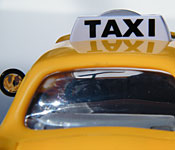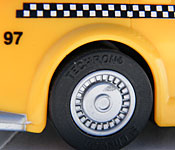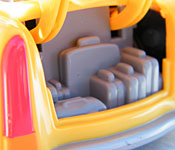 Background
Although the Chevron cars had their start in 1996, the series really got into its groove with the June 1997 release of Patty Patrol and Tyler Taxi. These two were the first to be packaged in the blister cards that would become a mainstay of the series.
Packaging
While the first few cars had art featuring the character in a themed setting (Sam in his driveway, Wendy in front of a school, etc.), This new series uses the toy and a printed backdrop to create the same effect. Tyler Taxi is sitting on a base approximately 7" (180mm) x 4.5" (115mm), with a printed road surface. This base is approximately ¾" (18mm) thick with an orange edge. The Chevron logo/name and "Keep your Neighborhood Clean ♻" are printed on both ends, while Tyler's name and the Chevron Cars logo are on the front edge. Behind Tyler is a printed panel with an evening image of a Taxi Company and part of a city block. "Safety tested and recommended for children ages 3 and over" is printed on a fence to the left of the garage, and "Follow that cab to Chevron" is on a billboard on a building to the right. The back panel has the reverse view of the Taxi Company with a sign over the door saying "Taxi Garage." Tyler is in the foreground of the image, in front of a sign listing his toy's features. Patty Patrol is on a side street towards the left of the image. The bottom of the package has a photo of Tyler with callouts for his moving eyes, opening doors/trunk, and reflective mirrors, along with the typical marketing paragraph: "Tyler Taxi grooves along the city streets, waiting to drive you to all the cool spots in town! Streetwise, fun and brassy, Tyler will take you on a ride that's wild and jazzy!" The feedback card and "Owner's Manual" are packed inside the blister between Tyler and the road surface.
Casting/Paint
Tyler is cast in medium yellow plastic, bright enough to be immediately recognizable but dark enough to not have the translucency problems typically associated with this color. The sideview mirrors are cast in a slightly soft black plastic with reflective silver stickers acting as mirror glass. Tires are the typical vinyl slicks with Chevron/Techron cast on the sidewalls. The taxi light on the roof is cast in white with silver and black paint apps. His bumpers and wheels are painted silver, his parking lights and lower rear lights are orange, his upper rear lights are red, and his mouth is painted black with white teeth. The only paint issues are some fuzzy edges where the bumpers meet the body. He has checkerboard stripes down each side, with "97" printed on each rear fender. The printing is nice & sharp, though there is a slight registration issue on the front left door where a strip of white peeks out from behind the black. His eyes are black with pink eyelids, also very cleanly printed. Tyler's interior is a medium gray with some very nice detailing, including four sets of seat belts and a taxi meter in the center of the dashboard. The steering wheel is cast in black. There is no engine, but the trunk opens to show off a collection of luggage ranging from small carry-on bags to a large suitcase against the back of the rear seat. Detailing is not bad, but some paint detailing could make thing look really great here. chassis is a simple plate with his name and series logo cast in.
Features/Accessories
Tyler has opening doors, an opening trunk, and moving eyes. The doors are simple hinges that function smoothly. The trunk is on a partially sliding joint, so that it doesn't need to have oversized hinges or ugly gaps. The eyes are activated by pushing down on his hood and rolling his forward, moving straight up & down.
Accuracy
Tyler looks like a near-perfect match for his commercial model, right down to the shape of the hood ornament. He measures approximately 5.75" (145mm) long, 3.25" (83mm) wide, and 2.5" (65mm) tall.
Overall
With Patty coming out at the same time, it's clear Chevron was aiming to include some extreme service vehicles in the series. It's a good idea, and both are fun additions with a wide appeal. Recommended.
Have a question, comment, or criticism about this review?
Send me an e-mail
with your thoughts!