Made By:
Chevron
Scale:
N/A
MSRP:
US$5.99
Overview:
Packaging (Design):
8/10
Packaging (Durability):
9/10
Casting (Body):
8/10
Casting (Interior):
7/10
Casting (Chassis):
N/A
Casting (Engine):
N/A
Paint (Exterior):
N/A
Paint (Interior):
N/A
Paint (Trim/Graphics):
7/10
Overall Panel Fit:
9/10
Total Score:
8.0/10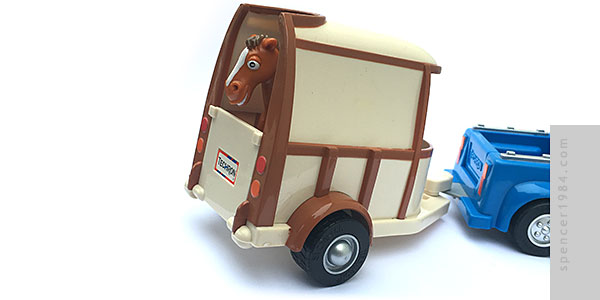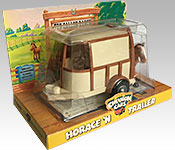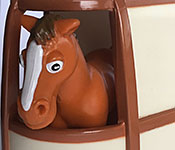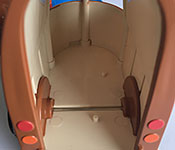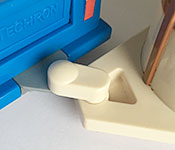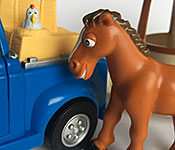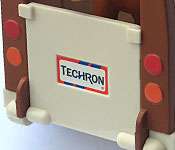 Background
While Chevron's first few vehicles were simple stand-alone characters, they started changing things up in late November 1997 with the release of Pete Pick-Up and Horace 'N Trailer. Each was sold separately, but were featured together in the same commercial and their box art could be put together to form a larger overall scene. These two also included the first non-mechanical characters, and Horace's trailer could also be hitched to the previously-released Freddy 4-Wheeler.
Packaging
Horace 'N Trailer is sitting on a base approximately 8¼" (210mm) x 4½" (115mm), with a printed dirt road surface. This base is approximately ¾" (18mm) thick with a yellow edge. The Chevron logo/name and "Keep your Neighborhood Clean ♻" are printed on both ends, while "Horace 'N Trailer" and the Chevron Cars logo are on the front edge. Behind the trailer is a printed panel with an image of the Ten Gallon Ranch's entrance and part of the surrounding fields. "Safety tested and recommended for children age 3 and over" is printed on a blanket draped over the fence. The back panel has a different view of the farm with a barn and Chevron "Keep all you horses happy" billboard in the background. Horace, the trailer, and a chicken are in the foreground next to another blanket-on-a-fence listing the toy's features. The bottom of the package has a photo of the set with callouts for hitch, back door, and floor pegs, along with the typical marketing paragraph: "There's plenty of time for horsing around at the 10 Gallon Ranch. And anywhere Horace needs to go to have fun, the Trailer will take him. Remember, Horace would rather play outside than go back to the barn. So saddle up for some Texas-sized fun!" The feedback card and "Owner's Manual" are packed inside the blister between the trailer and the road surface.
Casting/Paint
The trailer is a much simpler design than any of the Cars, being made from less than ten parts even counting the tires and axle separately. Its cast in light beige plastic with painted brown trim and fenders, red and orange taillights, and a "Techron" sticker centered on the tailgate. The long straight lines between the panels and frame exaggerate the few flaws along the edges, making some of the framing look sloppier than it really is. The lights and stickers look good, though, and the brown inner fenders add a little interest to what's otherwise a big beige box. Tires are the same treaded vinyl as what Pete has, though these are mounted on silver painted wheels with baby Moon caps. Because the trailer has a smaller base than the cars, it has only the character name and series logo plate.
Features/Accessories
I'm calling Horace an accessory here, even though his name is first on the set. He's a chestnut horse with a brown mane and tail, white face stripe, and black hooves. His teeth and eyes are also painted white, and his pupils are black. Most of the paint is done well, though he does have a second highlight on his left pupil. The trailer has an opening gate and articulated hitch. The gate is a simple hinged plate that snaps closed and works well. The hitch seems unnecessary, but doesn't interfere with hooking it up to a vehicle so no loss. Inside the trailer are two pegs, one near each end. Either of them can plug into any of the four holes in Horace's feet, allowing you to place him in several positions and not risk him falling over or sliding around. The pegs seem a little short to be much use, but actually work quite well thanks to Horace's vinyl construction.
Accuracy
We only got to see Horace as one of the two horse heads sticking out of the trailer in the commercial, so not a whole lot of details were visible beyond "white stripe" were visible. He has the familiar Aardman look, though. The trailer has the right size and shape, but wrong number of wheels: the one in the commercial had four smaller wheels while this has two wheels the same size as Pete. It was likely a cost saving measure to not have to tool up and assemble more parts, but it does make the trailer look smaller even though it could easily accommodate Horace and a friend. it measures approximately 5¾" (145mm) long, 3½" (90mm) wide, and 3¾" (95mm) tall.
Overall
This is a fun accessory, but little more than that. It's a nice addition if you have Pete and/or Freddy, but not worth getting on its own.
Have a question, comment, or criticism about this review?
Send me an e-mail
with your thoughts!