Made By:
Chevron
Scale:
N/A
MSRP:
US$6.99
Overview:
Packaging (Design):
8/10
Packaging (Durability):
9/10
Casting (Body):
9/10
Casting (Interior):
9/10
Casting (Chassis):
N/A
Casting (Engine):
N/A
Paint (Exterior):
N/A
Paint (Interior):
N/A
Paint (Trim/Graphics):
9/10
Overall Panel Fit:
10/10
Total Score:
9/10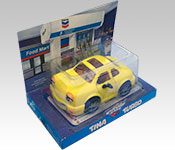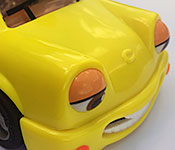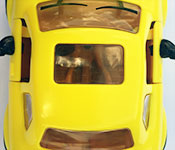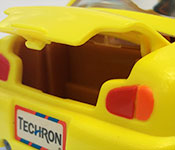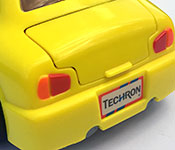 Background
Tina Turbo was the first Chevron Car to not be the star of her own commercial. She instead appears as a background character in the Tony Turbo ad where she is shown pulling up to the fuel pump on the other side of the island from where Tony is delivering his lines.
Packaging
Tina Turbo is sitting on a base approximately 7" (180mm) x 4½" (115mm), with a printed generic asphalt surface. This base is approximately ¾" (18mm) thick with a bright blue edge. The Chevron logo/name and "Keep your Neighborhood Clean ♻" are printed on both ends, while Tina's name and the Chevron Cars logo are on the front edge. Behind her is a printed panel with an image of a Chevron station and gas pump. "Safety tested and recommended for children age 3 and over" is printed near the lower left corner of the panel. The back panel has changed the setting to the parking lot outside a coffee house, with Tina in the foreground and Tony Turbo parked on the other side of the building. The package is a callback to Tony's original box art, where he was at a Chevron station with a restaurant visible in the background across the street (when he was later reissued in the newer blister packaging, the art was updated to make both his and Tina's art more obviously the same location). Text in one of the restaurant's windows lists this toy's features. The bottom of the package has a photo of Tina with callouts for her moving eyes, moon roof, reflective mirrors, opening trunk, and opening doors, along with the usual marketing paragraph: "Tina Turbo has an eye for detail. She knows a good-looking car when she sees one. That's why she's always had her eye on Tony Turbo. Maybe some day Tina and Tony will get together for some coffee...or just a nice drive on the parkway." The customer feedback card and "Owner's Manual" are packed inside the blister under Tina.
Casting/Paint
Tina is cast in bright yellow ABS body with black mirrors and gray exhaust tips poking through notches in her rear bumper. Reflective silver stickers are used for the mirror glass, and a Techron sticker is mounted as the license plate on the rear bumper. The tires are vinyl slicks with Chevron/Techron cast on the sidewalls and are mounted on silver 5-spoke offset wheels. Her parking lights and outer rear lights are orange, her taillights are red, and her mouth is black with white teeth. While limited, these paint apps are applied neatly. Her eyes are brown with peach eyelids. Tina's interior is a slightly reddish brown with three-point seat belts, a detailed center console, and a dash face that includes radio and glove box detailing. Her steering wheel and console-mounted shift lever are black. The chassis has the usual name and series logo plate, along with dual exhausts that fit nicely into the rear bumper.
Features/Accessories
Tina has opening doors, and opening trunk, and moving eyes. The hinges work nicely and the doors snap securely into their "closed" positions, while the trunk has a unique sliding hinge design that lets the lid open wider without using giant hinges that take up space in the trunk or rear seat area. The eyes are activated by pushing down on her hood and rolling her forward, which makes her eyes move up and down.
Accuracy
Likely a result of her being a background character in an early commercial, there are a couple of details that got changed: in the original ad, her roof and trunk are longer and she lacked the usual front bumper marker lights. The toy hews closer to the established aesthetic of the rest of the line, and fits in better than had she been exactly like her screen appearance. She measures approximately 5½" (140mm) long, 3" (75mm) wide, and 2¼" (60mm) tall.
Overall
Like Leslie LX, Tina lacks any real unique features or accessories to make her really stand out (somewhat fitting for the suggested wallflower suggested by her bio). Still, a solid toy and recommended
Have a question, comment, or criticism about this review?
Send me an e-mail
with your thoughts!