Made By:
Jada Toys
Scale:
1/24
MSRP:
US$24.99
Overview:
Packaging (Design):
8/10
Packaging (Durability):
8/10
Casting (Body):
10/10
Casting (Interior):
9/10
Casting (Chassis):
8/10
Casting (Engine):
N/A
Paint (Exterior):
9/10
Paint (Interior):
9/10
Paint (Trim/Graphics):
10/10
Overall Panel Fit:
9/10
Total Score:
9.0/10

Other Comic & Manga Models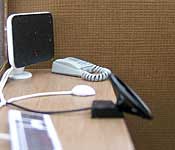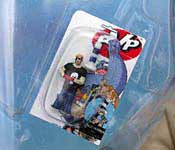 Cyber Formula Knight Savior (Review)
Avengers Chevy Camaro (Review)
DC Bombshells Batgirl (Review)
The Circuit Wolf Lotus Europa
PvP Dexter Jettster
Transformers: Armada Hot Shot
Cyber Formula Asurada AKF-11 (Review)
Transformers G1 Ratchet
Ctrl-Alt-Del Zeke
Detective Comics #156 Batmobile
Detective Comics #800 Batmobile
Judge Parker Corvette
Batman #164 Batmobile
It's Walky! 1986 Dodge Ram 50
DC Bombshells Wonder Woman (Review)
Misfile XR4Ti
The Circuit Wolf BMW 3.0 CSL
Teen Titans #9 Batmobile
DC Bombshells Harley Quinn (Review)
Batman #20 Batmobile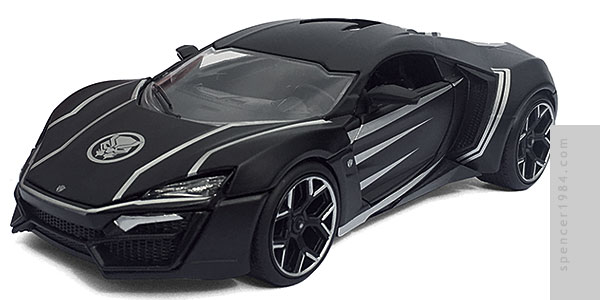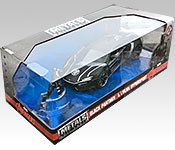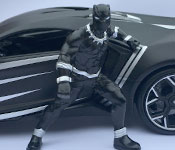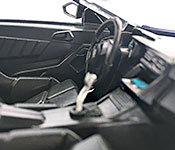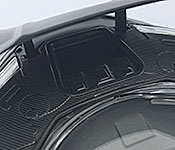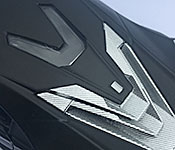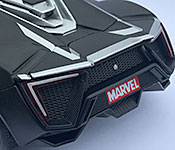 NOTE: This is a modified reissue of an existing model, and this review will focus on the changes made between the cars. You can see the original review for more details.
Background
As part of the marketing push for Black Panther, Lexus provided six hand-built prototypes of their LC500 for filming plus one production model for West Coast Customs to turn into a promotional tour vehicle. Modifications to this one included a 1-off widebody kit, 24" Lexani wheels, and a Black Panther-inspired paint scheme.
Packaging
This is essentially the same packaging we saw for the Batmobiles, a wide box with the top forward corner being made of folded plastic to allow for an unobstructed view of the car and figure. The background of the box is the same dark gray textured to look like brushed metal, but now with a black and red band around the bottom of the front panel and both end flaps. The Marvel and Avengers logos are in the lower right corner under a portrait of Black Panther, and "Black Panther & Lykan HyperSport" is written in the red part of the band under the window. The back panel has co-sells for Iron Man's 2016 Camaro and Spider-Man's 2017 Ford GT. Inside, the HyperSport is held to a folded cardboard tray via two screws with plastic bands around the hood and doors to keep them closed. Black Panther is in a separate plastic tray mounted near the front of the car.
Casting/Paint
This is a straight reissue of the Furious 7 HyperSport with a new paint job. This time, the car is totally achromatic with a satin black finish accented by matte silver stripes and a silver panther face hood deco. W Motors logos are placed at the the factory correct positions on the hood, front fenders, between the taillights, and all four wheel centers. There are also a set of short gloss black stripes over the headlights, which create a neat effect against the satin paint. All of the striping is expertly applied, which is especially impressive where the silver follows the sharp creases of the HyperSport's body. The only spots of color are the dark red of the taillights and the much brighter red of the "Marvel" logo license plate. The latter is especially out of place, but such is the demands of licensing.
Features/Accessories
The hood and doors open, with the doors having the same nifty diagonal hinges that work just as well here as they did on the original release - no sign of mold degradation. A 1/24 Black Panther figure is also included, and is painted a slightly glossier black and silver. Not quite as shiny as Iron Man, but enough so that he looks different from the car. This works particularly well on the silver accents, which look more like metal here while the car's silver areas are clearly matte paint.
Accuracy
This is not based on an existing design, but is instead a "character car" that simply uses an existing tooling with a new paint job to evoke a persona.
Overall
While the Iron Man Camaro is easily my favorite from this series, T'Challa's HyperSport is a close runner-up. It definitely has a cat-like appearance (especially the "flattened ears" on the rear deck), and the price tag from W Motors is about right for a royal purchase. Even being out-of-scale bothers me less here than it did on the F7 version, since the black helps visually shrink it a bit and the obviously custom paint job suggests further modifications may have been made. Highly recommended.
Have a question, comment, or criticism about this review?
Send me an e-mail
with your thoughts!