Made By:
Mega House
Scale:
1/24
MSRP:
¥13,800
Overview:
Packaging (Design):
9/10
Packaging (Durability):
10/10
Casting (Body):
9/10
Casting (Interior):
9/10
Casting (Chassis):
9/10
Casting (Engine):
N/A
Paint (Exterior):
8/10
Paint (Interior):
N/A
Paint (Trim/Graphics):
9/10
Overall Panel Fit:
9/10
Total Score:
9.0/10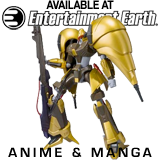 Other Comic & Manga Models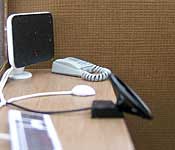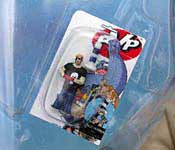 Batman #408 Batmobile
Misfile XR4Ti
Shakotan Boogie Yanky Mate! Z
Detective Comics #156 Batmobile
Judge Parker Corvette
Batman #20 Batmobile
Batman #164 Batmobile
Cyber Formula Asurada GSX (Review)
Detective Comics #400 Batmobile
Armada Hot Shot
Lupin III Mercedes-Benz SSK (Review)
PvP Dexter Jettster
Cyber Formula Knight Savior (Review)
Cyber Formula Fire Superion (Review)
Cyber Formula Asurada AKF-11 (Review)
The Circuit Wolf Jota
Ctrl-Alt-Del Zeke
Cyber Formula Stealth Jaguar (Review)
Transformers Optimus Prime
Detective Comics #800 Batmobile
Other Cartoon & Anime Models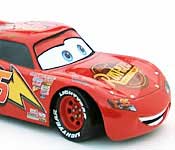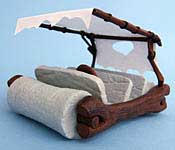 Cyber Formula SIN Asurada (Review)
Paprika Aston Martin DB7
M.A.S.K. Slingshot
Chop Socky Chooks Cars (Review)
Freedom Project Tricycle (Review)
Cyber Formula Fire Superion (Review)
Planes 2 Firefighter Dusty (Review)
1992 Batman:TAS Batmobile
Batman:TAS Batmobile (Review)
Thundercats Thundertank (Review)
Scooby Doo Mystery Machine
Grendizer Duke Buggy (Review)
101 Dalmatians Cruella's Car (Review)
Roadster Racers Mickey (Review)
Roadster Racers Goofy (Review)
Transformers Optimus Prime
M.A.S.K. Manta
Speed Buggy Speedy
Cars 3 Lightning McQueen (Review)
The Real Ghostbusters Ecto-1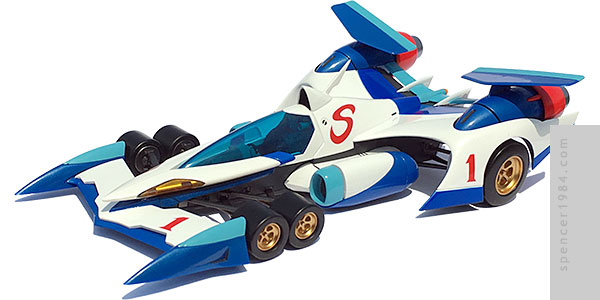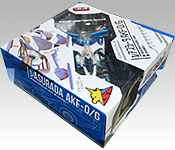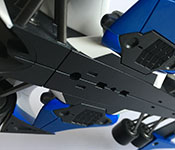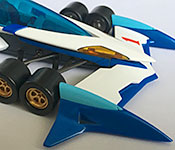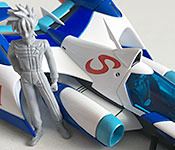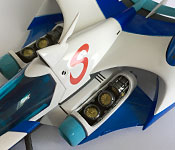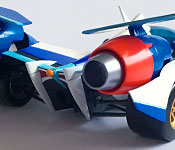 Background
After the events of Future GPX Cyber Formula, Hayato Kazami has successfully defended his champoin title in the 2021 Cyber Formula World Grand Prix XVI. Kazami's racing team announces a partnership with GIO Motors Inc., thus becoming Sugo GIO Grand Prix with Kazami driving the updated Asurada.
Packaging
Other than the updated show title, this is essentially the same box that we've had right along: 10¾" (27cm) square and 4" (10cm) deep; an irregular window cut diagonally across the top of the box to show off the car; a combination of portrait and technical drawings; the box printed in the team's colors; a double tray keeping the car and its accessories in place. The inside of this particular box is printed with a section of track curving through a grassy field. The packaging is nothing we haven't seen before, but less "this is getting old" and more "if it's ain't broke, don't fix it."
Casting/Paint
Also making a triumphant if unsuprising return is Mega House's quality: the casting is sharp and clean, the parts are assembled flawlessly, and there's a smart mix of metal (chassis) and plastic (everything else). the lights are transparent yellow and the canopy is transparent blue. The AKF-0/G keeps Sugo's blue and white with red accents, but has replaced the yellow highlights with a bright cyan (almost a perfect palette-swap with the AKF-11). Most of the paint looks very good, though there is a chip in the white paint on the front spoiler, and the line between the blue and white behind the cockpit isn't quite as sharp as it could be. The chassis is dark metallic gray, and the wheels are bright gold with black hard plastic wheels. The cockpit is detailed with a separate steering wheel and seat belts, with good sharp casting.
Features/Accessories
Considering some of Mega House's recent releases, the AKF-0/G is pretty light on accessories: the pods at the end of the front spoiler can be swapped out, and the engines below and behind the cockpit can be swapped for a set with exposed lift fans and wings that connect to the rear wheel fairings. Most of the conversion works fine, though the left pod on my front spoiler (right where the paint is chipped) fits loosely enough that it can be knocked off with almost no effort. Also, the rearmost engines can be lifted much like the earlier AKF-11. Finally, a 1/24 scale vinyl figure of Hayato Kazami is included. This is a more mature Kazami than we've seen previously, and he is standing simply with his right hand on his hip.
Accuracy
The Asurada AKF-0/G looks great in both modes, nicely capturing the anime design while adding enough extra details to make it look realistic and interesting. Scaling remains consistent with their other Future GPX Cyber Formula releases.
Overall
This review is shorter than usual because most of it repeats ground we've covered before: nice box, clean casting, good paint, and smart accessories. With the exception of the chip and ill fitment of that front left pod, the AKF-0/G stands among Mega House's best, though the high bar and consistent work they have established makes one forget what a feat they have accomplished. Familiar territory or not, it still earns a "highly recommended."
Have a question, comment, or criticism about this review?
Send me an e-mail
with your thoughts!